Brew City Main | BCFA Teams | FA Cup | League Cup | Miklos Feher Cup | John Thomson Cup | Nationwide Super Cup |  NPL History | Mug'O'Suds | MFLS Fantasy League | MFLS Prediction League | MFLS Champions League | MFLS Cup Winners Cup | Cup #8247 | Paper Cup
---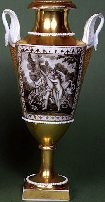 The Brew City League Cup is awarded to the team at the top of the 1st Division after third round of league league competition.
Match Points: Teams score one match point for each MFLS fantasy point scored. Only starters are counted.
League Play: Three divisions of ten teams. Each division plays a round-robin, so that each team plays one match against each other team in the division. (There is no 'home' or 'away'.) Three division points for a win; one division point for a draw. Ties in division standings are broken, in order, 1) division match point difference, 2) division match points for, 3) head-to-head match point difference, 4) quiz question, 5) coin flip.
Promotion / Relegation: The bottom two teams in the 1st and 2nd Divisions are relegated; the top two teams in the 2nd and 3rd Division are promoted. There are three rounds, or seasons, of league play: Spring, Summer and the League Championship. Promotion and relegation occurs after each season, which means even a team that begins the year in the 3rd Division may still win the league. Teams which leave the BCFA vacate their slot; no current BCFA team will be promoted or relegated to the vacated slot.
Qualifies For: The champion qualifies for next year's Mug'O'Suds Invitational.
Past Champions
Year
Team
Owner
2012
Top Shelf
David Thomas
2011
Dudley Street Hooligans
David Arndt
2010
Dynamo Silver Spring
Mark Lewis
2009
Phoenix TS
Michael Thomas
2008
Aviators
Hal Jones
2007
Dynamo Silver Spring
Mark Lewis
2006
Top Shelf
David Thomas
2005
Aviators
Hal Jones
2004
JC Comets
Jose Fajardo
2003
Top Shelf
David Thomas
2002
Top Shelf
David Thomas
2001
Top Shelf
David Thomas
2000
Alewive FC
Preston McMurry