Brew City Main | BCFA Teams | FA Cup | League Cup | Miklos Feher Cup | John Thomson Cup | Nationwide Super Cup |  NPL History | Mug'O'Suds | MFLS Fantasy League | MFLS Prediction League | MFLS Champions League | MFLS Cup Winners Cup | Cup #8247 | Paper Cup
---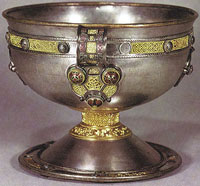 In 2009, and beyond, will be awarded to the team which finishes highest in BCFA's MFLS-standard division prediction table. (A new name for an existing BCFA competion.) Trophy to be determined.
The John Thomson Cup is awarded to the team at the top of the Brew City FA prediction table at the end of the season. It is named in honor of John Thomson, who died on the pitch in 1931.
Prediction Points: Teams score points based on the MFLS prediction scoring criteria. Points are cumulative over the course of the season. There is no match, head-to-head, group or league play.
Qualifies For: The champion qualifies for next year's Nationwide Super Cup and Mug'O'Suds Invitational.
Past Champions
Year
Team
Owner
2011
Redneck SC
Barry Hendley
2010
Top Shelf
David Thomas
2009
Clockwork Orange
Jason Benfield
2008
Cánicas A.C.
Luis Cabo
2007
Dynamo Silver Spring
Mark Lewis
2006
Top Shelf
David Thomas
2005
Weirder Bremen
Fred Turk