News : 2012 | 2011 | 2010 | 2009 | 2008 | 2007 | 2006 | 2005 | 2004 | 2002-2003
---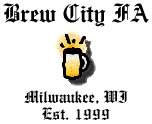 Brew City News (31-Oct-2003)
 Aviators  won Brew City's BCFA Fantasy League, the traditional MFLS division "table", with 652 points. Darcian Greywacke were second on 631, while Pioneer Detasselers were a distant third on 567.
Brew City had two teams in MFLS's overall Top 10, and seven teams in the Top 100: The best record of any division in MFLS.


2) Aviators (Hal Jones)
8) Darcian Greywacke (Jason Dadakis)
48) Pioneer Detasselers (Chris Sorcic)
66) Top Shelf (David Thomas)
73) Surreywood Rangers (Rob Robinson)
75) FC Metrofan CP (Cris Pannullo)
92) Midnights Children (Jay Jones)
Brew City News (12-Oct-2003)
Champions League: It wasn't a work of beauty, but  Dynamo Silver Spring  did the necessary business, scoring a few points, then playing stifling defense, holding on to defeat Atletico Rubio 7:-3. The trophy is Mark Lewis's first in MFLS, and automatically qualifies Dynamo for the 2004 Mug'O'Suds Invitational. Geoff Rubio's Atletico also move up on the Mug merit list, having previously won the 2003 Casbah Cup.



Dynamo Silver Spring
Mark Lewis

Cup Winners Cup:  Nicol & Dime FC  made it a RevMFLS double, defeating Brew City's Aviators, in another defensive struggle, 13:3. If only Steve Nicol's Revolution could play defense as well as Ugo Biscaia's fantasy team. Hal Jones's side — currently #3 in all MFLS (and 20 points off the pace) — are the bridesmaids yetagain, having yet to win a MFLS-wide competition. Cervejas's two trophies –they won the RevBCFA Fantasy League to qualify for the CWC — move them up the merit list for the 2004 Mug'O'Suds Invitational. Aviators will remain one of the Mug's top teams despite the loss.



Nicol & Dime FC
Ugo Biscaia

Shaolin Mystigods (24 pts) were Brew City's sole representative in MFLS's weekly Top 25 at 24th — the first ribbon on the 2nd Division side's flag in two years of Brew City competition.
Get Active! Having a crappy team won't get you kicked out of Brew City (or I would be first in line). What will get you kicked out is not taking an active interest in your MFLS team. I don't expect a top team to change its entire squad every week, but neither do I expect the manager of a bottom to team to sit on his thumbs. (It is easy to tell if a manager is paying attention by how many player non-appearances his club has racked up.) I judge activity by the number of trades or subs that a team has listed. If a manager ignores his team for weeks, or even months, on end, he's on the hot seat. Not having an e-mail address I can reach you at will also get you the sack.

★

 Bandeirantes Internacional (9 weeks since last move, 164 player non-apearances)


★

 Philadelphia Atoms (5 weeks since last move, 140 player non-apearances)


★

 France (4 weeks since last move)There's some other managers have recently begun making moves after taking one or two month sabbaticals, such as St. Louis Cure and Carabinas Real. The climax of the season is not the time to fall off the attention wagon …
Brew City News (8-Oct-2003)
THREE-PEAT! Dave Thomas's  Top Shelf  won the League Cup for the third year running, despite losing 26:44 to Pioneer Detasselers. Three of the other top five teams also lost, early-season darlings Midnights Children's 17:33 loss to Phoenix TS the most devastating of all, falling from fifth all the way into relegation. Phoenix's victory was bittersweet as they were relegated anyway. After slumping early in the League Cup, Aviators came on strong, leaping from fourth to second in the final week on a 24:11 defeat of Surreywood Rangers. Darcian Greywacke, the only side with a hope of catching Top Shelf, lost 11:15 to Millville United. The win moved United from the relegation zone up to fifth, swapping spots with Midnights Children.In the 2nd Division, FC Metrofan and JC Comets had already locked up promotion. In Metrofans case, they will carry the momentum of a perfect 21 point session into 2004 after defeating Comets 47:37. Comets favorable 'goal' difference would have put them in the top spot had they managed to win. Guinness Gulpers stayed bottom and were relegated after losing 20:30 to MurphDogs. The win moved MurphDogs out of the othr relegation spot, which was was assumed by Cape Tribulation after they lost 20:41 to resurgent Alewive FC.In the 3rd Division, Real Hillsdale, already assured of promotion, put it in a desultory performance, losing 13:16 to St. Louis Cure. Despite being abandoned by its coach, its chairman, the board, its sponsors, the fans, and even its mascot, Bandeirantes Internacional beat previously second-place Maccabees 35:15 to pip the Judean Patriots for the other promotion spot. The Bande players' joy may not last long: If prime mover Zack Lennon doesn't show more interest, the club will be put into receivership, with its spot being given to a new side. But at least the players will be able to say they went out on their shields. Philadelphia Atoms also repeated, though their repeat was ignominious rather than glorious, finishing bottom of the entire league for the second year running. Also seemingly aboandoned by all but the roaches in the dressing room shower, and having lost all seven League Cup matches, Atoms managed at least not to finish in negative 'goals', their final 18:22 loss to Carabinas Real dragging them up to 14.



Top Shelf
David Thomas

The Champions League finals are set: Dynamo Silver Spring v. Atletico Rubio. Dynamo won handily won both legs of its tie, advancing on 59:26 aggregate over Mistretta Outsiders. In the other semi, Jason Dadakis's Darcian Greywacke blew a 28:19 first leg advantage, losing the second leg 11:30 to send Atletico through on 49:39 aggregate. It should be noted that the four semifinalists are all currently in MFLS's Top 25: Mistretta Outsiders (#4), Atletico Rubio (#10), Darcian Greywacke (#16) and Dynamo Silver Spring (#17). This weekend's Final is a one-leg affair.
The Cup Winners Cup finals are set: Nicol & Dime FC v. Aviators. After dropping the the first leg 22:29, Frias stormed through to the final, winning the second leg 43:22 to advance on 66:51 aggregate over Scott Viar's Hometown Soccer Club. In the other semi, father Hal Jones Aviators defeated son Jay's Midnights Children for the second straight week to advance on 59:34 aggregate. Not a bad showing for the youngster, as his side started the season in Brew City's 3rd Division. This weekend's Final is a one-leg affair.
Brew City News (24-Sep-2003)
Top Shelf's 29 points were the 25th best in all of MFLS. Alewive FC's -21 points — say that again, slowly: -21 points — were the 4235th best in MLS. Out of 4272 teams. Which means the only guys that did worse were guys with a bunch of -4 per player free agents who haven't paid attention to their teams since Oldfart Mattheus was the Metros savior of the week. I couldn't have done worse if I tried.
Brew City News (1-Sep-2003)
The less said about this week, the better. At least Alewive FC had company (Millville United) at -10 points. The rest of you weren't much better. But look at the bright side! Right? We should always strive to peppy and positive: At least it didn't suck total Tim-MAY! Krause like June 15th did …
Brew City News (17-Aug-2003)
 Aviators  won the Summer Championship, cruising home with a 62:36 pasting of MurphDogs, while their two nearest rivals lost: Top Shelf 27:31 to Surreywood Rangers and Phoenix TS 33:43 to Pioneer Detasselers. The 26-point loss dropped MurphDogs from fourth place all the way to seventh and relegation. Ouch! Millville United staved off the drop with an emphatic 39:14 victory over already doomed JC Comets. MurphDogs, after Abracadabra in the Spring, are the second straight team to drop out of the 1st Division for the first time in their existence. Only Top Shelf remains of the Original Seven. In the 2nd Division, Midnights Children stumbled to the post, but still finished with a perfect 21 points thanx to a barely adequate 31:30 result over game Cape Tribulation. Darcian Greywacke, Brew City's third-highest scoring side of the session, will join Children in the top flight after trouncing doomed Abracadabra 45:19. Bandeirantes Internacional also did the expected, being relegated after a 29:51 loss to Sehome Mariners. Bandeirantes Internacional and Abracadabra will feel at home in the 3rd Division, but need not fear finishing last in the league simply because Philadelphia and St Louis have such a firm grip on the bottom. Being promoted from the 3rd Division are Shaolin Mystigods, which pipped Alewive FC for the top spot after Mystigods defeated Alewive 51:34. Alewive finished second because third-place Carabinas Real also lost, 30:59 to Maccabees.
p.s. – Tim-MAY! still blows donkies. Forza Rampage!
Brew City News (11-Aug-2003)
Tim-MAY! Krause, you soul-thieving bastard. You ripped my heart out and shit on it. May you and all your progeny rot in hell.

Ahem.

The Mug'O'Suds Invitational final, also known as The Last Call, ended 4:3 in favor of  Poplar Point United , the #1 seed despite not having won any previous honors, proving there is indeed justice in this world: All is right with the World when the Rampage are on top. I don't give a RIP — pun intended — if it is real team or a fantasy team, since fantasy is the only lump of coal I got left in my threadbare stocking thanx to back-stabbing Tim-MAY! Krause. Cocksucker. Not that I was rooting against Mike Driskill's Headhunter FC, who deserve a ton of credit for making the final after finishing third in Group A.



Poplar Point United
Ben Wright

Click here if you actually support Tim-MAY! Krause.
Brew City News (27-Jul-2003)
In the All-in-the-Family FA Cup Final, Aviators, managed by Hal Jones, drew 24:24 with Midnights Children, managed by his son, Jay. After the first overtime, the teams still stood level. (Both started Onstad, who gave up 0 goals.) After the second overtime, the teams still stood level. (Neither team had Agoos or Quintinilla who scored MLS's PKs this week.) Finally, in the third overtime of classic action — I'm not kidding, I just got chills —  Midnights Children  broke through with a solid effort by an old warhorse, Joe-Max Moore, winning 25:24. (Neither team's defenders or midfielders had an assist, while both sides started Twellman, but Children also had Moore.) Besides taking hold of the antique FA Cup until next year's Final, Midnights also receive an invite to next year's Mug'O'Suds. Aviators get Rice-a-Roni and some fabulous parting gifts.


Midnights Children
Jay Jones
Brew City News (23-Jun-2003)
 Aviators  won the Spring Championship of the League Cup by default, after JC Comets failed to capitalize on Aviators 54:54 draw to Pioneer Detasselers, by losing at home, 38:41 Millville United FC. Aviators take the first interim title by one point. Despite each having a chance of staying up, Guinness Gulpers and Abracadabra did the expected, losing their final match to seal their drop to the second flight. Abracadabra were relegated for the first time, having spent their entire Brew City career in the 1st Division. MurphDogs and Top Shelf are the only remaining members of that elite club. The 2nd Division was pure turmoil, with only Phoenix TS retaining their place. (In their case atop the division.) Fourth place Surreywood Rangers leapt to the second place promotion spot be defating France 57:40; France dropped from fifth into the seventh place relegation spot. FC Metrofan CP and Darcian Greywacke, which had been in the relegation spots moved up to third and fourth, Darcian by defeating previous sixth place Alewive FC 45:31, and FC Metrofan CP by defeating previous second place would-be promotee Cape Tribulation 46:30. Cape drops to fifth, while Alewive drop all the way the 3rd Division. Other than first place Phoenix, the other seven teams in the division finished level on 9 points, with placings being determined due to 'goal' difference. The 3rd Division was basically unchanged, Midnights Children (first place) and Sehome Mariners (second) being promoted, though they did swap spots.
Brew City News (15-Jun-2003)
One team — FC Metrofan CP — placed in MLS's weekly Top 25, a miracle considering that, overall, it was the most disastrous week in Brew City history with eight sides finishing with negative points. Five of those sides tied or worsted the division's previous low weekly score of -8, including Sehome Mariners unfathomable -19.
Brew City News (8-Sep-2002)
Champions League: The final Brew City-sponsored competition of the year was full of attacking soccer, but at the end of 90 minutes  Holy Knights  claimed the honors. The final score was Knights 42:39 over Grainger Rebels. Knights, coached by Andrew Jones, are top in the DC United-affiliated The Black & The Red division, and #13 in all MFLS. Rebels, coached by Jason Freres, are top in the Division of Great Significance division. Both teams are eligible for the 2003 Mug'O'Suds Invitational. (Though I need Andrew Jones's e-mail to invite Knights, as the e-mail is not listed on the team page.)



Holy Knights
Andrew Jones
Brew City News (4-Sep-2002)
League Cup: Despite the final week of the season being Brew City's closest ever race, in all three divisions, the result was the same as in previous year's:  Top Shelf  are champions. Millville United finished level on points with 15, but Top Shelf took the honors on 'goal' difference, +58 to +15, after both sides won their final match. JC Comets, which had been level with United and Top Shelf on 12 points, but needing a miracle to overcome the 'goal' difference, lost its final match 29:33 to United. Already relegated FC Metrofan CP ensured France joined them in the drop by beating the Gauls 44:25. In the 2nd Division, Guinness Gulpers FC and Pioneer Detasselers are promoted, while Shaolin Mystigods and Carabinas Real are relegated. Victoria Bitter could have pipped Gulpers with a win, but the Bitters-Gulpers match ended 29:29. Pioneer Detasselers pounded Alewive FC 43:17. Meanwhile, Carabinas Real did everything in its power to climb above Alewive by defeating Mystigods in a barnburner, 52:41. The 37-'goal' difference swing was close, but too far: Level on 9 points, Alewive ended with -16 'goal' difference to -18 for Carabinas. In the 3rd Division, Bandeirantes Internacional and Darcian Greywacke are promoted, while Philadelphia Atoms won the Toilet Bowl award as the league's bottom side. (Atoms actually got worse as the season progressed, finishing sixth, seventh and then eighth, in the 3rd Division, in the Spring, Summer and League Championships.) Austin Rovers finished fifth, thanx to final week 20:-7 defeat of Atoms, sending their supporters into joyous paroxysms at the side's highest finish in memory. Abracadabra, MurphDogs and Top Shelf are the only sides to spend every season in the 1st Division.



Top Shelf
David Thomas
Brew City News (10-July-2002)
Get Active! No, this is not a Richard Simmon's command. Rather a warning that having a crappy team won't get you kicked out of Brew City (or I would be first in line), but that not staying active in your MFLS side willget you kicked out. I judge activity by the number of trades or subs that a team has listed. If a manager ignores his team for weeks, or even months, on end, he's on the hot seat. Generally speaking, it is usually the teams at the bottom of the MFLS table. Not having an e-mail address I can reach you at will also get you the sack.

★

 Wadingpool FC (6 weeks since last move)


★

 Philadelphia Atoms (made one move — two weeks ago — all season, and e-mail is dead)
Brew City News (8-July-2002)
Controversy! Much like the recently concluded World Cup, the Mug'O'Suds has seen much controversy, though the Mug is blessed by the absence of a crook like Sepp Blatter. Top Shelf won its two-leg semifinal against Aviators after a historic fifth 'overtime' Ultimate Tie-Break: Which was the first English team to win the double? (Preston North End). However, Aviators claimed they had won in the fourth overtime, believing that the words "total team" in the tie-break rules meant the total for both legs, not the total for the second leg. Although that fine distinction is not explicit in the rules, as I pointed out in last week's update, Aviators interpretation was never my intent: My intent was always that the "total team" only applied to the second leg. I want to further clarify this week that in previous editions of the Mug, and other Brew City cups, where tie-breaks have been necessary, that the tie has always been broken based on "team total" in the second leg only. So, not only was interpretation against Aviators, but tradition as well. Btw, extended overtimes are an Aviators tradition. Enough of the legalities. Let's play soccer!
Mug'O'Suds: In a battle of perennial all-MFLS powers,  Top Shelf  took the suds, defeating Hometown Soccer Club 6:4. Midfield goals proved the difference, as Top Shelf got two from Steve Ralston.



Top Shelf
Dave Thomas

FA Cup: In the all lower division FA Cup final, 3rd Division  Phoenix TS  defeated 2nd Division Carabinas Real in dramatic fashion 47:45.


Phoenix TS
Michael Thomas