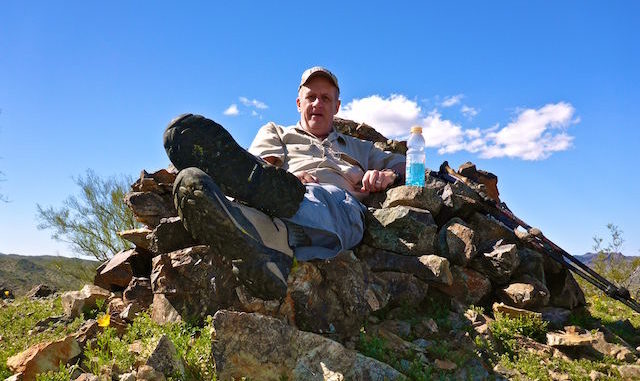 Four years ago, almost to the day, I first hiked the Alamo Lake BM Loop.
Back in early 2013, I was still trying to find my way as an Arizona hiker. I wasn't yet quite sure what it was that I most wanted to do on hikes. One of the things I tried, was benchmark bagging. But rather than look for remote triangulation stations, I found that there were a metric shit ton of BMs — pun intended 💩 — on Alamo Road, north of Wenden, and even more around Alamo Lake's perimeter. Because I always need some sort of objective for my hike, I figured I would follow a line of benchmarks along Alamo Lake's northwest shore.
Today, I followed the same route, because it makes for a good hike, with some decent variety of terrain, but without the whole benchmark bagging aspect.
Directions: From Phoenix, there's two ways to get to Wenden: 1) Head west on U.S. 60 for about 45 miles west of Wickenburg. 2) Take I-10 west to exit 81, heading north 31 miles to Salome, where you will turn east on U.S. 60 for 5 miles to Wenden. From Wenden, head north on Alamo Road for 35 miles to the Ranger Village in Alamo Lake State Park. Day passes are $7 at the bait shop. The trailhead is another 1.5 miles west at the Bill Williams Overlook, which has a pit toilet & picnic area.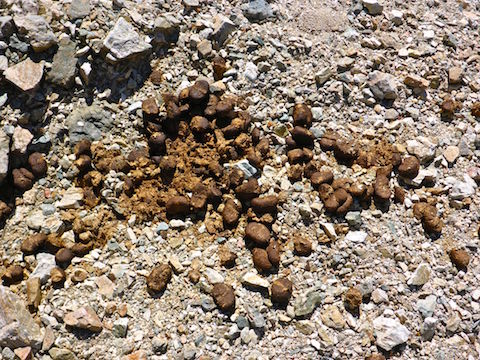 It was cold as the dickens, so I wore the sweater I bought in Bouse six weeks ago, and which I now keep in our SUV's "emergency box". (Which contains survival stuff in case we get stuck somwhere.)
The hike starts by heading down the road, through a gate, to the south end of Alamo Dam. (Despite any signage, pedestrians are allowed through the gate.) Ignore the road named after a crappy 90's hair band, instead heading north across the dam. Just on the other side is an abandoned front end loader at the foot of a very rough jeep trail. At the top of the climb should be a cairn, at a four-way intersection. The jeep trail heads right; a foot trail left. Go straight.
After a series of wash crossings, 1.60 miles into the hike, turn east down a mild wash. In monsoon season, at least, it will be grassy. Supposedly there is a mine adit in the wash, but I have never even found a trace of it. After turning off the trail, the hike travels northeast, roughly along the high water line, distinguishable by the dead, grey, bushes. Today, Alamo Lake was at 9% of capacity. Due to its flat basin, that means you will be about a quarter mile from the shore. Sometimes you will cross washes, other times travel in them, and other times be on one of many foot trails. You may spot seashells or an old fishing lure. The highlight of this section is the tiny arch at BM X480.
At 3.30 mi., turn northwest on a fairly obvious foot trail. At around 4.00 miles you will reach a wide, shallow, gravelly wash. I call it Boulder Canyon, for reasons that will soon become obvious. If you hit a dirt road, that is Alamo Rd. (Remember you drove in on it? The middle section is underwater.) If you missed the wash, double back a bit.
Follow the wide wash as it turns west, then southwest, gradually climbing, yet narrowing & deepening. From 4.60 miles, for the next mile, is gravel & slick rock interspersed with enormous boulders that require scrambling and/or bashing through grab & stabs. (Mostly cat claw: There's few cacti on this hike.)
Two weeks ago, I skipped my planned hike up Casner Canyon, because of my bad shoulder, settling instead for hiking Walkin' Jim Trail. Last week, because of the upcoming weekend deluge, my big "hike" was walking home from the physical therapist's office. But the PT is working: I have more flexibility and experienced no discomfort while bouldering.
At 5.60 mi., there will be a wash to the south. I have taken both sides of it; I recommend the left side. It climbs 400 ft. in a half mile to the Williams Benchmark, which is marked not only by the usual metal disc, but a stone "easy chair".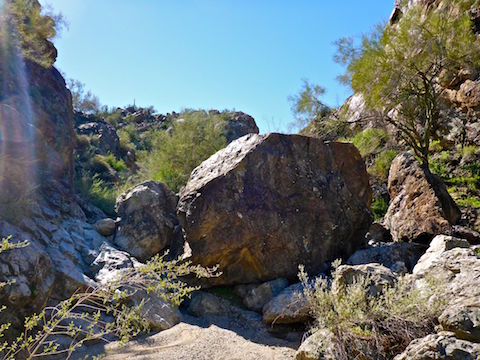 Relax in the easy chair, enjoying Nature's big screen: great 360° views of Alamo Lake, the Harcuvar Mountains, the Poachie Range, Artillery Peak, the extensive mining activity of Maggie Wash, the Rawhide Mountains, and the Bill Williams National Wildlife Refuge. In early spring, the hill will have many patches of Mexican Gold Poppies. (There's also some lupine along the dam road, but otherwise flowers are tiny & rare.) I heard burro calls all around Williams Benchmark, spotting a loner on a spur.
The summit log is in a glass jar. Four years ago, it was so dry it crumbled as I pulled the paper out. Today, it was soaking wet and getting moldy. I did not bother signing. No idea if anyone has been up there since February 22, 2013. Certainly no one from HikeArizona.com. Back then, I was the first person to sign it in nine years!
Heading back the way you came would be a long haul, so make a loop of it. Depart the Williams Benchmark by starting east, 100 yards down a spur, before turning south, towards a saddle. The descent is steep & slippery. At the saddle, do not be fooled by the trail & easy travelling which heads towards another spur. Getting off the end of that spur, to the wash below is tricky. Instead, do what I did on my first trip: From the saddle, start down into the near wash, to your right. In that wash you will soon pick up a trail which will delivery you to where you want to be: A wide wash, with mostly firm footing or, as I refer to it, a "highway".
Once you are on the "highway", it is fast travel south, then east for next mile plus. At 7.90 miles, you will see a trail on the slope to your right. Turn onto it. The trail will switchback, then start up a ridge, before you turn east and rejoin to close the loop at 8.25 miles.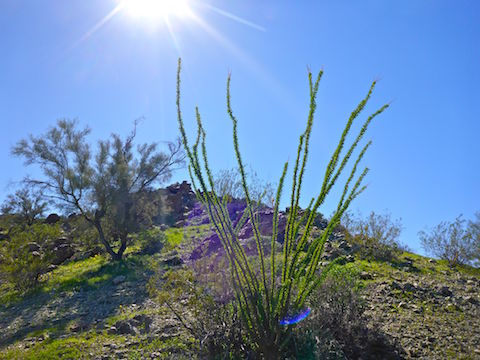 I spotted a herd of 6-8 burros just before turning off the "highway". I thought about climbing up a bit to get a decent photo, but by that time I was ready for my hike to end, so I settled instead for making some really bad burro calls.
Once back on the stem of the loop, simply head back the way you came, towards Alamo Dam. In my case, all those 50 ft. down, 50 ft. up, wash crossings got old quick. I took a quick, 15 second, breather at the top of each one.
Once back at the Bill Williams Overlook, I had my usual V-8 to help prevent cramps, followed by a restorative beer: Today's libation being a Kronenbourg 1664, while my always patient wife read the information signs at the picnic gazebo.
GPS File: Alamo_Lake_BM_Loop
Distance: 11.48 mi.
AEG: 1,837 ft.
Time: 5h 12m
---
Alamo Lake Hike Video