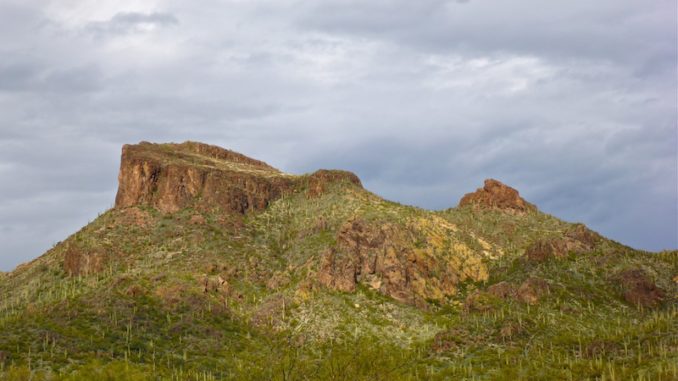 In late Fall, I set out a "program" for six months of hiking. I planned it so I got in some distance hikes, some elevation hikes, some interesting hikes and some Arizona cultural explorations (like mines and ghost towns). Always with the goal of getting at least 50 miles a month and, hopefully, 100,000 AEG for the year.
Unfortunately things keep popping up the last month, the latest being that the shoulder / elbow discomfort I began experiencing in August has now proceeded to agonizing pain if I make any off-axis movement with my right arm. That's a real problem, not only because I am right-handed, but I like sleeping on my right side, with my right arm curled behind my head. Sleep has been at a premium.
I've seen a doctor, and had x-rays. The docs think it is arthritis. But I've had stiffness in my hands for quite some time, and my knees as well (toasted due to jumping out of airplanes and playing soccer). What I am experiencing in my shoulder is nothing like that. I think it is a tendon / ligament issue. We shall see.
"How does that affect hiking?" you ask. Well, if you're a canal walker, or locals trail hiker, not at all. Unless, like me, last Friday on Shaw Butte, you impale your hand on a particularly sharp palo verde, causing you to instinctively jerk your arm backwards, immediately causing excrutiating pain like you've just been shot. Scrambling hikes would be ill advised, and hikes where I depend more on poles for balance, would also be a bad idea. (Especially if I had to stab my right pole out to prevent a fall.)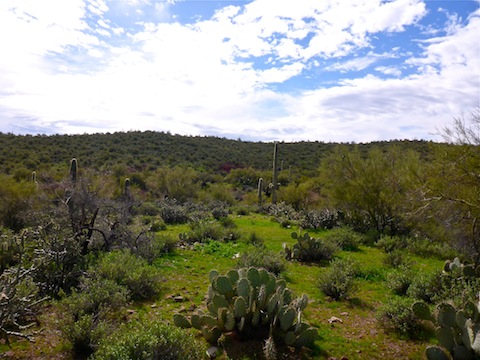 So, I switched my planned hike of Casner Canyon, in the Wet Beaver Wilderness — no snickering — to Walkin' Jim Trail, near Lake Pleasant.
Walkin' Jim Trail offers good distance and decent AEG: About 8.5 miles and 1,100 AEG. The Little Jim option shortens the loop to 5.3 mi. and 650 AEG. If you are feeling particularly frisky, and are in a peak bagging mood, taking Big Jim Trail to Peak 3465 from the far end of Walkin' Jim adds about 3.6 mi. and 1,300 AEG to your day. Sticking strictly to Walkin' Jim and Little Jim, there should be no situation where arm strength / stability is required.
Regardless of whether you pick door #1, door #2 or door #3, keep an eye out for the many wild burros that live in the area. You may also spot some wild horses or cattle. Unfortunately for me, for the first time in five trips, I spotted no burros. However, there were lots of singing birds.

The last time I hiked Walkin' Jim Trail, two and a half years ago, it was 104°. Today, despite a bit of a winter heat wave earlier in the week, it was only cool, maybe low 60s, totally overcast except for brief sun around lunch time, and sprinkled off and all morning.
Walkin' Jim Trail starts at the large gravel lot just before the first stop sign on Castle Hot Springs Rd. On the weekends the lot will be jammed with large pickups hauling OHV trailers. I've always hiked the loop counterclockwise.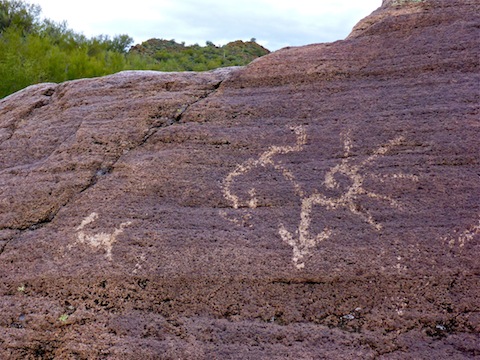 Walkin' Jim parallels the Cottonwood Creek wash for 2.4 mi. to the Little Jim Trail intersection. There are a number of small petroglyph panels in the wash, notably around .40 and .75 miles. I would not be surprised if there are more. The ones I saw were mostly very faint. I wonder why the local mountain range is the Hieroglyphic Mountains, not the Petroglyphic Mountains?
You could wash walk 90% of the loop. If you stay on trail, it will cross numerous small feeder washes, as well as the main wash several times. Today was the first time I saw water in Cottonwood Creek, and there was enough pooling to cause some light trickle. There are lots of saguaro on the hills, but stabby cacti aren't really an issue. I have seen grass on several Walkin' Jim hikes, and today there was tons of it, even several patches of weeds.
On the northern half of Walkin' Jim, the trail is mostly well defined, but there are still innumerable small cairns. (On a previous visit, I counted — no lie — 30 in a quarter mile!) The cairns aren't really necessary, except maybe at a few wash crossings. The trail often gets indistinct on the southern half of the loop, and it is easy to wander off track, so the cairns come in handy. On the southern half, also keep an eye out for pink ribbons. If you do find yourself off track, in a wash, simply follow the wash east: They all eventually end up back at the trailhead.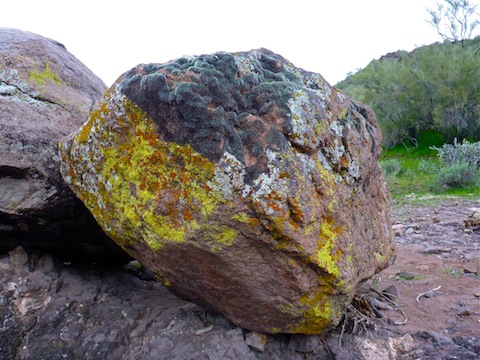 Besides keeping an eye out for burros and petroglyphs, the other highlight of this hike is the incredible diversity of mosses & lichens on many of the rocks, particularly the small hill about a 1/3 of a mile west of Little Jim, on the northern half of the loop.
After a beer break at the Big Jim intersection, I headed back. Despite having been out here five times — hiking Walkin' Jim four times, and Peak 3465 the other — this was the first time I actually completed the southern half of the loop. Boy, it sure seems to drag on forever.
GPS File: Walkin_Jim_Trail
Distance: 9.59 mi.
AEG: 1,091 ft.
Time: 3h 56m
---
Walkin' Jim Hike Video