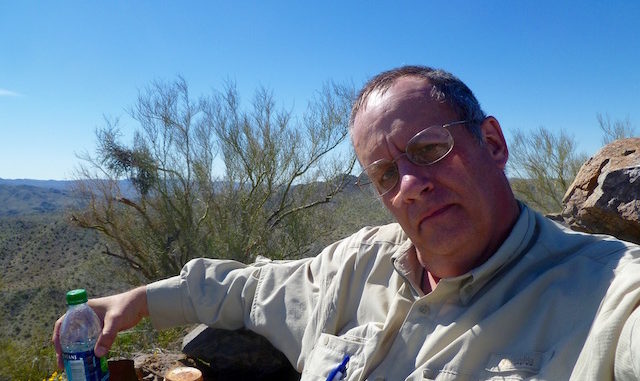 Time constraints prevented me from hiking the benchmarks out to (gravel) Alamo Rd a few weeks ago. In reviewing the topo, I noticed there was a BM a few miles northwest named "Williams 2038", so I turned the out-and-back into a loop to include it. Glad I did. When I took a break at BM 1198, I was already getting tired, but I figured I would at least press on into the canyon west of BM 1198, and if I was too tired, skip the summit and cut over a saddle to the highway wash.
I had no idea the canyon would be as boulder choked as it was. I wish I could have taken more pictures in what I refer to as "Boulder Canyon", but I was running low on camera battery. The 1.5 mile stretch midway between BM 1198 and the ascent up the north ridgeline is Ford Canyon-like bouldering. In just about every case, you can find a way around the room sized boulders, and in others there may be a bit of climbing. By the time I got to the foot of Williams 2038, I was feeling somewhat re-invigorated, as Boulder Canyon had begun opening up. A look at my topo — I always carry paper to back up my GPS — told me that I would only save 200-300 feet by crossing the saddle, so up to the summit I went. Took me several tools on the Leatherman to pry open the rusted shut summit log. It was written on a musical score, and was so brittle pieces flaked off as I signed it. It had been nine years since the last logged summit. Wow, and for such a cool hike, that even Bob Martin and Bob Packard had done it!

I had set out about 0900, and had told my wife I would not be back before 1300, which she interpreted as "will be back by 1300". When I finally showed up about 1530, she said she would have called out the cavalry if I was had not returned in the next 30 minutes.

The ranger store unfortunately does not stock beer

 so I settled for chugging a couple of large V8s on the drive back to Wenden. Turned out they really hit the post-hike spot. (Probably because they are so high in sodium.) May have to take a few with me on future hikes.

Not sure how to change the "Water Reports" section, as it does not allow free form entry. Anyway, there is no water on this hike. HOWEVER … beware that being in a canyon into which room-size boulders have washed, flooding is obviously a concern, or attraction as the case might be.
GPS File: tbd
Distance: 10.70 mi.
AEG: 2,236 ft.
Time: 4h 36m
---