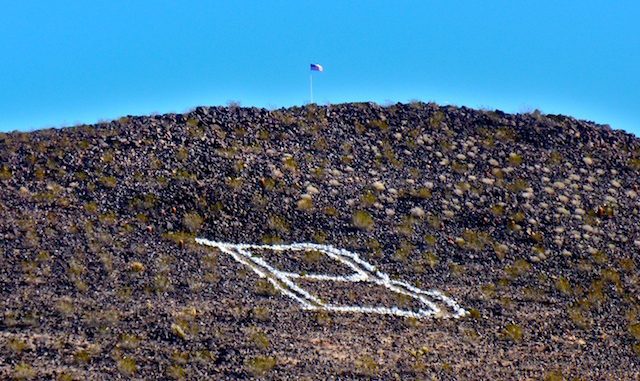 Another trip to the Arizona Outback, another bail after a long off road excursion.

Almost a year to the day, I had to delay a hike up Camp Bouse Peak due to a desert race, instead exploring Webber Mine. The following week, I made it to the Camp Bouse area, but had to turn around, due to desert racing cut up roads, before I could drive close enough to Camp Bouse Peak to hike it. Instead, I hiked Vulture Peak.
This week's intended adventure was checking out some old mines around the base of Clara Peak, before summiting the dark red, 600 ft. prominence, which overlooks the Swansea ghost town.
We made good time west on U.S. 60, then north on AZ-72. We followed the normal route to Midway, right on Main St. then left on Rayder Ave., which turns into Swansea Rd. Once on Swansea Rd., the next 12 miles to the desert intersection known as "Midway", is wide, smooth dirt, with only a few gravelly areas. It is car drivable. At Midway, go left/north on Swansea Rd. towards the ghost town, right/south on Poweline Rd. to Camp Bouse, or straight on Lincoln Ranch Rd. towards Clara Peak. Midway and Swansea are easily car drivable; Camp Bouse slightly less so. Heading east towards Clara Peak should only be done by SUVs or better.
Lincoln Ranch Rd. has a number of wash crossings / followings, with fairly deep gravel, moderately sized rocks, and some rather bumpy sections. We even encountered one easily bypassed section with a couple of feet of water in it. We made it from Sunnyslope to the base of Clara Peak in about 3.5 hours driving time.
Unfortunately, I had forgotten my windbreaker, which turned out to be a critical issue as it rendered the otherwise hikeable 46° unbearably chilly.

I thought about waiting for the wind to die down, or the temperature to increase, but after about 30 minutes realized the futility, and decided to bail. Luckily, I had foreseen such a possibility, and had lined up an alternate.
On the way back west on Lincoln Ranch Rd., my wife noticed a large, obvious, adit right next to the road. So, I stopped for a look see. It only went in maybe 50 ft., ending in a huge pack rat nest of cholla buds, several dozen small examples of which I unwittingly dragged back into my SUV.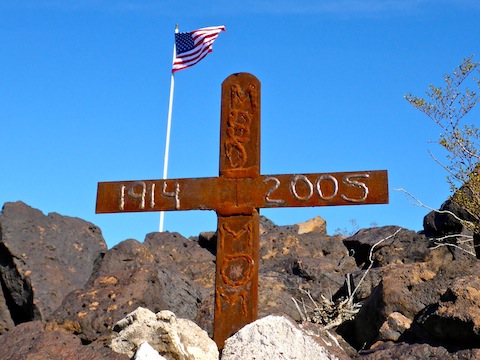 Once we returned to Bouse, I hit up the recently opened Family Dollar for a $12 hoodie. It was thin, but enough to retain body heat, making the wind chill bearable.
Then we headed back "across town" — not even a mile — to my alternate, hiking Bouse Hill and visiting Bouse Cemetery. We parked at the red gate on Black Mountain Dr., just south of Bouse Cemetery.
There are two ways to the base of Bouse Hill, one relatively obvious jeep trail, and one rather faint. They meet .30 miles later at a good size cairn. From the cairn, there are two ways to the top of the hill, left on a single track or right on a very old jeep trail. I went up on the single track, and back down on the old jeep trail.
The single track winds around the north side of Bouse Hill, like a Phoenix Mountains Preserve trail, but with no traffic noise. On the east side of Bouse Hill, the single track turns towards the summit, getting steep & slippery the final few hundred yards. Coming down the jeep trail, there were multiple sets of rocks & boulders to prevent further vehicular access; it was also rather slippery with gravel.
Old Glory flies from the summit of Bouse Hill, where it is protected by a stone wall "fort". There is a summit log, though on such a small hill, it serves more for folks to log their rememberances for the memorials that surround the fort. (I found at least six.) Despite being only a 300 ft. prominence, there are surprisingly good views from Bouse Hill's summit. It's well worth a quick stop if you are on your way to Parker.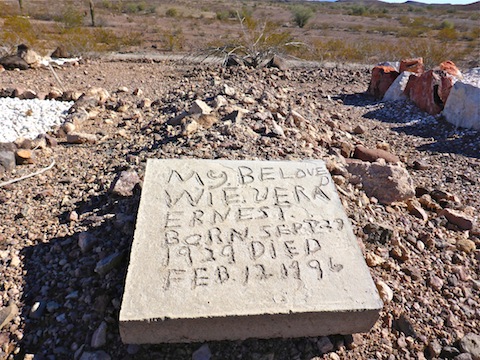 After a quick bite to eat back at the red gate, my wife & I checked out the Bouse Cemetery. I found a number of markers for people born in the 1840s and 1850s. There were a few wooden markers, even for more recent graves, but most were stone. Several are unmarked. A surprising number of folks lived into their 90s. Lots of World War II vets buried in Bouse Cemetery. Not too many burials in recent years, though.
GPS File: Bouse_Hill_Cemetery
Distance: 2.25 mi.
AEG: 425 ft.
Time: 1h 00m
---
Bouse Hill & Cemetery Video