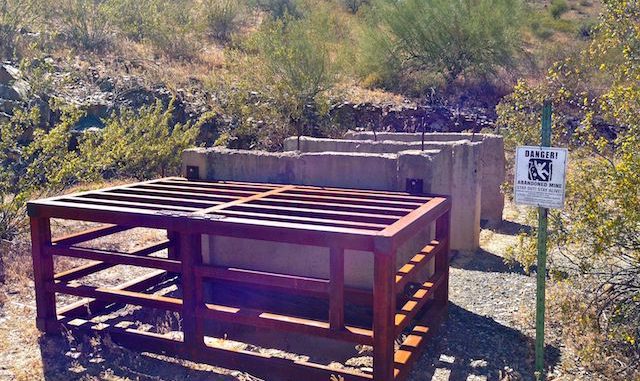 The last time I was in the Gila Bend Mountains was only four months ago when I explored the Sunset Limited derailment. But I was looking at a photoset on HikeArizona, when someone posted a photo of an open adit door. That door was for the Hargan Mine.
So, like I do, I started poking around on satellite view and the topo map, seeing how difficult the access might be, what other interesting things are in the vicinity, and what kind of terrain is involved. (Like the rest of the area, relatively flat, with a few sharp peaks.)
For access, I looked at three dirt roads feeding off Agua Caliente Rd.: One about a mile and a half from Old U.S. Highway 80, the next (a powerline road) about three miles, and the last five miles west. The only one that doesn't cross any washes is the first one.
As to other interesting things, that is where I discovered the Buckeye Copper Mine. I saw all kinds of concrete objects on satellite view, and all kinds of prospect, adit and shaft symbols on the topo map. Bingo! I got me a hike. 👍
Then I did some research on Hargan Mine and Buckeye Copper Mine. Besides the usual mostly barren entries on mindat.org, I found — rather easily — .pdf files of two old, typed, Arizona Geological Survey "Mine and Prospect Field Visit Data Summaries".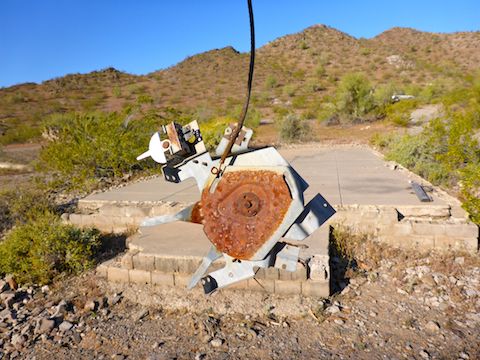 Buckeye Copper Mine was reported, in 1961, to have been quarried to provide ornamental stone for a "new shopping center on Bethany [Home] Road". I bet that is the Chris-Town Mall. By 1971, a three-foot quartz vein in schist, yielding 2-3% copper with visible gold, had been discovered. Two years later, Buckeye had two inclined shafts, one of 60 ft. and the other "several hundred feet deep". Overall, Buckeye Copper Mine consisted of 62 adjacent unpatented claims.
Buckeye Copper Mine Data Summary (4.2 meg)
According to the documents, Buckeye Copper Mine appears not to have been worked beyond the mid 70s.
My Acura RDX AWD had no problems driving the unnamed jeep trail between Agua Caliente Rd. and the Buckeye Copper Mine ghost town, which is located on the east side of a small ridge. I had thought about parking at base of the ridge's north slope, where the jeep trail splits to form a "loop road". I had also thought about parking at the top of the saddle, near what turned out be building #6, so that my stay behind wife might have a view of anybody who might be headed her way. In the end, I parked right next to the gated mine shaft in the middle of the ghost town.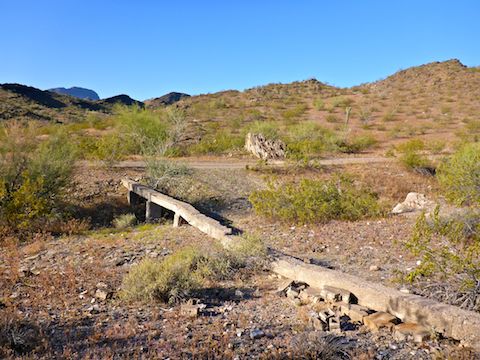 Saving the important structures for last, I first checked out a cluster of five foundations. All five had finished, segmented, concrete floors. Some had one entrance, some two, on a long side. All at one time had cinder block walls. I spotted no broken window glass. None had any plumbing fixture in the floor. The floor segments were uniformly sized, about 3′ 6″. One building was 4×10 segments, or ~490 sq. ft., while the others were all 3×6 segments, or ~225 sq. ft. There were no artifacts, and surprisingly few rusty cans or broken bottles. At one time, the ghost town was a nice, if basic, place. At the east end of the cluster, by the loop road, there was a very nice roadside memorial for someone's pooch.
Back up at the saddle, I checked out building #6. It's floor was unsegmented cement. It had a lower front porch, with old post holes to support a railing. It had two entrances between the porch and upper section, with an area in the middle that had once had indoor plumbing, including what appeared to be a shower. The view north, across the valley towards the Palo Verde Nuclear Generating station, and beyond, was fantastic. If I had any trade skills, I'd restake the claim just to be able to rebuild that house. Despite a nearby sign, I don't think any of the buildings in the ghost town were "SRP Power Wise Homes".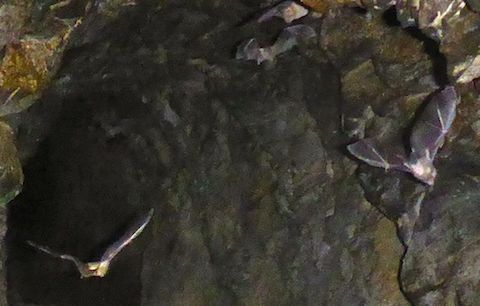 After checking out a prospect on the ridge's north slope, I started south down the west half of the loop road. Just before the jeep trail crosses a side wash, on the ridge's slope, there is an adit. I could actually smell it before I saw it. It was so awful, I was wondering if there was something dead inside. Unfortunately, the adit was gated as well. I peered inside, and waved my flashlight around, which riled up the residents: Bats. Which would explain the awful smell: Guano. I actually rescued a bat, once, from the CS chamber at Ft. McCoy in western, Wisconsin. A few bats would zoom towards the gate, stop about 20 ft. short, then peel back into the adit's depths. I watched the bats for a few minutes before being overwhelmed by the guano, and beating a retreat.
I then headed up towards Webb Mountain to explore Hargan Mine.
Back on the loop road, there was an obvious pile of over burden halfway up the small ridge. The topo shows a shaft at that location, but there was none, not even gated. All I found was a large cement block, that may have anchored a winch or head frame.
Buildings 7-9 are located on the small ridge's southeast corner. They had segmented concrete floors, 3×5 segments, or ~184 sq. ft. All three had one entrance, but on a short side. There was a shooting gallery next to the buildings, including one righteously ventilated Windows box of ancient construction. I forgot to check two shafts on the small hill just east of the buildings.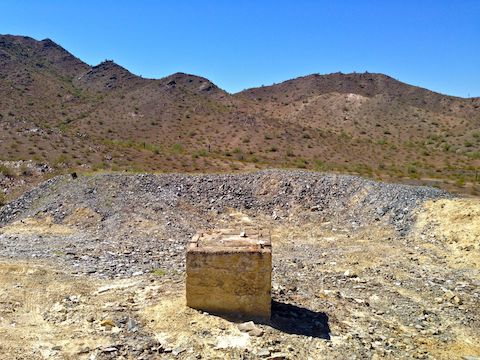 Soon, I was back in Buckeye Copper Mine's ghost town.
Building #10 appeared to be some sort of bathroom / shower building, as it was small, with four pipes into the floor, and another pipe sticking out. It was located at the top of a very small wash. Just below it was a sump, with a metal pipe leading into its bottom.
Building #11 was just above that. It was about the same size as buildings 2-5, but without a segmented floor. What made it unique was that at one end there was a 4″x4″ 'curb' — for want of a better word — running the width of the building.
After examining a prospect above the ghost town, I checked out "building" #12, which turned out to be either a water tank, an explosives locker, or both. (Which seems dangerous.) It was the only "building" with standing walls: In this case concrete, 4″ thick around the sides, 6″ across the middle, dividing it into two segments. One side had a wood wall, tin roof, shack, which is why I think it was for explosives storage.
I failed to check building #14, which is adjacent to building #13. On satellite view, it looks like just another foundation.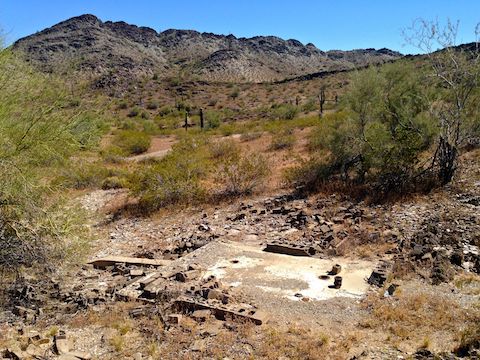 Building #13 was obviously the mill. There were some massive bolts still stuck solidly into the concrete floor. Like elsewhere, in the Buckeye Copper Mine ghost town, zero artifacts. Unfortunately, my iPhone's camera was unable to focus on the mill, and I did not discover that until the next day. (This on top of my pocket camera first running out of storage, then having recovered some space, later running out of battery.) 🙄
Finally, I peered down the gated shaft, which did not appear deep, speculating upon the possibility of a skinny person — which is definitely not be me! — squeezing through, then rapelling down. It was not deep.
---
Back home, I went to download a couple of more segments for my next Phoenix Asshole Drivers video, expecting the time on my crappy SpyTec A118C dashcam to be off by 12 minutes. (Despite me having originally having set it correctly.) Whereupon I discovered it was now off by 15 minutes. Okay, whatever, I'll just reset the time while I am sitting here at my computer. Can't do it: Gotta be connected to the car. Fucking hell! If it's not one thing with that crappy SpyTec A118C, it's another. 😡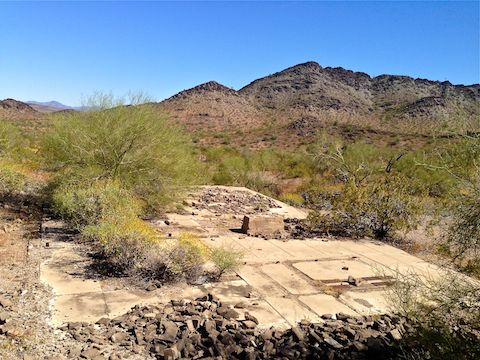 Directions: From Phoenix, head west on I-10 to Exit 109. Head south on Palo Verde Rd. for 6.3 miles to the school. Turn west (then south) on Old Highway 80 for 10.9 miles. Turn west on Agua Caliente Rd., which is paved, for .7 miles. At the split in the road, split right, staying on Agua Caliente Rd. as it turns to easily car drivable dirt. There's all kinds of jeep trails heading off to the side of Agua Caliente Rd., which crosses bajillions of washes. After a mile, just past a very small hill, turn south on an unmarked jeep trail. (You will want the GPS route, below, to find the correct jeep trail.) Follow that jeep trail southwest for 4.1 miles to the Buckeye Copper Mine ghost town. The unnamed jeep is rutted in spots, but is easily driven by an SUV. A car might make it, with caution.
GPS File: Buckeye_Copper_Mine_Hargan_Mine
Distance: 2.65 mi.
AEG: 326 ft.
Time: 1h 30m
---
Off Roading to Buckeye Copper Mine Video
Exploring Buckeye Copper Mine Video