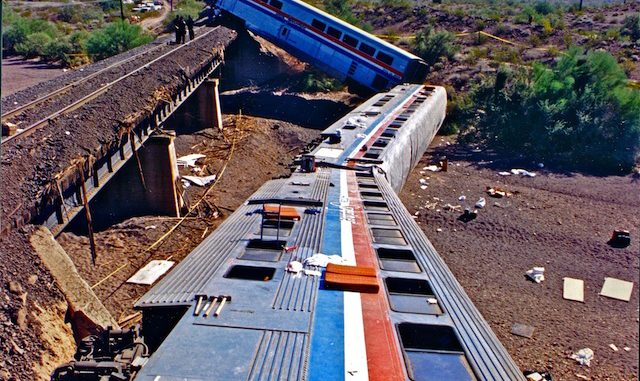 Today was another expedition I've had gestating for awhile. (Almost two years, since Stoic and I visited the rock art at the Sundad ghost town.)
I do a lot of map & satellite view recons, just cruising around, looking for interesting things, seeing if I can package a couple of them together in a day long adventure.
While Stoic and I had not ventured past Sundad on Agua Caliente Road, the section between Hyder and Sundad was easily car drivable dirt. While looks can be deceiving, satellite view, zoomed down to 100 ft. level, it sure looked car drivable all the way through the Gila Bend Mountains to Arlington and Old Highway 80, near Buckeye. And I have an SUV, specifically an AWD Acura RDX.
So, today's plan was to exit I-10 at Palo Verde Rd., taking that south to Old Highway 80. Follow that west, then south, through Arlington. About 2.5 miles north of the collapsed Gillespie Dam, turn west on Agua Caliente Rd., which is paved for the first 3/4s of a mile, but dirt the next 43 miles, to just east of Hyder. I planned a side trip down Powerline Road, to hike the Amtrak Derailment site, and a shorter one to Sundad, so my wife could see the rock art. I planned to finish up by heading through Hyder and Agua Caliente to Sentinel, taking I-8 east to Gila Bend, then AZ-85 north, back to the Valley.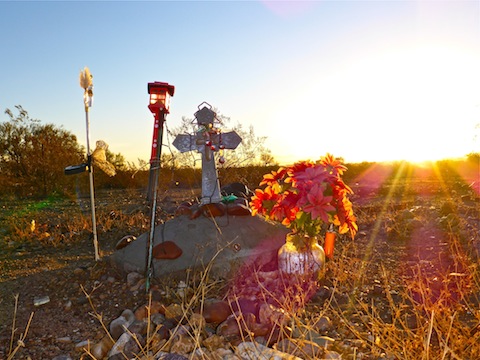 Unlike our recent bail driving A-Cross Ranch Road, everything went according to plan.

It was still dark when we started south on Palo Verde Rd. I parked on the shoulder outside Buckeye Regional Airport, as I wanted at least decent light to shoot any roadside memorials I spotted. There was a Coast Guard plane there, which looked like a air tanker or seaplane. It had a high wing and two engines. Maybe a Grumman HU-16 Albatross?
Once the sun rose, we continued south, past the dairies, vegetable farms & ranches of western Maricopa County. I remember when I-10 ended out here, and you had to drive Buckeye Rd. the last 30 miles into Phoenix. As Old Highway 80 curved south from Arlington, we could see a thick layer of fog below us, hanging over the valley between Arizona State Prison Complex – Lewis and Gillespie Dam. We don't get fog too often in the desert.
The closest we passed to a dairy farm was on the short paved section of Agua Caliente Rd. It had some huge dung piles. My wife thinks they stink; I think they smell like profit.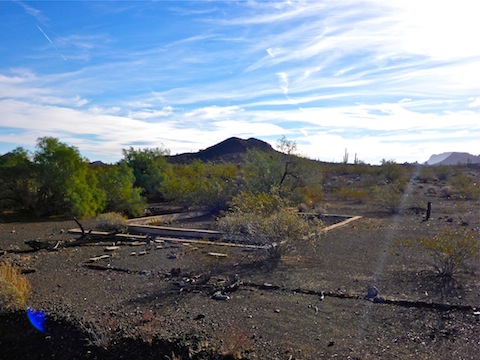 For once, my satellite recon was accurate: Agua Caliente Rd., was wide, smooth, and easily car drivable. Despite having rained quite heavily the night before, it was not at all muddy. I noticed one set of fresh pickup tracks, heading west, in the rain-speckled surface. A few minutes later, a white pickup passed us heading east. It was the only passenger vehicle we saw between Old Highway 80 and Sentinel.
We soon arrived at the old Union Pacific railroad crossing. A rough jeep trail follows its south bank west. I did not think it drivable 20 years after Union Pacific basically abandoned the line. But I could not find the mouth of the Powerline Road. Instead, I ended up following a jeep trail along the north bank of the tracks. That jeep trail was easily SUV drivable for four miles to where it splits: left, along the tracks getting rougher; right, through the fence, joining up with Powerline Rd., which was a fine dirt road the final two miles to our trailhead, just short of Quail Spring Wash. OHVs would have no problem continuing down wash to the Sunset Limited derailment site.
A mile before the wash, is the Harqua ghost town / railroad siding. Wikipedia innaccurately lists Harqua as a "populated place": No one has lived there in ages. But, after clambering over a long line of abandoned Union Pacific flatcars, we spent a few minutes exploring it. There was nothing left but foundations and broken masonry. Harqua had once had five structures: four buildings and a tank for a steam locomotive water stop. Steam engines have not been in regular use since before World War II, so Harqua has probably been abandoned 50+ years. The video, below, describes Harqua's layout better than I could by typing.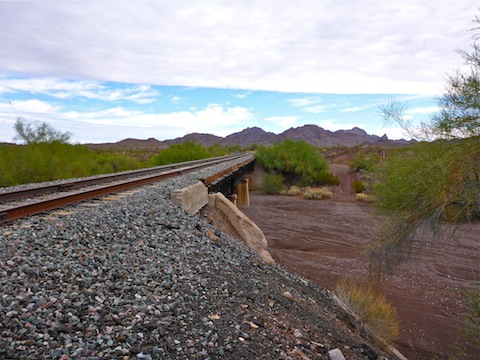 After leaving my SUV at a power tower, I hiked Quail Spring Wash south. Halfway to the bridge was a corral, some water tanks, and a collapsed windmill. There were many, many OHV tracks, and even horse tracks. And horse apples. I also spotted several piles of deer scat. There were no obstacles: It was smooth sailing.
Amtrak's Sunset Limited, on a westward run from Miami to Los Angeles, derailed on October 9, 1995. Both engines, and 8 of 12 cars, derailed, four of the cars plunging 30 ft. off the bridge into Quail Spring Wash. The casualties were relatively light, with 78 wounded and one unfortunate fatality. Letters at the scene attributed Sunset Limited's derailment to "Sons of the Gestapo", an organization no one heard of before or since. Investigators believe the derailment may have instead been perpetrated by a disgruntled Amtrak employee, which would certainly be a unique way of "going postal". No one has ever been arrested in the case; in 2015, the FBI raised the reward to $310,000.
The derailment site itself … Well, there's not much to it. The bridge is still there, with the chunk one derailed car knocked out of a buttress laying in the wash. The NTSB and FBI do a thorough job collecting evidence, as I found no artifacts. The most interesting find, was wheel marks gouged into the ties when the cars derailed. Despite Union Pacific ceasing operations on the line only a few months later, there were some new ties closer to the bridge. I was bummed there was no memorial.
Rather than take Quail Spring Wash back to my SUV, I followed the tracks east for a little over a mile, before cutting cross country on a 315° azimuth for a half mile. I recommend taking the wash both ways: Walking on railroad tracks is actually more strenuous than walking in sand!

Once we got back to Agua Caliente Rd., we continued west, past the Yellow Medicine Hills, Jackson Mine, Dixie Mine and Fourth of July Butte, where we encountered a road grader and spray truck at work. (The crew, I surmised, dropped off by the white pickup truck.) The road got quite twisty going over the pass at visually striking Yellow Medicine Butte … which is 10 miles west of the Yellow Medicine Hills. Confusing, eh?
I tried to drive all the way into Sundad, but got a wheel stuck in a dip & lip, and spun it. I parked it in the wash instead. My wife, despite her bad feet, was a champ, walking into Sundad with me. She was too shy to document her conquest with a photo.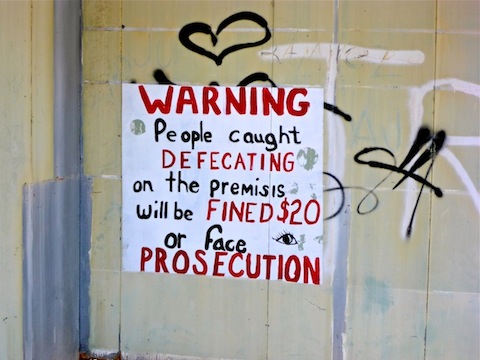 After Sundad, we zipped south down the remaining dirt miles of Agua Caliente Rd., slowing only where it passes straight through the middle of a ranch. Once again on pavement, we took Old Agua Caliente Rd. from Hyder, over the Agua Caliente Mountains pass, past the Children of Light sign, the hot springs spa which gave Agua Caliente it's name, the ghost town and pioneer cemetery, to Sentinel. I'll skip the freeway driving that followed.

GPS File: Sunset_Ltd_Agua_Caliente_Rd
Distance: 7.39 mi.*
AEG: 238 ft.*
Time: 3h 22m*
* The Sunset Limited derailment loop is a 3.65 mi., 111 AEG, two hour exploration. Driving the Agua Caliente Road, 63 miles from Arlington to Sentinel, is a 2+ hour drive.
---
Agua Caliente Road Video
Powerline Road / Harqua Ghost Town Video
Sunset Limited Video