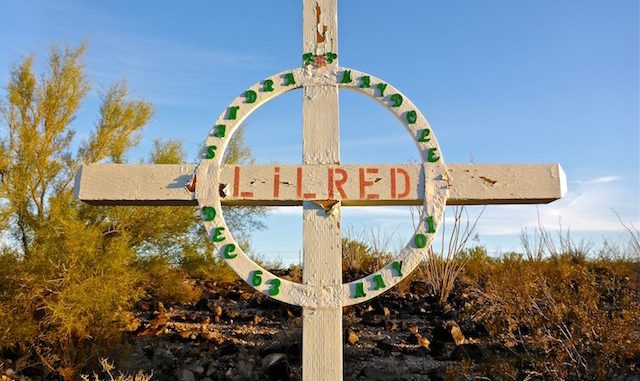 I just realized I never did a blog for my first Roadside Memorial video. Three years ago, I was just figuring out the whole YouTube thing. Hopefully, my videos have improved since then. Check it out, one of the memorials is for an actual murder victim, Arleen Cilione, who disappeared from Prescott on September 19, 2002. Her case is still open (Yavapai County Silent Witness/Cold Cases).
The roadside memorials in this video were found on California Highway 74, Nevada Highway 147, in Nevada's Valley of Fire State Park, and on I-10, in the Arizona Outback.
The CA-74 memorials are located between Rancho Mission Viejo and Palm Desert. Some were taken in December, 2016, and others back in 2014. I like to take the mountain highways to Southern California: CA-74 to Mission Viejo, CA-76 to Oceanside, CA-78 to Carlsbad and CA-94 along the Mexico border to San Diego. They are scenic & relaxing, especially compared to the living hell that is I-15. Or I-10. Or I-5. You get the idea. The list is by no means complete, as in some cases it was not safe to stop to photograph the memorial.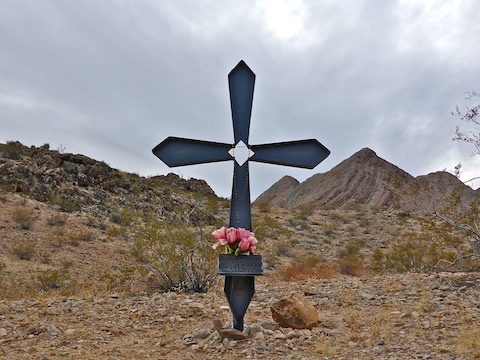 The NV-147 memorials are located between Lake Mead and North Las Vegas. We took that route back into town after visiting Valley of Fire State Park. The NV-147 pass above North Las Vegas is one of those memorial clusters you occasionally encounter, where there have been many crashes over the years. (One curve, just east of Tonopah, AZ, has a dozen memorials.) But the concentration of memorials is not the odd part: The odd part is the literally dozens of dead critters in the wash next to the highway.
I never stop to photograph memorials on the freeway. That's just insane. But I have been able to safely photograph some freeway memorials from nearby, low speed, access roads. Or, in this video's case, on the off ramp between I-10 and U.S. 60. (We almost always take U.S. 60 back to Phoenix, rather than I-10, as while the speed limit is 10 mph less, there is much, much less traffic.)
---
Roadside Memorial Video