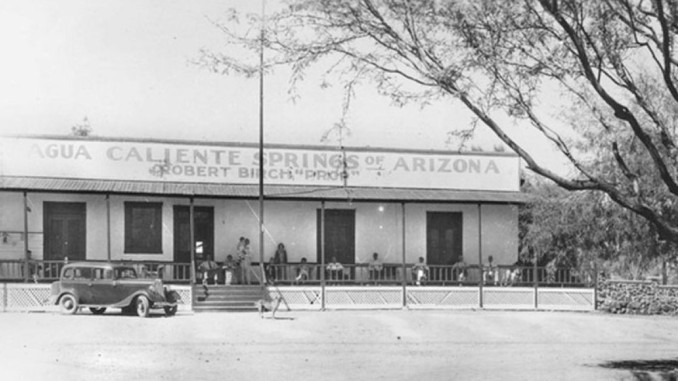 Agua Caliente was named for the hot water spring which was used as a spa from pre-European times until the aquifer was drained dry by farmers & ranchers in the late 1940s. I read somewhere that the Western Yavapai who massacred the Oatman family stopped here for a relaxing bath with their two young captives, Mary Ann and Olive Oatman. On March 30, 1862, nearby Stanwix Ranch / Stanwix Station, a stop on the Butterfield Overland Stage, was the site of the western-most battle of the Civil War. The California Column, of that war, also stopped at the Agua Caliente hot springs to partake of the soothing waters. The reputation spread, and in 1897 a 22-room spa was built. The spa was used during World War II by the officers — of course

— of nearby Camp Horn.
The spa building is still standing, and intact, but it is signed off with "no trespassing" warnings. There is also a large satellite antenna outside. It looks like the grounds are occupied, so best take any pictures from the road. Just southwest of the spa, on the west side of the road, is an intact old stone building, which is fenced off and has metallic screens over the windows. It looks like it might have once been a service station. The rest of Agua Caliente, on the east side of the road, opposite the farm, is open to exploration.
The stone buildings of Agua Caliente are all in ruins, with only one small shack still standing. In all, there are the remains of several dozen buildings, some fairly substantial. The largest building, with most of the walls still intact, is about 25 x 50 ft., and surrounded by a curtain wall, either to form a courtyard, or as fortification against indians and/or bandits. Other than beer bottles, the only identifiable artifacts were a couple of small refrigerators. (The type with a small inner box that serves as a pseudo-freezer.)
On west side of the road, the Pioneer Cemetery has burials from 1880 to at least 2012. More recent burials at the south end, older at the north, nearer the ruins. The oldest birth of a resident was a husband (b. 1835) and wife (b. 1836). Lots of Conde, Perez and Amabisca family members there. I found at least one grave that was obviously empty.

(Spooky!) Many of the older graves are marked with only a wooden cross, or have no remaining memorial and are now only mounds.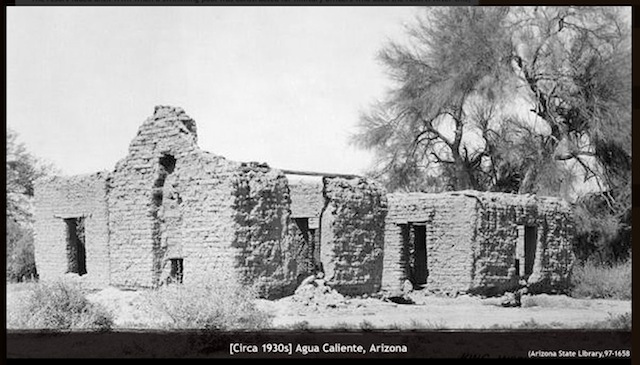 We returned to Hyder Rd. I wanted to stop at what looked like an old motel on Ave. 76E, and also check out the many abandoned buildings in Hyder, but they all had "No Trespassing" signs, and the old motel looked like someone lived on the ground in trailer. I've no need for bullet holes, so skipped them. I found two abandoned sites just west of Hyder. The first looked like an old motor court, complete with an obvious pool for weary travellers. The second, included a one-pump gas station, and several other foundations. No memorials on Hyder Rd., as there is so little traffic you will probably not see another moving vehicle unless you stop to do some exploring.
In Horn, there are quite a few foundations, and an incredible amount of old bottles, especially green. Many of the bottles were intact, so a I snagged a few. There were also several of what looked like covered mine shafts. There's no mine shafts on the topo, so maybe they were wells, or something else?
I did not realize Camp Horn was so close, or we would have stopped there as well. (Future trip …) Instead, we turned south for Dateland Army Airfield. It's much larger than I an anticipated, and I had no idea where any remaining buildings would be, so we pretty much walked out to the end of Runway 1/19 (the longest) took a quick look, then headed back to the SUV. A local had seen us, and stopped to chat. He clued us in to one building, which is where they zeroed machineguns. It look like a back stop: Open on one side, with a mound of sand against the opposite wall. Lots of graffiti inside.
Our tour complete, it was time for date shakes.

Distance: 4.70 mi. (total for the day)
AEG: 350 ft.
---
Ghost Town Video
Cemetery Video