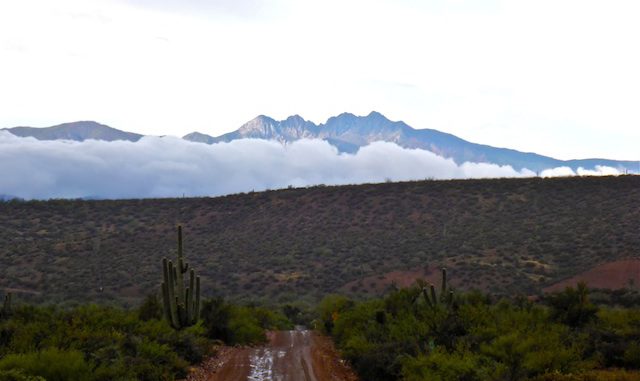 Today was the third time in four weeks I planned to hike Tanner Peak, in the Sierra Ancha between the Tonto Basin and Pleasant Valley. Tanner Peak is less than a mile from Armer Mountain.
The first time, I ditched the hike to see the stunning fall color in the West Fork of Oak Creek. The second time, it was because I had a computer disaster to deal with. Today, I actually made it to the Tanner Peak trailhead at the Rose Creek Campground.
Driving north on AZ-87, I was shocked at how few vehicles there were. Maybe a half dozen between Fort McDowell and the AZ-188. I drive AZ-87 at roughly the same time of day (~7:00 a.m.), on the same day (Friday), nearly every time I head northeast out of the Valley. While it is not early weekend Phoenix evacuation busy, there is usually a lot more traffic than that. Instead, AZ-87 was basically empty. It was glorious!
One thing I did notice was there were quite a few pickups parked off the side of AZ-87, and not in construction zones either. There were more trucks, and some campers, parked all along the Young Highway (AZ-288), at the east end of Roosevelt Lake. That's when I realized it must be deer season.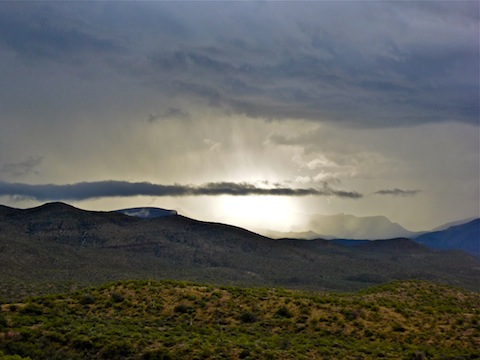 It was foggy, cloudy and rainy as we headed up AZ-288 into the Sierra Ancha. We dodged one deer, and a mutant squirrel, where the road transitions from pavement to dirt, near the Sawmill Flats Campground.
When we pulled into the Rose Creek Campground, there was a pickup there as well. That meant someone was hunting up canyon, where I would be hiking. In the fog. Wearing grey clothes. I did not think that was a wise idea, so we bailed.
We dodged two more deer on the way back down AZ-288. Thinking on the fly, I figured we could head back out to AZ-87, and maybe do a hike to Davey Gowan's grave & cabin. When we got to A-Cross Ranch Rd. (FR 60), I called an audible, and we went off roading. I thought maybe I could do a quick hike to Salome Jug, which is halfway on the 27 miles between the Young Highway and the town of Tonto Basin.
I had previously done a map recon, and A-Cross Ranch Rd. looked good, but the rain had turned it rather slick. What I called "surface mud". It was slipperier than it seemed, as I got my Acura RDX AWD sideways, and almost over the edge, on one downhill right hander.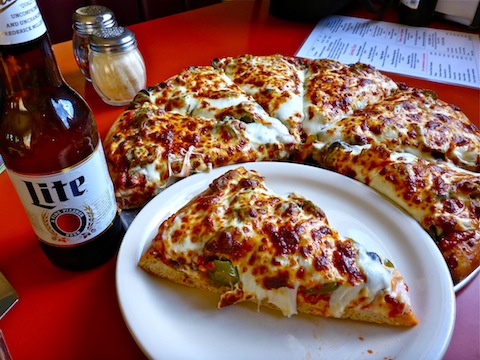 We made it to Tin Ranch, on Salome Creek, in about 55 minutes, then began the steep climb up the bluff on the west bank. Trying to avoid the downhill edge, I got to far left, into the ditch, and got stuck halfway up. Ugh.
Luckily, three Razors — I use the term generically — showed up a few minutes later, and they helped guide me out of the rut. Good thing too, as my tires were not meant for the kind of mud on that climb: The treads were totally packed, as were my wheel wells. And the good samaritans said the road actually got worse further ahead, at Salome Jug, and beyond. We bailed.
An hour later were were back at AZ-288, and soon thereafter in the town of Tonto Basin … but via pavement.

---
Drive Video