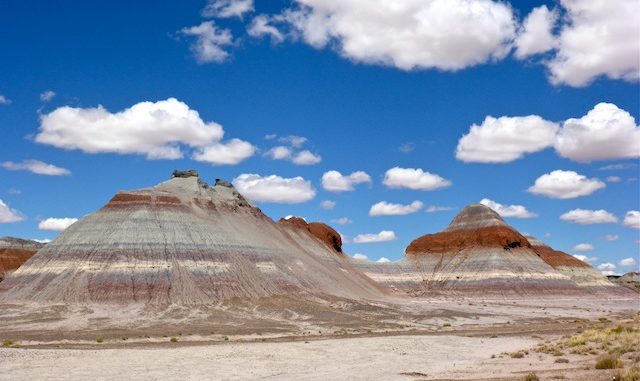 No plan survives first contact with the enemy.
After my Jasper Forest Road hike, I drove to the Petrified Forest's north entrance, near the Painted Desert Inn. As I drove past the inn, I noticed a road painting truck heading south. At the north entrance, I purchased an $80, one year, pass that covers land managed by the National Park Service, Bureau of Land Management, Forest Service, Fish & Wildlife Service and U.S. Army Corps of Engineers.

The Painted Desert Inn was a somewhat interesting as an artifact, but would be worth more time & interest if it was a living monument, still in use, than a museum piece. I would have gotten a kick — on Route 66

— out of drinking a root beer float served by a Harvey Girl.

Intending to hike to Onyx Bridge, I hadn't even got past the inn when the battery in my pocket camera died.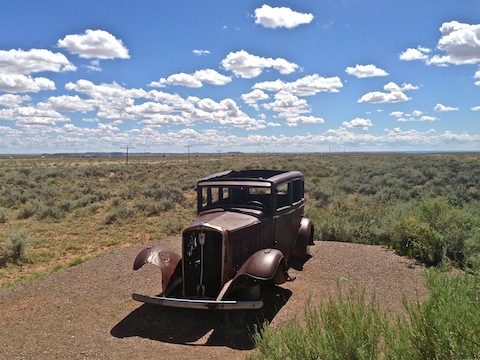 While I had my iPhone for backup, it's for backup, not primary use. Since I might as well walk around my neighborhood as do a cool hike without a camera, I scratched. Because my 10.5 mile Saturday, followed by a four-hour drive home, likely not arriving until after 2100, was a stretch, I decided I would instead do Onyx Bridge on Saturday, and get home at a reasonable hour.
To fill some time, and see some more sites, as I drove back south on the park road, I stopped at the various OPs to check out the views. The OPs on the Painted Desert Inn mesa were interesting, looking out at the beautiful red & white rocks of Lithodendron Wash, Pilot Rock, etc. However, the OP at Newspaper Rock, supposedly home to 600 petrogyphs, was disappointing. I could not see one petroglyph with my naked eye, and I sure wasn't going to queue at the cheap telescope. Honestly, I've seen many more interesting petroglyph sites, such as Painted Rock, near Gila Bend, and Indian Spring, west of Tonopah.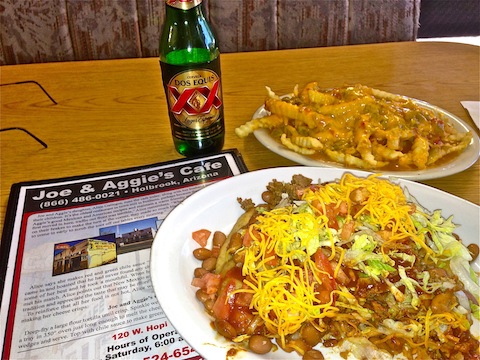 As I continued south on the sole park road — there's no alternates — I found myself stuck in a line of at least a half dozen vehicles, following the paint truck. At 5 mph. With 20 miles to go. 

I did the math. Four hours to get out of the park? Screw that! As soon as I had some spare shoulder, I turned around and headed back to the north entrance, to get on I-40 back to the Globetrotter Lodge in Holbrook. I was drinking my second Dos Equis before those people left the park.

Distance: 50 feet
AEG: -2 feet
Time: 10 seconds
---
Vista Video