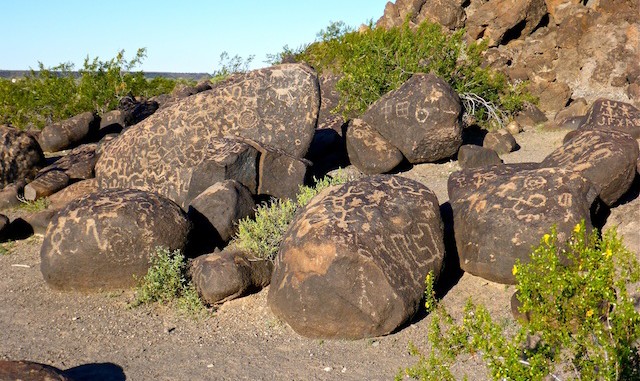 I've been planning this trip for about two years. The basic plan was to: 1) Drive Painted Rock Rd. to the petroglyph site. 2) Drive Rocky Point Rd. / Oatman Rd. to the Fourr Cemetery and Oatman Massacre sites. 3) Back up Oatman Rd., when continue northwest on Rocky Point Rd., then southwest on Hyder Rd. 4) Head south on Ave. 76E / Old Agua Caliente Rd. to the ghost town / pioneer cemetery. 5) Return up Ave. 76E, then continue west on Hyder Rd. checking out the ghost towns of Hyder and Horn. 6) Head south on Ave. 64E to Dateland Army Airfield. 7) Finish the day with a date shake, before heading back to Phoenix at a rush hour avoiding time.
---
The petroglyph site is just off the route Juan Bautista de Anza followed in the winter of 1775, which was later followed by the Mormon Battalion in the winter of 1846, the Oatman Family in 1851, and the Butterfield Overland Mail from 1857-1861. (The simple reason being plentiful water from the then flowing Gila River.) Some of the pioneers left their own etchings on the petroglyphs.
There are two small hills. The western, larger, hill has very few samples. The eastern, smaller, hill has tons of glyphs. Some so dense you cannot distinguish the symbols. Some more modern, ranging in my view from 1879 to 1954. The indian petroglyphs were mostly on the south side; I wonder if there is some social significance to that, similar to the Navajo having their hogan doors facing east?

 But you can see pretty much everything there is to see in 30 minutes, an hour at most if you read the entirety of the many info signs.
West of Painted Rock, the road becomes gravel, but is a decent, car-drivable, surface. After crossing the bone dry Gila River, where the road Ts, we turned left on Oatman Rd., heading for the Oatman Massacre & Fourr Cemetery.
---
Petroglyph Video