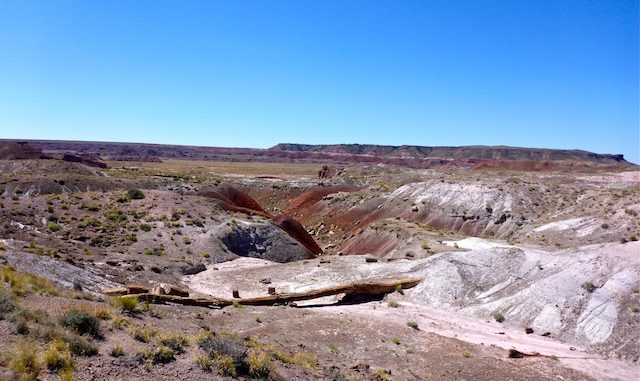 What it is, what it was & what it shall be.
I had intended to do this as my third Thursday hike, but the battery gods had other plans.
I planned to do two hikes today: Martha's Butte, a 2.0-miler, in the early morning, followed by the Red Basin Clam Beds, a ~8.5 miler, through late afternoon. But that would have not got me home until after 2000, so I called an audible and did the delayed Onyx Bridge today. (As you no doubt deduced from the title of this blog.)

My hike started off well with me snagging the only shadey parking spot on the Painted Desert Inn. My luck held as I was able to actually hike past the inn without my camera battery giving me the finger. I'm a big believer in omen momentum. This was looking good.
Again it was very windy, though not quite as bad as yesterday, hiking the Historic Blue Forest Trail / Billings Gap Overlook. In some cases, it actually paused long enough for me to narrate a video segment!
The Onyx Bridge "Off the Beaten Path" trail starts on the side of the Painted Desert Inn opposite the flag pole. It goes down a series of steep switchbacks, where some cedars provide the hike's only shade. Unlike some of the other "Off the Beaten Path" hikes, like First Forest Point or Jasper Forest Road, the National Park Service handout does not include a specific suggested route, just a series of waypoints. It kind of looks like a Dungeons & Dragons map.

At the bottom of the switchbacks, the trail threads between some some small, very red, hills containing several groves of petrified wood. There's lots of specimens, but not much color. The logs are all a dull, dark, grey. No red, or blue, or ochre as at First Forest Point and Jasper Forest Road.
Follow the obvious path past the first cairn at .40 miles, to the second cairn at .70 miles. (Cairns may be temporary.) At that distance/cairn, turn northeast, dropping about 20 easy feet over a small ledge. Continue to the small wash at .80 miles, where there should be a third cairn. From here to Onyx Bridge will be all wash walking.
Follow the small wash to the fourth cairn, marking a medium wash, at 1.00 miles. Turn northwest in the medium wash. At 1.30 miles, you will arrive at a very large wash. That is Lithodendron Wash. (Not realizing where the correct path lay, I actually cut across country to Lithodendron.)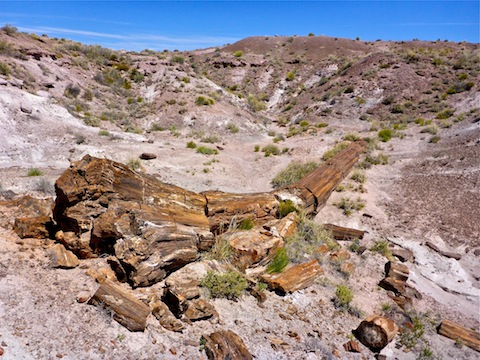 None of the washes are deep; maybe 3-5 ft. at most. You can see more cutting cross country, but the wash walking is very quick & easy: There are no ankle breakers and the sand is firm. Lithodendron Wash may show signs of near surface water flow, as indicated by the many moist spots I saw, despite no recent rain. Lithodendron Wash is visible from most all the OPs on the park road mesa. (Seriously, why does such a major terrain feature not have a name?

) Eventually, Lithodendron empties into the Puerco River, west of the ghost town of Adamana.
Follow Lithodendron around a left curve, then a right curve to the 2.00 mile mark. There, you have a choice: 1) You may directly proceed to Onyx Bridge by turning up the small wash on Lithodendron's north bank, or 2) you choose to visit the other major logs first by continuing for a tenth of a mile to the next small wash on the north bank.
I went to Onyx Bridge first, and I also cut across country for a bit, along the base of the bluff. There's a quite a bit of petrified wood, but still not of the colorful variety.
The wash to Onyx Bridge splits several times: At the first split, stay right; at the other splits stay left. Footing is not quite as easy, but still far from bad. There is a ton of petrified wood on the approach, and though still not colorful, it has some amazing wood patterns and burls.


At the final split, because you stayed left, you will climb some small boulders 20 ft. to the next level of the wash. If you split right, you will instead face a 20 ft. overhang. The sides are very steep & slippery: Turn around and go the other way.
And there's Onyx Bridge, a somewhat intact petrified trunk where the sand has washed out beneath it forming a small gap. I took a break, sipping a Gold Road Kölsch-style Ale, from the Mother Road Brewing Co. in Flagstaff. They suggest pairing it with brie: I paired it with gorp.
Note that Onyx Bridge is exactly where the Park Service handout says it is. However, the topo map says it is a quarter mile northeast, two small canyons over.
After my break, I climbed up, out of the Onyx Bridge wash, and started cutting across country, now mostly in the white strata. I saw something sparkling 50 yards ahead. There were several patches of flat, crystalline minerals. I have no idea what they were — salt maybe? — but it was pretty neat.
I discovered the second log between the official and unofficial Onyxes. Onyxi? Whatever. It was obvious the second log had at one time been a petrified log bridge of its own, but that it had broken of its own weight a long, long time ago.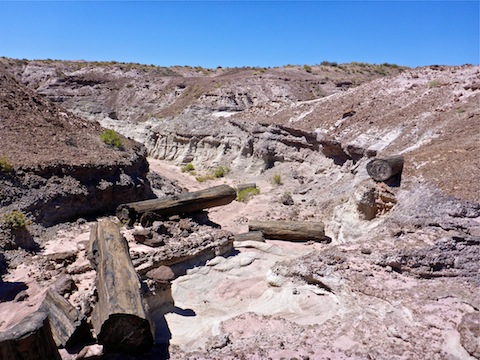 The third petrified log bridge, Topo Onyx, as I call it, was still contigous, but was flat on the sand, with no gap beneath it. In a million years, after Onyx Bridge has collapsed, it may be an actual log bridge itself.
From Topo Onyx, it is .30 miles down a small, but mild, wash to Lithodendron. From there, head back the way you came. If you are ever in doubt about which direction the trailhead is, you can see the Painted Desert Inn, on that nameless mesa, every point on this hike. Just head that way.

While I was I rehydrating at the trailhead, a very nice park ranger came up and asked me about my hike, saying he'd watch me the whole way. I enthusiastically told him about finding not just Onyx Bridge, but two other cool logs as well.
Because I had finished by noon, and was not facing the late night return I would have if I had done the Martha's Butte / Red Basin Clam Beds double, I stopped at the mineral store at the intersection of AZ 77 and AZ 180, Jim Gray's Petrified Wood Co., to pick up a present for my loving wife. I spent an hour just ogling. Check it it out if you are ever up that way.
Great weekend!

GPS File: Onyx_Bridge
Distance: 5.97 mi.
AEG: 640 ft.
Time: 2h 26m
---
Hike Video