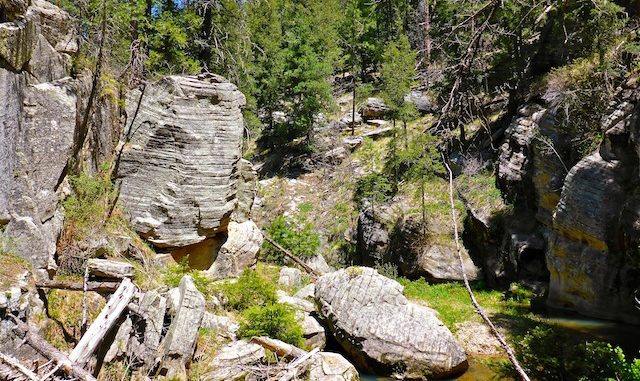 You are only lost if you have no idea where you are
and no idea how to get to where you want to be.
I have had my eye on Miller Canyon and East Miller Canyon, just west of the Arizona Trail on the Mogollon Rim, ever since I hiked nearby East Bear Canyon and West Bear Canyon, nearly two years ago. As Phoenix hit 100° for the first time this year a few days ago, and I'd been up near Prescott last week, I figured today was a good time to head northeast.
My wife and I hit the road about 0545, after picking up our supplies at the 7th St. QuikTrip in Sunnyslope. Traffic seemed lighter than normal, and it gave me great joy to see the car ahead of us get flashed by the traffic camera on Shea at 120th St. I usually make good time through the curves on AZ 87 through the Mazatzal Mountains, as people slow down more than is necessary. The exception being the near suicidal last second pass by a guy doing 85+ squeezing between me and a semi crawling up the grade. I have a dashcam, so it would have been a LiveLeak-worthy video had he not made it.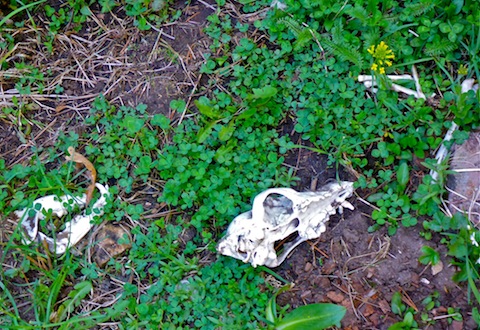 FR 300 Rim Road was in good condition, except for being potholed near the Kehl Spring Campground. I thought I was supposed to turn north at the Battle of Big Dry Wash monument / Arizona Trail, but in fact it was a turn earlier at FR 123 (which goes to the actual battle location about seven miles north on East Clear Creek). That was followed by a second quick left onto FR 141H, then a 2.5 mile drive west to the trailhead. I had hoped to park where East Miller Canyon crosses FR 141H, but someone was already there, so I continued slightly uphill, parking on FR 9369T. (Which would be a more secure spot, as no one will see your unattended vehicle there.)
I hit the "trail" about 0900, first heading down to my intended trailhead, then heading straight down the bottom of East Miller Canyon. Passing through a random barbwire fence got me slightly upslope, so I had to pick my way back down to the canyon bottom. East Miller is not very deep — 200-300 ft. at most — but the sides vary from very steep to sheer. While side sloping will save you having to navigate the many obstacles on the canyon bottom, you will miss the best photos and not gain any time due to still needing to mind your footing. Get low and stay there.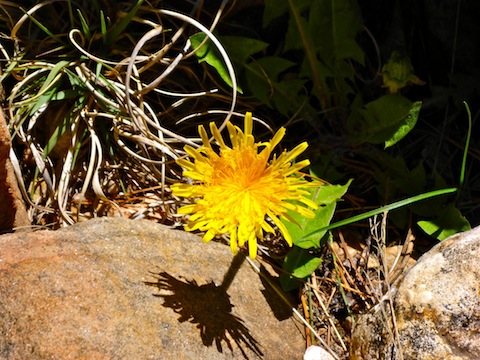 As in East and West Bear Canyon, the canyon bottom alternates between frequent stream crossings; pools; dry, rocky stream bed (where the water flows underground); grassy; animal trail; medium-sized boulders; and massive deadfall. I would not be surprised if I crossed the stream a hundred times in six miles. One tree stump on Miller Ridge was a legit six feet in diameter. Another tree was too large & elevated to clamber over: As I low-crawled under it, I thought "I hope it does not slip."

Willow Spring was flowing, but I did not locate it's actual source.
There are many potential animal dens under the canyon walls, but I also spotted an outright cave about 2.5 miles into the hike. I did not explore it. There was a lot of deer and elk scat along the canyon bottom. In several instances it looked like the elk ate bad chile.

I saw one dead elk's bones scatttered for about a hundred yards down canyon, ending in a cluster with the skulls from several smaller animals. What sort of critter has such a wide diet?
I did not spot any yellow triangle VV signs, like I did in West and East Bear Canyon.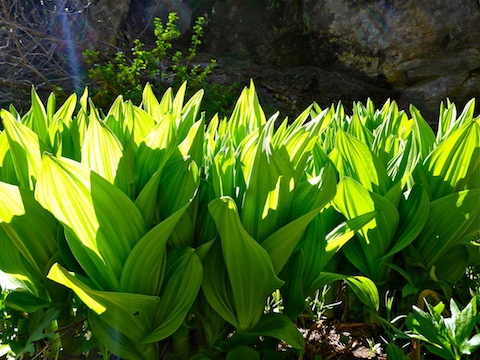 Despite descending from 7470 to 6960 elevation, it was a physical hike, especially for a 53-year old fat man. When I arrived the intesection of Crackerbox Canyon, my crappy Garmin 62S said I had gone 8.18 miles. (Actual distance? 6.5 miles.) It was 1335, meaning it had taken me 4.5 hours to get there. I had planned to hike back to the trailhead via Miller Canyon, but doing the obstacle course uphill would have taken even longer, and I wanted to be out of there before dark. I was also under 50% fluids, as it was hotter in East Miller Canyon than I expected. (A very warm 75° it was!

)
After a 20-minute break, I headed 200 ft. up Miller Ridge to an old jeep trail. The first mile south on the jeep trail was through a very old burn area. I figure well over 100 years old, as there were many burnt logs, but many healthy trees well over 100 ft. tall. One downed tree was a good 150 ft. long. Eventually the jeep trail became FR 320, which eventually connects back to FR 141H and the trailhead. FR 320 would be easily SUV drivable its 4.5 mile length if not for a large downed tree across the trail about a mile south of the canyon junction.
After my hike, my wife and I stopped for dinner at Mama Joe's in Strawberry. It took awhile to get our food, but my pizza was excellent and my wife raved about her mushroom soup.

We had a couple more interesting automotive encounters on our way back into Phoenix, including a guy who passed us doing 85 mph as we entered Fort McDowell. A few minutes later we experienced schadenfreude upon spotting him pulled over by the reservation police.

(Who actually had a four unit speed trap set up.) Unfortunately, my crappy SpyTec A118C failed not for the first time, as it did not record any video south of Strawberry.

GPS File: East_Miller_Canyon_Loop
Distance: 11.62 mi.
AEG: 759 ft.
Time: 5h 10m
---
Hike Video