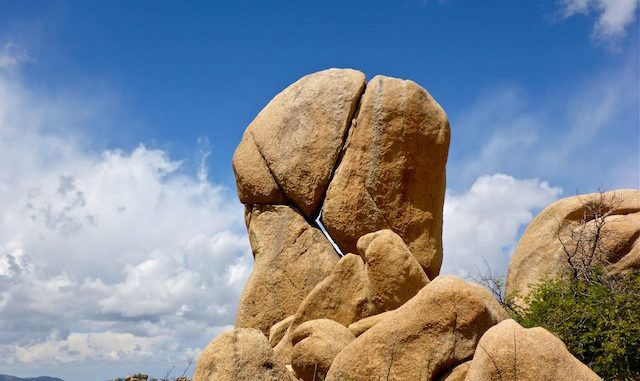 My wife & I got out of Phoenix at a decent hour (5:38 a.m.). Less auto traffic than expected on northbound I-17, so I was able to get up to AZ 69 quick. On the way through Prescott Valley, we followed a guy who was weaving quite a lot. Probably texting. 30 years ago, Prescott Valley was a nice place.
We picked up Paul at his crib. We had discussed doing the Jersey Lily Mine, above the Hassayampa River, but ended up doing our alternate of Little Granite Mountain. The trailhead is a bit tricky to find: As you head west on Iron Springs Rd., just after leaving Prescott, on the right is Granite Basin Rd. It's easy to zip by, so be on the look out. Head north for a little over three miles to the one way loop road. Go counterclockwise, past the Granite Basin Lake campground, for a half mile. The parking area and pit toilet is on the left. Thankfully, the pit toilet did not smell nearly as bad as last time.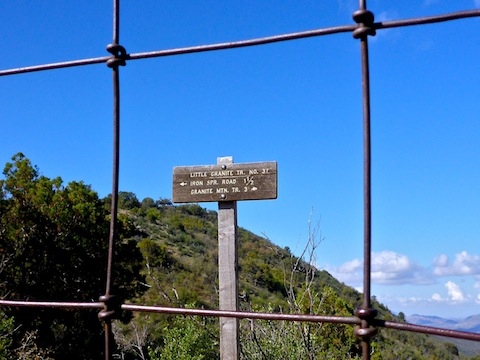 There's several ways to approach the loop: a true loop from Granite Basin Lake, a lasso from Iron Springs, and a lasso from Division Well, via either Upper Pasture Trail #38 or White Rock Spring Trail #39. All of them take you through the awesome boulders and the ghostly charred forest of the Doce Fire burn area. (The Doce Fire ignited a week before the tragedy in Yarnell; luckily it was controlled before Prescott became Ft. McMurray.)
Thankfully, Paul and I had not gone far, maybe a quarter mile, before I realized I had failed to start my crappy Garmin 62S. Getting credit for everything I do is important to me, even if the only person judging me is me.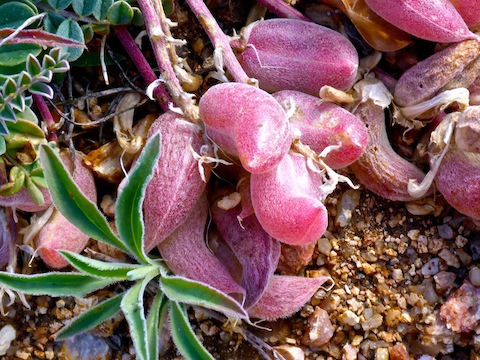 Just after we turned south on Clark Spring Trail #40, there is a small building, with barred windows, a bit off trail. Looks like an old jail, but it is being used for landscaping storage. Looking at satellite view, there is a small community nearby.
The climb up to the saddle between Little Granite and Two Rock Mountains is about 600 ft. in two miles. Steady, but no big. I've no idea where the loop's other 800 AEG come from. There's lots of pine trees along Trail #40.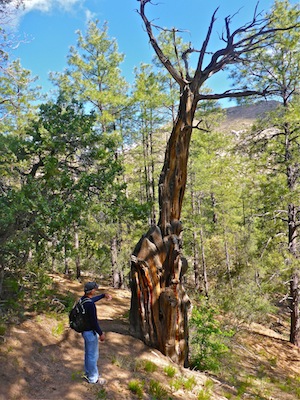 At the saddle, where Trail #40 intersects Little Granite Mountain Trail #37, there is a gate. We turned north, following Trail #37. Paul says this is the preferred Little Granite summit route. We thought we might summit, and started up the ridge, but with each step it got colder, and cloudier, and windier. Summiting would have been nice, but my #1 hiking objective is exercising. As long as I do that, I'm good. I have no need to practice misery: I got enough of that in the Army.

Trail #37, up the west side of Little Granite, has a lot of fire damage. Only a few trees survived. Ironically, where there are the most dead trees, at the northern end of Trail #37, is also where there are the few survivors. The survivors seemed to be near the largest rock formations, so perhaps the rocks shielded those lucky trees? Like other fire areas I have hiked, the grasses, bushes and flowers quickly recovered and are doing well. (Yes, the hike video contains #flowerporn.

)
The sun came & went. Combined with gusting winds, it made getting focused, well lit, photos difficult. It got cloudier as the morning progressed, and we even got a few sprinkles near Blair Pass. Good thing we skipped Jersey Lily as it looked like the Bradshaws were getting heavy rain.
After our hike, the three of us had late lunch in Prescott. I was sleepy tired, so my wife & I soon headed home. Heavy rain between Yarnell & Congress actually helped me stay awake.
GPS File: Little_Granite_Mountain_Loop
Distance: 7.95 mi.
AEG: 1,427 ft.
Time: 3h 32m
---
Hike Video