Viera hacks world record phlegm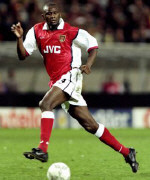 Moody Frenchman Patrick Viera celebrates by leaping over his monster lung cookie.
RotMasters Capture French International: The London Times, a paper several rungs up the journalistic ladder from the tabloids, admitted that it had been snookered by reports on Liverpool's own Club-Call service that the club was pursuing one Didier Baptiste. Unlike fellow Frenchman Nicholas Anelka, whose talent is fictional, the entire personage of M. Baptiste is a fantasy. It seems that Baptiste, a character on "Dream Team", a twice-weekly television drama, is actually being sought by the fictional "Harchester United". Charlie Stillinajob is insisting that Baptiste honor his RotMasters contract and report prior to March '00.
Oldthar Watch: Oldthar Matthäus scored a rare goal in the 12th minute of Bayern's Bundesliga match before leaving the game with a torn thigh muscle. He will miss Wednesday's Champions League game at Norway's Rosenborg, and several decades of duty with the RotMasters. Charlie Stillinajob flew to Munich to personally massage the injured muscle, in the vain hope that his obeisance will one day earn him the opportunity to masturbate in The Great One's shadow.
Slam of the Week: "Chris Sutton [Chelsea forward] continues to look like the buy of the season, but only from Blackburn's perspective. He moves with the lumpen grace of an articulated lorry." (Dave Bowler, "Team Talk", Matchday USA)
RotMasters Season Tickets Sales Soar on News of Latest Signings
From the web site of world domination, comes the following exciting news:
The MetroStars 2000 Holiday Package is here!

4 MetroStars 2000 Ticket Vouchers
1 Metrostars Scarf
1 MetroStars # 5 Soccer ball
2 Packs of Upper Deck MLS Trading Cards

A $100 VALUE FOR JUST $49.99!!!

For more information call 1-888-4METROTIX
Wow, just in time for the RotMaster's New Years Matthäus testimonial!
Are you a soccer parent?
At the school concert: Do you stomp around the aisles yelling, "Sing it! Sing it louder!"? (i.e. "Kick it! Kick it harder!")
At the school play: Do you charge the stage, insisting your child move closer to the footlights instead of standing near the scenery in back? (i.e. "Get up there by the goal right now!")
At the Battle of the Bands: Do you tell your child to blast his tuba to drown out another kid's melodic clarinet? (i.e. "Knock 'em down! Push 'em back! You gotta be physical out there!")
While your child is coloring: Do you stand behind your child screaming, "In the lines! You have to keep your colors in the lines! And the sky is blue, not red!"Total up your "yes" answers, then check your score.0 Yes: You are a well-balanced individual. You do not live through the accomplishments of others. You truly have your child's best interest at heart.
1 Yes: You display symptoms of irrational and bizarre behavior. Ego-displacement is also a problem, but you generally manage to function in normal society.
2 Yes: You are rich and powerful, dominating the peons at work. Therefore it is only right and proper that everyone else realize how rich and powerful you are. In other words, you probably have a small penis.
3 Yes: You need to do a serious re-evaluation of what is important in life.
4 Yes: Seek professional help. Medications are available to help you deal with your problem.
MLS Cup '99 Recap
By Dave Lentzner
(TotW actually missed the whole first half, so this will have to do …)

0′ – Despite ominous looking skies and an appalling lack of Iranian players, the game kicks off right on time. Tom Presthus looks dazed.

1′ – Marco Etcheverry amd Robin Fraser clash in the LA penalty box. Brian Hall waves play on. Replays are inconclusive and Ty Keough declares it 'controversial'. Soccer fans demand that Brian Hall be disembowled at the earliest possible convenience.

4′ – The first raindrop falls from the sky. Unfortunately, it hits Diego Sonora in the ankle, and he is stretchered off the field with a severely temporary ankle contusion.

19′ – DC makes an astonishing buildup leading to Ben Olsen making an astonishing centering pass to Jaime Moreno, who blazes a shot just over the bar. Phil tells Ty about how Zach Thornton's father used to play tight end for the University of Kentucky. Ty responds with a witty anecdote from his playing days.

27′ – Eddie Pope latches onto a swerving Etch corner kick and lashes a volley which is magnificently blocked by Hartman. Moreno follows up with a screamer that Hartman blocks. Agoos follows with a blast that Hartman blocks. Lassiter follows with a scorcher 75 feet over the crossbar. Bruce Arena, in attendance, scrawls on his to-do list 'Call….up….Presthus'.

30′ – Olsen is clearly taken down in the LA box by Caligiuri and Hall waves on play. Home viewers can't tell because the screen is 75% obscured by Brian McBride telling everyone he really just likes pie.

36′ – Mauricio Cienfuegos hits a pretty, flighted pass to Cobi Jones, 25 yards behind the DC defense. Jones jukes a puzzled looking Tom Presthus and, facing the empty net, hits a delightful drop ball that is cleared away by Llamosa.

39′ – Richie Williams gets his second yellow for clotheslining Cienfuegos.

40′ – Danny pena gets his second yellow for attacking Etch with an axe handle.

44′ – 1-0 DC! Roy Lassiter loses his mark and meets an Etch cross with a crashing header. The ball goes straight down, bounces up and hits him in the face whereupon he lashes a wicked, sidewinder volley into the upper corner. Home viewers miss the play as ABC has cut to Rob Stone on the sidelines, where he smugly asks Christina Aguilera if SHE knows John Harkes.

Half – Disaster is narrowly averted when a crazed psychopath rushes up to Aguilera and starts screaming in her face. Security guards are able to pull him away and the police report shows him to be an unemployed 39-year-old raconteur named Walter Zenga.

Aguilera composes herself, but is suddenly swept away, along with 55 cherubic gymnasts, when a flash flood enters the stadium. America mourns. For 5 minutes.

Ty declares the first half to have been 'controversial'.

49′ – LA shows some amazing ball control in the midfield, stringing pass after amazing pass. Phil reminds Ty how much Mike Kryzyzewski loved Jay Heaps. Ty responds with a bon mot about US international Matt McKeon.

55′ – Carlos Llamosa takes a bad step and tears every muscle in his body. Thomas Rongen, desperate to protect the lead, subs in AJ Wood.

63′ – Dave Dir, in attendance, has a man sitting next to him tell him how much he hates soccer, and whatsmore, in his experience, one type of soup has usually been sufficient. Naturally, Dir punches him in the face.

68′ – 1-1! Simon Elliott picks out an open Carlos Hermosillo, as the DC defense, along with the entire viewing audience had forgotten he was playing. Hermosillo slides a ball past an astonished Tom Presthus. ABC misses the goal, having cut away to a guy really enjoying some nachos. Hermosillo lifts his jersey to reveal a t-shirt that reads 'Feliz Cumpleanos – Reginald VelJohnson. Mi te amo.' ABC misses the celebration when they cut away to show Sigi Schmid furtively rubbing his enormous belly.

73′ – Roy Lassiter is flagged for offsides on a breakaway. Replays are inconclusive. Ty declares it 'controversial'. Soccer fans insist they will find the ref assistant's home and push her elderly mother down the stairs.

77′ – Joey Franchino, having just come on, suplexes Carey Talley. Hall confidently shows him a yellow.

78′ – Geoff Aunger, having just come on, lunges at Roy Myers with a pair of scissors. Hall gives him a stern talking to.

84′ – Mooch Myernick, in attendance, shakes his head at the foolhardy use of forwards by both coaches.

90′ – Still 1-1. The rain coming down now makes Hurricane Mitch look like a lawn sprinkler.

105′ – Myers is clearly elbowed by Talley in the DC box. Hall waves on play. Home viewers miss the infraction as 75% of the screen is filled up with Eddie Lewis squeaking something unintelligible.

118′ – 2-1 LA! With only moments left until a shootout, LA strikes for the winner. Ezra Hendrickson collects a ball on the win and charges towards the goal with that weirdo, chicken run he does. With all the grace of a gazelle – with a lion clamped on its ass – Ezra lines up a right-footed blast, and hits a 2mph dribbler off of his left shin. The ball rolls through the legs of a confused Tom Presthus. A distraught Eddie Pope finds a Polish gentleman in the crowd and punches him in the throat.

Home viewers miss the goal as ABC has cut away for a special report – Chris Berman is eulogizing former baseball journeyman Dutch 'Crusty' Krupchak, who has just died unexpectedly at the age of 96.

ESPN picks up the feed for the trophy presentation, but has to cut away to taped Arm Wrestling when somebody else needs the extension cord. Later that night, SportsCenter teases the game but runs out of time for highlights when Jimmy Roberts' preview of the North Fayetteville Senior Open Players Golf Skins Championship runs past its allotted 20 minutes. Tom Presthus can only look on in disbelief.
---
Public 'Servants' Abuse Public

---

TotW sometimes prints the humor of others, but generally prefers to leave the ranting to itself. However, the following incident so severely pisses TotW off that it could not rant on the subject with anything approaching coherence, let alone humor. It is unfortunately becomming all the more common as our supposed public servants forget who they are supposed to be serving, and to what ends. Totalitarianism begins with blind adherence to the law. Read, but do not enjoy …

---

Group's good-will effort gets bad rap from police

By Doug Chapman, Providence Journal

FOXBORO — All throughout MLS Cup '99 Weekend, commissioner Don Garber reiterated how the international sport of soccer is uniquely positioned in America to bringing diverse groups of fans together. The Midnight Riders, the unofficial supporters club of the host New England Revolution, took Garber's word to heart and ended up running afoul of the law for their efforts.

The Riders hosted an open pregame tailgate party in the Foxboro Stadium parking lot. The party, which was announced on the Internet, invited supporters of all 12 MLS clubs to join them. At the tailgate, the Riders solicited voluntary donations to help defray the costs of food and refreshments.

Two Massachusetts State Police officers, wearing D.C. United garb, joined in and then broke up the party.

"We were accepting donations to help cover our costs," said Tom Hill, one of Riders organizers. "The state police viewed it that we were selling food without a license."

The state police confiscated $127 from the Riders and broke up the party, according to Hill.

"This is something we regularly do to help foster good will among all of the fans," said Guy Keeley, another Riders official. "It is an anti-hooligan measure, because it brings different fan groups together. The state police came in under cover, grabbed our pouch of money and broke up the party. You'd think that they would have more important things to do with their time."

One D.C United fan was taken into custody by state police, but was later released, according to Hill.

"I don't know the particular legalities of this situation," said Garber, "but we need to develop closer ties with our supporters clubs so that situations like this do not occur. Perhaps we could have supported their effort, or at least authenticated it. Something needs to be done to ensure efforts like these to bring fans together do not end up having the opposite effect."

This was not the first time that the Midnight Riders and state police have clashed.

"We've had so many parking lot issues with the state police," said Keeley. "No matter how many times we complain to the Revolution, nothing ever seems to get done. We'll probably get another apology from the team. But we're getting to the point where why should we bother any more."

---

A rather innocuous incident, you say? Just a misunderstanding, right? Isn't it ironic how when citizens make a mistake, it's a crime, but when cops make a mistake it's a misunderstanding? Now, for the rest of the story …

---

By Tom Hill, Pictures of Chairman Mao

Pictures of Chairman Mao had a nice four-year run, but as far as I am concerned, it's over. I have enjoyed my experience immensely, and wouldn't have traded it for the world.

However, I simply can no longer be involved with the zine, nor the Midnight Riders. It just is not worth the hassle. I will be 40 years old in January, I am a "regular" middle-class guy who owns a house in the suburbs. I am not interested in being a martyr for some "cause" and I am simply too old to be getting arrested by sleazy, underhanded, racist police with nothing better to do. These people are the lowest of the low, and should be ashamed of their behavior.

All I am is a soccer fan who wanted to be involved in something special, something positive to help the sport grow in this country. I am very sad to see that it is not possible. I felt I had a lot to offer the sport, and have given countless hours of my life for the good of the game. Others will have to carry on without me. I give up.

The following is a chronology of events that took place before the MLS Cup Final soccer game at Foxboro Stadium, November 21, 1999. These events are to the best of my recollection, and this summary was written at 6:00 pm, Sunday, immediately upon return to my home. The dialogue contains exact quotes, and some people may find some language to be offensive.

Background:

I, Thomas Hill, was in attendance in "Lot B" of Foxboro Stadium prior to the match. There were several hundred members of various organized soccer supporters present, representing all 12 MLS cities as well as other locales. The "Midnight Riders," the unofficial supporters' organization of New England Revolution fans was the hosting organization. The Midnight Riders provided food, with several barbecue grills set up, as well as beverages, including beer for traveling fans. Because of the expense involved in such an undertaking, a donation was asked to help defray the costs.

I am one of the editors of "Pictures of Chairman Mao," a grass-roots "fanzine" written by and for soccer fans such as those in attendance. We were also accepting contributions to help defray our printing costs, as well as handing out issues to those present who are already subscribers.

Events:

Various people had been behind the tables at different times, manning the grills, taking orders, and handing out beverages and food. At one point when I was behind the table, a man wearing a green windbreaker and a DC United hat pulled me aside and said he wanted a word with me. I did not know this man, and assumed he was one of several hundred DC United fans who had made the trip.

He grabbed at my money belt and asked what I had in there. I was taken aback, and asked what he wanted. He quickly flashed a badge and told me he was a State Police Officer. At this point, I also noticed he was with a woman, wearing a blue and white windbreaker. Although I never saw a badge, I gathered that she was also an undercover State Police Officer.

The male officer, whom was called "Paul" by the female, informed me that he would confiscate all cash and beer. I asked to see his badge, and he became annoyed. He pulled it out and held it approximately two inches from my eyes, held it there for about a second, and said, "Did you get a good enough look at it this time, asshole?"

I accepted the fact that he probably WAS a real police officer (even though I still didn't know for sure if his badge was real), and resigned myself to cooperate and make the best of the situation. The following exchange took place:

Thomas Hill: "There is no need for that. I just want to know what's going on. I just want to be reasonable."

Paul: "You want to be reasonable? That's ****in' white of you."

TH: "You know, racism is not very becoming. What are you hassling me for? What did I do?"

P: Don't get ****in' cute with me, pal. I was born at night, but I wasn't born LAST night."

TH: What do you mean? What's going on?"

P: "You're selling alcohol without a license.

TH: "I'm not selling anything."

P: "What, do you think I'm ****in' stupid or something? You have money there." (pulls out wad of bills from my pouch)

TH: "That's from our magazine. We publish this magazine here" (brief explanation of the magazine)

P: "Yeah right! You're selling beer. I'm not a ****in' idiot."

TH: "No, I gave a beer to someone, but I'm not selling them."

Female Officer: "Oh yah, that's rich. (laughs in a mocking way.) Tell that to the judge. (winks and gives an "OK" sign) The judges in this state LOVE people like you. They are REAL liberal! (laughs)

TH: "What?!?"

I did not know who this woman was, but since she was apprehending Derek Seabury for essentially the same offense, I assumed she was also a police officer working with Paul. I will let Derek speak about his experience.

FO: "You can also be arrested for public drinking too, so I'd keep my big, fat mouth shut if I was you."

TH: Do you see me with an open beer? I don't drink."

FO: "Yeah right!" (sarcastic laugh)

I decided to remain silent, even though I found this woman to be belligerent, rude, provoking and in general, a disgrace to every decent, hard working police officer. For the record, I was not drinking and I do not drink at all. Several people present will verify this.

Paul had taken my driver's license as well as the pouch with all the money. He asked for information such as my name, address, date of birth and social security number.

At this point, an individual in a brown leather jacket and a DC United hat (whom I did not know) wandered over and asked me about the home-brewed beer we were offering to people. I told him that it was a bad time, and he should come back later. He asked what was going on, and I told him just to go away. At that point, he noticed Paul's DC United hat, and went to shake his hand. I feared that an under-control, yet potentially volatile situation could possibly turn out very badly, if other fans became embroiled in the situation. That was the last thing I wanted, as I was not even discussing the matter with concerned friends and onlookers, only telling them that I'd fill them in later.

Paul didn't seem to have a problem with this individual, but I was concerned, as he had been drinking, and was beginning to question the police as to why we were being arrested. I did not want or need this kind of "help."

Paul and the Female Officer began to gather up beer under the tables and had called for a wagon. I was concerned that I was going to be taken away and miss the game. At least two other individuals present were arrested and taken away, but I did not see what happened.

Several minutes passed and eventually Paul returned the pouch without the cash. He counted out $127.00 and placed it in an envelope. He wrote my name and address on the envelope sealed it and kept it for "evidence." He informed me that I would eventually be returned the money, but I would have to appear in Wrentham District Court. He did not provide a receipt. He told me that I would be receiving a summons in the mail in the next three to six weeks with further instructions. At that point, I was free to go.

Aftermath:

While in a strictly legal sense, it is correct that all parties associated with the Midnight Riders or any other organization present did not have a "license" to accept cash, whether donation or quid-pro-quo, for food, beverages, magazines, T-shirts or any other goods or services. However, MLS and the New England Revolution have encouraged the unity of various organized supporters groups from around the country to work together and find common ground. There were fans from all around the country, and everyone was having an enjoyable time. In fact, Revolution CEO Brian O'Donovan gave a speech at the "Supporters' Summit" the previous day on how organized supporters' groups should work together with stadium security (granted, these were State Police), and the clubs themselves to foster a more positive experience for all. Every one of these supporters groups has a specific platform eschewing all forms of hooliganism, violence or anti-social behavior among their members. Individual groups have gone to great lengths to accommodate traveling fans. There is an established tradition of this sort of activity, as groups in other cities as well as the Midnight Riders (US World Cup qualifying matches in 1997) have hosted tailgates in this manner.

I personally find it offensive not only that the State Police would go undercover to bust what is essentially a harmless activity run by a non-profit organization who donate all profits to local soccer-related charities. I also find the behavior of the specific officers involved to be even more offensive. They were rude and belligerent, clearly trying to provoke some sort of reaction, in addition to using a racist expression. I find it deplorable that, as a taxpayer in this state, that I am paying for this kind of behavior.

I also find it offensive that the Revolution organization clearly know who the Midnight Riders and Pictures of Chairman Mao are, both on a personal and organizational level, and have made verbal agreements at various times regarding our conduct. We have made every attempt to abide by our verbal agreements with Brian O'Donovan and other Revolution staff. We fully understand that the State Police are not under the Revolution's control, but this has gone too far. I personally have had enough. This is not the first time I have been harassed by Police of Security for essentially nothing. I can not speak for anyone else, but the Revolution have at their fingertips, a very loyal group of fans who will do almost anything to see the sport succeed in this country. It's impossible to quantify, but clearly the word-of-mouth, grass roots promotion that the Revolution have received through this group of people is astounding. It is perfectly within the Revolution's rights to condone this type of treatment of their best and most loyal fans. But considering that this team is the worst team in the league's history, and the fan base has remained solid, I would seriously wonder why they would allow this to deteriorate to this level.

Meetings are fine, but we have been down that road before. Nothing constructive has ever happened. The Revolution are welcome to pay lip service to these concerns, and shrug it all off, but they do so at their peril.

---

The hell with the Revolution, what about the Revolution? We had one once over crap like the above. The bigger issue than incompetent sports management is insane governance. Our police, who once thought they ought to protect and serve, have gone off the deep end of "us versus them" and now with ever increasing frequency look at not just criminals, but ordinary citizens, as the enemy.
Massachusetts Gestapo
Turd of the Week
("State Police" is simply a misnomer)