Dumbass Treckerism of the Week: TotW was under the impression, due to the virtually simultaneous disappearance of Jerry Trecker from Sporting News and appearance of Jamie Trecker at ESPN.com, part of the Go Network, that they were one in the same person. We figured "Jamie" was just a variation on "Jerry" like "Dick" is on "Richard". But it appears that Jamie is actually the son of Jerry. The apple never falls far from the tree. Regarding rumors that MLs would adapt USL Generalissimo Francisco Marcos evil plan to use a 4-1-0 point system, Trecker Lite wrote that "With MLS commissioner Don Garber on record as saying he wants to move the American game in line with rest of the world, such a move would not only be idiotic, it would demonstrate that the owners have no concept of how to actually run a league. So, odds are it won't happen." Trecker Lite argues against himself. If one accept's the obvious fact that 4-1-0 is idiotic, and one accepts the equally obvious fact that MLs owners have no concept how to run a league, 4-1-0 thus becomes a very real, and scary, possibility. Marcos should just go back to the Phillipines and take his fat, podiaphile wife with him …
Twin arches to replace Wembley's twin towers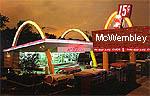 The new Wembley Stadium
(artist's rendering)
LONDON, Nov 15 (Reuters) – Wembley's twin towers are to be replaced by a twin arches when the famous stadium is rebuilt, its developers revealed on Monday.The 133-metre arches have been designed by architect Norman Foster (Hamburger U., Class of '67) as part of plans for a 90,000-seater multi-menu food emporium.
"They are triumphant arches," rumbled Lord Foster (Hamburger U., Professor Emeritus of Ketchupology), the architect responsible for the giant revolving pepperoni pizza atop the historic Reichstag in Berlin.
Earlier plans to replace the landmark twin towers with four 153-metre masts were dropped after complaints from the public and media.
"The twin arches are much more tasteful," said local resident Quinton Dudley-Farquhar IV. "Much like McDonald's zesty burgers and ice cold shakes."
Work will start next year on the new stadium, which is the centre point for England's campaign to host the 2006 World Cup finals, plus a convention of drunken, lecherous McDonald's franchisees intent on giving drive-thru teenage ordertakers their "Big Mac" and "special sauce".
Slam of the Week: "The England number eight shirt that Paul Gascoigne wore at Euro 96 when he scored that goal against Scotland, has been bought at auction by Middlesbrough for £6,400. Gascoigne had originally intended to put the money raised from the sale of the shirt, towards Robbie Mustoe's (one of his Borough colleague's) testimonial match. Mustoe insisted however, that the money should go to local children's charities, which it now will do. Latest rumours emanating from Teeside suggest the shirt's new owners plan to use it as a tent for their kids." (When Saturday Comes)
We interrupt this program to bring you a special bulletin! TotW has just been informed that it has confused Francisco Marcos, the USL dictator, with Ferdinand Marcos the Phillipine dictator. Francisco Marcos is still alive and terrorizing the masses, while Ferdinand has long since assumed room temperature. We now return you to your regularly scheduled rant.
MLs flushes crapshoot
Cynicism, born of experience, says it is best never to get too excited about what otherwise appear to be positive developments. Be grateful for the positive developments but don't go into a paroxysm of orgasmic ecstasy over minor blessings. Our blessings this Thanksgiving week are significant, but incomplete — like turkey without the stuffing. At least American soccer fans are no longer being stuffed by it's first division, MLs. And this has sent many of those fans into the sort of frenzied adulation for Prãsident Crapshoot MLs Don Garber not seen since the thin Elvis. This is because Garber has just demonstrated two things: more common sense than Generalissimo Marcos, and because he didn't shit all over his supporters doing it. What presents has the Prãsident bestowed on us?
Eliminated the crapshoot. It will be replaced by a golden-goal overtime. In keeping with FIFA regulations, the overtime will consist of two periods of equal duration (an insignificant 5-minutes in the case of MLs). Chances are 10 minutes of overtime won't result in a change in the score. Getting rid of the crapshoot is a biggie. Grade: A-.
Official time kept by referee: The referee will keep official time on his watch, and it will count up, allowing the referee to add extra time for stoppages, injuries and time-wasting. Bigger than de-nutting the crapshoot, because MLs didn't come up a step short. Grade: A+.
Straight 3-1-0 point system: No longer will the overtime winner suffer the loss of two points, nor a team that fights to a draw be punished by the loss of a point in the crapshoot. Surprisingly MLs owners did not fall for Generalissimo Marcos insidious 4-1-0 (plus bonus points for 3 or more goals) plan. Trecker was right — for once — proving that a million monkeys with a million computers really could randomly generate the complete works of Shakespeare. Grade: A+.
Realignment: TotW would prefer a single table with each team playing each other team in a home-away series, but instead what we got was a switch from two divisions to three.


| | |
| --- | --- |
| East: | DC United, Miami, New England and the RotMasters |
| Central: | Chicago, Columbus, Dallas and Tampa Bay |
| West: | Los Angeles, Colorado, San Jose and Kansas City |

MLs took the second and third best teams out of the old Eastern Conference (Columbus and Tampa Bay) and the second and third best teams out of the old Western Conference (Chicago and Dallas, which have one MLs Cup and two US Open Cups between them) and put them into a killer Central Division, leaving MLs's two best teams (LA and DC) to rampage through the detritus of the league in the Eastern and Western Divisions. Grade: D.

Playoffs: We're still stuck with them, but the format now send the three division winners, plus the next five best teams regardless of division, through to the playoffs. Unfortunately that means 67% of the teams get in, but it ought to at least be more equitable as a crap 4th place team from the Eastern Conference (Miami, the last two years) won't go through leaving a somewhat less mediocre team (San Jose) sitting at home. Yes, that also means all four teams from one division could go through.Grade: C+.
Game of the Week: Some member of Mickey Rat's extended family — ABC, ESPN or espn2 — will televise a game every Saturday night, at the same time every week. As a bonus, some east coast-west coast double-headers will be broadcast. Unfortunately, the broadcast schedule leaves out a few weeks at the beginning and end of the regular season. Grade: A-.
Weekly highlights show: Already being referred to as MLs2Night, in the same vein as ESPN's numerous other 2Night shows, the weekly highlights who will also be broadcast at the same time, on the same night every week. But it won't start until mid-June, when the season is half over, due to the basketball and hockey spewing all over. TotW thinks the world can live without one less hour a week of thyroid freaks and toothless Canadians. Grade: B-.
CONCACAF Champions Cup berths: One of MLs's two berths will now go to the winner of the Supporter's Shield, the annual award from supporters to the league's overall top-ranked regular season team. (The team that in 99% of the world's other leagues would be the champion.) This lends extra urgency to winning the regular season title, rather than just meandering along with the almost certain knowledge that MLs playoff welfare will bail out the side. Grade: A.
"We wanted to bring the game back to the core fans. That's the way the rest of the world does it," said MLs flack Dan Courtemanche. Courtemanche, last seen supporting all the policies just eliminated or changed by Garber, obviously saw the writing on the wall, and like any good bureaucrat discovered some revolutionary fervor just as the old order was overthrown. Those who are loyal of convenience are not to be trusted, and are usually executed after they've outgrown their usefulness to the revolution. TotW hopes Dan watches his corporate back.
Tasks still to be accomplished:
Ditch overtime.
List results as W-D-L, rather than W-L-T, as W-D-L facilitates calculation of 3-1-0 standings points, and is the way the world does it, easing understanding of American results.
Extend TV coverage the full-season. The weekly highlight show should run from March, during pre-season, through October, including several weeks of post-season wrapup. And there should be a Game of the Week every week because, afterall, it isn't the "Game of Some Weeks".
Ditch the All-Star Game. Like voting for homecoming king & queen, it's based more on popularity than merit, and besides the candidates are uglier. (Would you want to go parking with Valderrama?)
Ditch the three-game playoff series: Go to a two-game home & away total goals format, if no other reason than it supports MLs's goal of shortening the season, but more so because the sport in question is soccer, not base-a-ball, and that's the way soccer does things.
"As part of the most popular sport in the world, Major League Soccer has decided to bring our rules of competition in line with those of most internationally respected leagues," said Prãsident Garber. "Millions and millions of fans in America follow soccer the way it is played across the globe. Our core audience has spoken, and we have listened."
Final grade: B. Good enough that for now TotW lifts the MLs (Marketers, Lawyers & soccer) designation and restores to the league its full MLS moniker. Unless there is backsliding. We shall see …
They didn't claim to have headaches? The Israeli internationals thumped 5:0 last week by Denmark in a Euro 2000 playoff spent the night prior in the arms of Israeli call girls. Israel coach coach Shlomo Sharf said he was completely in the dark about the nocturnal movements of his squad: "… it's a pity the players implicated weren't as quick on the pitch as they were at their orgy." One assumes the girls rather wished for the opposite. Jim Gregory, TotW Bribe Taker, reports that the Israeli players will bone-up on their technique by enrolling in "Romario's Institute of Pre-Match Whore Hopping".
Top 10 Reasons LA Will Win MLS Cup '99
By sbmeyers, BigSoccer.com
10. Our OJ trial was more entertaining than that whole Monica thing.9. Winning Cup will help LA fans feel all warm and toasty during typically brutal southern California winter.

8. Shirley MacLaine has convinced the team that they are reincarnated souls of former Brazilian greats.

7. Who would you rather see in the stands during a soccer match — Cindy Crawford or Janet Reno?

6. Great excuse for Anschutz to build new stadium in LA so we can rip off even more water from northern California.

5. Two words: Tequila shooters!

4. Boxer and Feinstein — the hottest babes in the US Senate.

3. Southern California transplant, Jurgen Klinnsman, sneaks onto LA squad during second half, clocks Ben Olsen, then apologizes saying, "That wasn't Lothar? Damn, I thought he was coming to MLS."

2. Our Dodgers are better than your Senators … oops, forgot … DC doesn't have a baseball team.

And the number one reason LA will win MLS Cup '99 …

1. So we can shove the Rothenberg Trophy up Georgia Frontierre's big ass!
Quote of the Week: "If Charlie survives this, the Metros should just fold up their tents and quit. How long is the Metros ownership going to let Gilligan run his team into the deserted island?" (20WMD,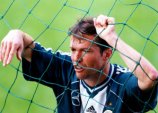 Matthäus to stay with Bayern through next millenium: It was probably not a good sign when Oldthar was introduced by Tab Ramos, another famous no show, at last week's RotMaster's press conference. Among the searing queries the New York press lavished on Ramos, Oldthar and Charlie Stillinajob were "Why were you named after a key on a computer?", "Do 55% of medical doctors believe Bayern works better than Tylenol to cure menstrual cramps?", and "Are you really that fucking stupid?" Stillinajob defended his latest blockbuster signing, saying "Most importantly, he's a winner and brings that to the MetroStars. His commitment to this organization is absolute, giving his absolute best to area fans."* Stillinajob did not specify what organization he might be talking about, as supporters have never before been able to use the words "MetroStars" and "organization" in the same sentence. Oldthar, bound, gagged and heavily sedated, was only able to drool "ah … mmm … gurgle". Apparently, Oldthar has since regained his senses and fled to Germany, explaining "I thought I signed to join the MetroStars on January 1, 3000." So, whether Oldthar in fact joins the RotMasters in six weeks as he contracted to do, or he joins them in mid-March after Bayern's next round of Champions League games, or he joins them in June (we are still talking about 2000, not 3000) after the Bundesliga season, or he joins them whenever his pre-pubescent model girlfriend finally lands that breakthrough kiddie porn role, is as open to speculation as to whether Charlie Stillinajob sucks or blows. For being a fat, bald, doofy, Baby Huey ("Du-uh, which way did he go, George? Which way did he go?") looking shmuck who choked even in his minimal moment of glory:
Charlie Stillitano
Turd of the Week
* Honest to God, real live quote!