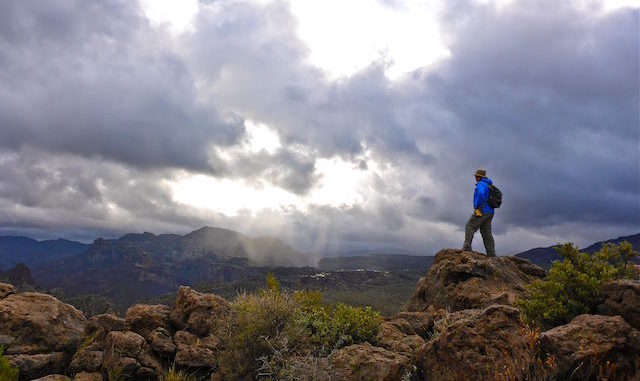 This is the third of Pam's New Years HikeArizona get togethers I've done, after Vulture Peak in 2013 and Roblas Butte last year. This was the shortest, least steep, foray yet, but with views that every bit as good as previous years, if not better. 👍
Take the Apache Trail / Highway 88, east of Apache Junction through the many twistie's with sharp drop offs, over two single-lane bridges and past the Canyon Lake Marina. Three miles past Tortilla Flat, the first major dirt road on the left/north side of Apache Trail is FR 80. Turn left, then make a quick right onto FR 3507. The trailhead is in the camping area / firing range. Watch out for nails from burnt pallets.
Despite many people being interested in the hike, most bailed due to expected heavy rain. I told Pam I'd be there regardless. (I suspected we might get a window of decent weather late morning, and that is indeed what happened.) It ended up just being Pam, Ray and I, with my wife guarding our vehicles at the rather muddy trailhead.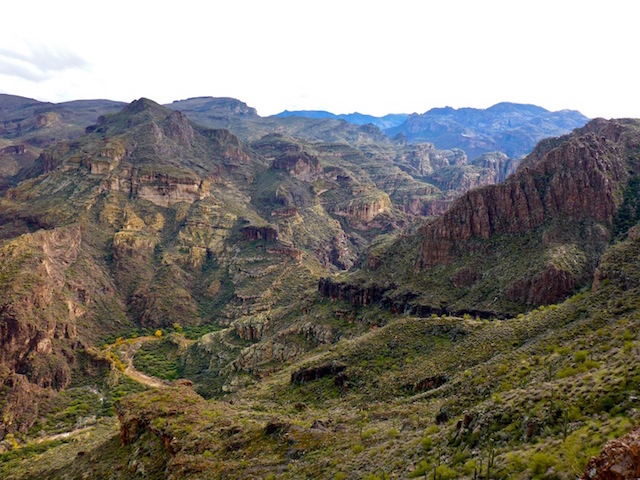 We headed up the rest of the jeep trail. When it petered out, we continued up the right side of the wash to the saddle. From there, we simply followed the mesa's highline north-northeast for another mile.
That's as short a hike description as you'll ever see, and it is a very basic hike, but one with spectacular canyon views, as distant as Red Mountain and Fountain Hills or, below us, multi-cascade waterfalls hundreds of feet high. If you want to change your perspective on the views, follow the mesa's rim instead.
When we got to the spur, we all agreed the slickness of the rocks, and looseness of the soil, would not make it safe to negotiate our way to its far end. As I told Pam & Ray, I hike for the exercise: Finding cool things is a bonus, but I don't need to prove anything to anyone.
We spent about 30 minutes at our rest spot / overlook, taking photos, toasting with champagne, and eating Pam's delicious cookies and chocolate covered strawberries. (Thank you to everyone who bailed: More for Ray and I!)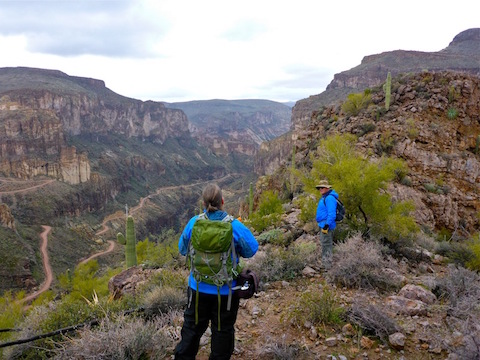 On the way back to Tortilla Flat, the two creek crossings had risen, but were still SUV-able. We ate lunch in Tortilla Flat, which for me was a chili dog and "Snake Venom" beer, which was quite tasty.
No hike video this week, as I was working on my Top 40 Photos of 2016 video instead.

GPS File: Coronado_Mesa
Distance: 3.45 mi.
AEG: 766 ft.
Time: 2h 13m