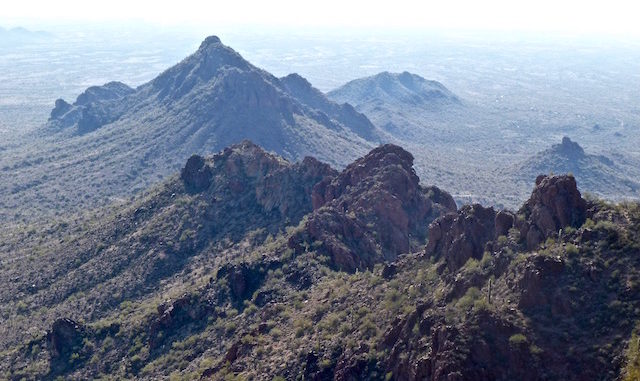 Looking at it from the trailhead, I was like, no way, it's straight up. But really, it is not bad, steep but steady. Personally, I made it up to the saddle, bringing up the pacing-ourselves rear with Pam and Randal. I started up the chute to the peak, and about halfway up the climbing section started to feel uncomfortable. Not physically, but mentally: The actual climbing, and angle, made me think I better go back to the saddle so I didn't freak out and become one of those "that guy"s  

 you see being choppered off Camelback every week. (It's not the altitude — I used to jump out of airplanes — but rather the thought of doing endos down a cactus-strewn cliff.) Pam was a real trooper humping a 35-pound pack all the way to the top!  So, I explored around the saddle, for about 45 minutes, then headed back down where I eventually met up with Randal's pal who had popped his knee en route and was slowly heading back. Got back to the upper trailhead, then followed washes and side jeep trails back to where I parked my car, at the access about .5 miles north of the lower trailhead entrance off Vulture Mine Rd.
GPS File: Vulture_Peak
Distance: 3.54 miles
AEG: 1,109 ft.
Time: 1h 35m