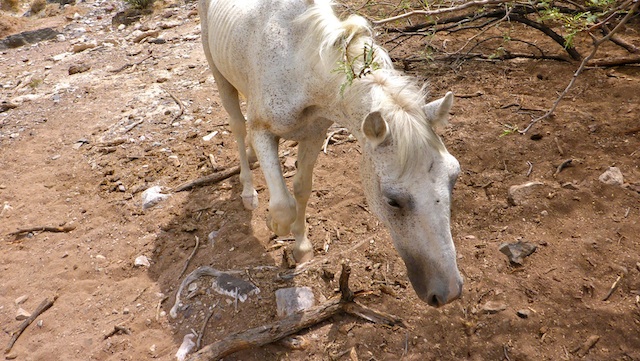 Have a special HOA meeting tonight at six — I am on the board — so did not want to be dragging back into town late afternoon, with no time to unwind, stop sweating (essential before showering), shower, and get my mind straight on the issues. So, decided to do Antelope Peak (more of a mesa) on the east side of Yarnell.
Unlike black toes, I figured I would start at the water tank, as there is a jeep trail at least part of the way up. Unfortunately, it is posted "No trespassing". So, I drove down the road a block or two to where black toes started his hike. It too is posted "No trespassing". Bummer. I'll cross a fence, figuring the fence is to keep animals out/in, but if it is posted, it would just not be neighborly to do so. Plus, the DPS cop shop is one building away from the tank.
So, what to do? I did not want to drive further up the road to Wilhoit, adding time to my day. (I've been there enough that I could have adlibbed a hike.) Vulture Peak? Nah, not long enough. So, I settled on Baldy Mountain / Francis Rogers. It would be hot, with some elevation and distance but not too long. Got on Castle Hot Springs road and could not find the jeep trail you are supposed to turn down to the TH. Walkin' Jim Trail it is, then.
It was 94° (34C) when I started at 0750, and humid (though not too bad), with 100% cloud cover and absolutely no breeze whatsoever. But I was damned if I wasn't going to get my miles. Got to Little Jim in good time — 3.0 mph avg — and considered: Is it hot enough that I should take that short cut back, or should I press on? I decided to continue, as I did not want to wuss out too much. About then, at 1000, the sun started coming out and a very welcome slight breeze began. It was kinda 50/50: Yeah there was breeze, but there was also more sun.

I have never seen so many cairns as on Walkin' Jim, particularly the northern half of the loop. I thought ~30 in three miles on Bronco Trail #245 was a lot, but in the one quarter mile I counted, by the first gate, there were 21. 21!

 And I did not count piles that looked like knocked over cairns. Some were so close that the natural variation in the GPS could make the first appear past the second.

 I don't recall it being that way on my previous trips. And, unlike Trail #245, they did not look ironically placed.
I got to the first open area, just past the flourescent rocks, and considered again. I was at the point that it would be about seven miles, and it was already over 100 and heading north. So, rather than do the full loop, I started back on the southern section.
By the time I was .75 miles from the TH, I was not enjoying the prospect of climbing over the last small ridge, so I dropped into the wash. There was actually a small puddle there. Just past the puddle was a very desiccated horse corpse. A few hundred yards on were two wild horses, a brown one in decent shape and a white one that was not looking good.

 They were friendly enough. Despite sweating buckets, and peeing dark gold, I tried offering the skinny one some water, by pouring it near his nose, hoping he would tilt his head up and get some drops. No go. So, I poured it on a rock I hoped would hold it long enough he could get a sip or two. I also broke up and scattered about two energy bars and some cheesy crackers. Skinny white horse did not seem too interested, but the brown guy had a few bites.
When I got back to the TH it was 107° (42C). Definitely the hottest I have ever hiked, but I made it without heat stroking, so I do feel like I accomplished something besides weight loss.

Distance: 6.44 mi.
AEG: 733 ft.
Time: 2h 35m
---
Hike Video