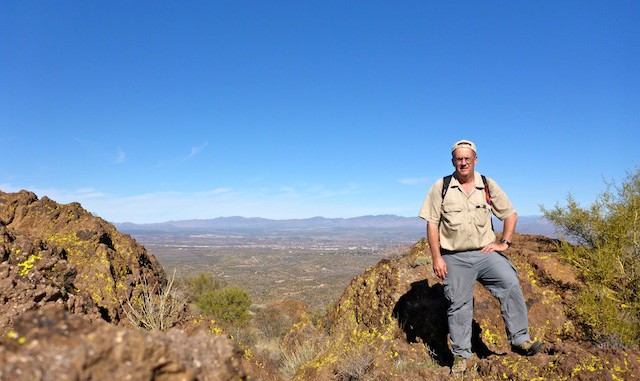 So, the desert race having been last week, I planned on hitting Camp Bouse Peak this week.
Rather than take the long route via Bouse and Midway, then southeast on Powerline Rd., I drove north from Wenden on Alamo Rd. Just over Cunningham Pass, I turned northwest on Powerline Rd. Before the gate, at the corral, I turned north onto another dirt road, heading for North Tank. After I few hundred yards, I had to stop as the desert racers had cut the surface too deep — the dust was 18″ deep — for my Acura RDX AWD's 8″ (unloaded) clearance to handle. Bummer. But I had a backup plan: Vulture Peak.
Three years ago, I had made it to Vulture Peak's saddle, then scrambled part way up the chute to the summit, before losing my nerve and turning back. I'm a stronger, more confident, hiker now.
I parked at the "Lower Trailhead", as should all vehicles that don't have high clearance. Beast vehicles can park at the "Upper Trailhead", saving lazy hikers one mile of effort in each direction.

After the upper trailhead, it's a steep climb of 800 ft. in .7 miles, along the face of a bluff, to the saddle. From the saddle, there is a 250 ft. Class III scramble up a chute to Vulture Peak's rather spacious summit. There's enough flat space you could camp up there, and enjoy  the stars away from the brown smudge of Phoenix. Basically, Vulture Peak is Camelback with more scramble, no safety cable, and *MANY* fewer people. Vulture Peak has 360° views of Phoenix, the Bradshaw Mountains, Yarnell Hill, Wickenburg, the Harcuvar Mountains, Harquahala Peak, the Vulture Mine, the Palo Verde Nuclear Generating Station and the White Tank Mountains.
The summit log filled several notebooks, probably a hundred pages worth in two years. I wonder what happens to the old summit logs?
GPS File: Vulture_Peak
Distance: 4.78 miles
AEG: 1,354 ft.
Time: 2h 30m
---
Hike Video