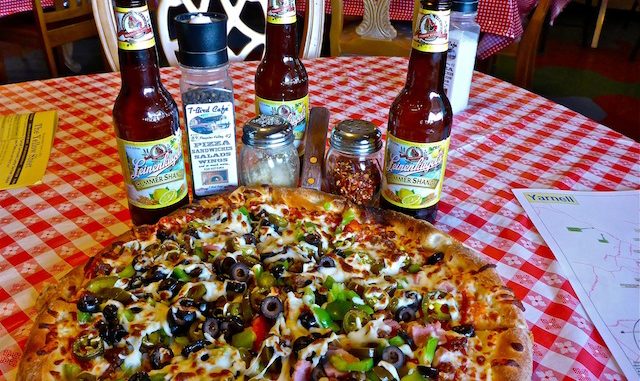 Hot, hot, hotter than hell
Burn you like the midday sun
Silver Dollar Mine is another hike I've been planning for quite some time. In this case, as part of a series of mine explorations along of Crown King Road, including Lehman Mountain / Lehman Mill, Tussock Spring, Logan Mine / Boaz Mine, the Minnehaha ghost town, Smith Brothers Mine, exploring The Cements, and eventually through hiking from Wagoner to Crown King.
I explored the area south of Wagoner several times last year: The Paxton Place Mine had a few cement objects left, but no adits or shafts, while the Camp Bird Mine had a relatively intact cabin, and multiple collapsed adits. It was 99° when I finished the latter. Tellingly, a few weeks later, I was forced to bail on my Cherry Creek hike due to high temperatures. It was then that I realized Wagoner, and points south, are several degrees warmer than the nearest weather station in Peeples Valley.
I was taught in the Army that, as a rule of thumb, temperature decreases 1° per 300 feet increase in altitude. Wagoner is about 3,400 ft. Phoenix  is about 1,100 ft. The high point on today's hike would be 4,700 ft. In Arizona, temperature peaks between 1500-1600. With Phoenix predicted to be 110°, and a 3,600 foot difference, if I could finish the hike before mid-afternoon, I could hopefully beat triple digit temps.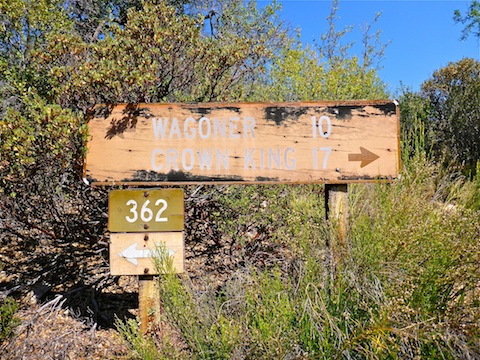 From AZ 89, Wagoner Rd. / Yavapai County 60 is dirt for the first quarter mile, then paved for the next 10 miles until just past the historical Walnut Grove School. Several bridges are one lane only, and there are many tight turns, so stay alert and keep your speed low. South of the school the road is dirt. Normally it is in pretty good condition, but today it was the best I had ever seen. Driving a car as far as Campbells Flat — the Camp Bird & Paxton Place trailhead — is no problem.
South of Campbells Flat, Wagoner Rd. starts climbing. A car is still okay for another mile, but when the road turns east, only SUVs or better should proceed. From there, Wagoner Rd. / County 60 becomes Crown King Rd. / FR 362. It also gets steep and rocky, but still SUV-able for the next three miles to the Upper Oak Creek corral, which was today's trailhead. There's not much traffic between Campbells Flat and the corral — my wife only saw two vehicles all day, both eastbound, a pickup and, of all things, a Yavapai County Sheriff — but again, caution advised, both for vehicles and the numerous cattle in the vicinty of ML Windmill and Upper Oak Creek Windmill. The corral is a great place to park, as there is lots of quality shade.
I expected my loop to be about seven miles. Done clockwise, Silver Dollar Mine would be about 1/3 of the way into the loop. Regardless of direction, the hike is a shallow climb of several hundred feet, followed a greater, steeper, desecent to Ryland Creek. I decided to hike counterclockwise.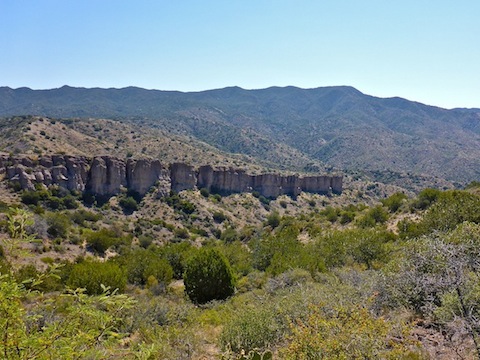 I was carrying my normal load of six 500ml bottles of water and two 591ml bottles of G2, for a total of 4.182 liters of liquids. Not counting the plastic bottles, that is 9.2 lbs. My total starting starting pack weight has got to be at least 15 pounds.
The primitive unnumbered road was actually still SUV-able for about a mile to the split marked by the blue-spray painted arrow. After that it is 4WD and high clearance, but not technical. Just before the split, there was a clearing that gave a great view into a canyon with what looked either a ridge of free-standing rock formations or a cliff. It was hard to tell. The area is easy cross country hiking, and I wanted to check it out, but decided to stick to task. I chose wisely.
South of the split, I got blasted in the face by some big ass bug that ricochetted off my cheek bone. I actually heard it squeel in surprise.
There were quite a few cattle between the split and Red Clay Spring. Some were in the road. Every time I would get within 50 yds., they would trot off. I guess they were camera shy.

When I approached Red Clay Spring, one cow blocked my way. At least she held still long enough for a photo. The spring itself was audibly flowing, which is really amazing for the area.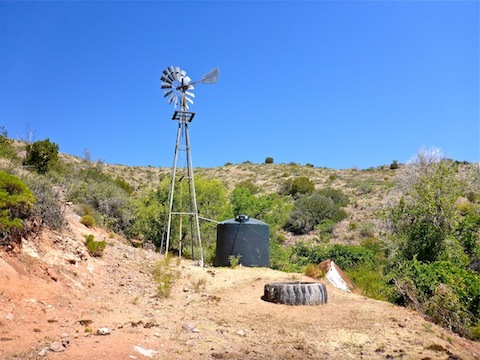 The Red Clay Corral, on Ryland Creek, at the loop's southern most point, is well hidden in brush. It wouldn't hold any cattle or horses these days. I finished my first 500ml water bottle as I reached the corral.
From the corral, the loop turns north, alternately following a very rugged jeep trail and the Ryland Creek bottom. There is quite a bit of vegetation on the creek bottom, but surprisingly little of it is of the stabby variety. Numerous animal trails help avoid most of the rockier footing. I got slightly off track in two places: About 300 yds. north of the corral, where another jeep trail turns east, and .60 miles north of the corral, where the canyon splits. I did not even realize it had split, and got a couple of minutes up the left canyon before realizing my mistake. Stay right at the split.
A mile north of the corral, there is another split in the canyon bottom. I stayed left, in Ryland Creek, but I recommend going right, as it will soon take you onto the jeep trail which runs straight up to the Silver Dollar Mine adit. (The recommended route is the one in the attached GPS file, below.)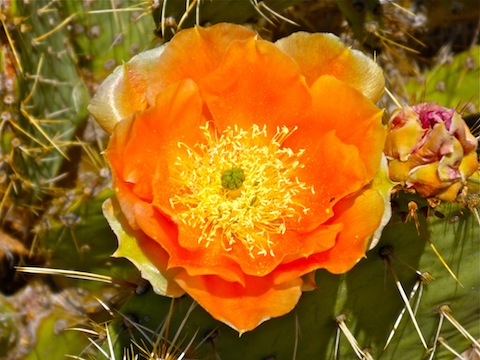 By the time I reached the mine, the heat was getting to me. I was tired, without the energy to do much exploring. If I could have walked into the adit, I would have explored, but it required crawling due to collapse. The surrounding rock did not look safe, and in any case the adit only went in a few feet. Besides the adit, the Silver Dollar Mine had a few scattered bits of machinery, and two collapsed structures: a cabin, and what looked like a storage shed.
The topo says there are some shafts just uphill, but I only went a few feet before deciding I needed all my reserves to make it back to the trailhead. Again, I chose wisely.
The jeep trail out of the canyon was much steeper & rockier than the one had I had taken in. It would be challenge for a 4WD high clearance vehicle, going down or up. It certainly was a challenge for me. I was so drained, I would hike 50 yds forward, and maybe 20 ft. up, then take a leaning-on-poles breather. Halfway up the 600 ft. climb, I stopped for a 10 minute break and, at the top, another 10 minute break. The only saving grace was that there was occasional shade in the final third of the loop, whereas there was absolutely zero shade on the way down to Red Clay Corral.
The jeep trail is level, and of better quality, from there for the next mile to Green Tank Windmill, where I took a 20 minute break. I was so tired, I did not notice if there was water in the spring box, or even if the windmill was still standing.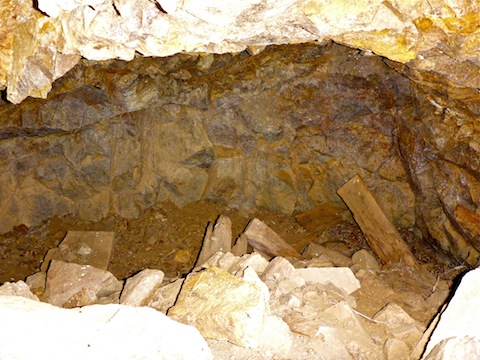 From Green Tank Windmill back down to the trailhead, the jeep trail is actually quite sandy, and thus slow going despite being down hill. A half mile from the trailhead, I took another 10 minute break. I actually sipped the drops from my used water bottles.
I arrived back at the trailhead about 1500. I drank the last of my water as I returned. I could not have gone another yard. The temperature — I have a thermometer in my Acura RDX's tech package — was 97°. In the shade.
On the drive back north on Yavapai County 60, the temperature in Wagoner was a whopping 107°!
From the trailhead back to AZ 89 was about a 75 minute drive. I had hoped to have a late, 1-ish, lunch at the T-Bird Cafe in Peeples Valley, but instead it turned in to a dinner. Not that I am complaining: As I tell anyone who will listen, T-Bird Cafe has the best pizza in Arizona. It is wood-fired, and the sausage is house-made with fennel. D-lish! The garlic cheese bread wasn't too shabby either. BYOB with several Leinenkugel's  Summer Shandies really hit the spot.

GPS File: Silver_Dollar_Mine_Loop
Distance: 8.52 mi.
AEG: 1,283 ft.
Time: 3h 44m
---
Hike Video