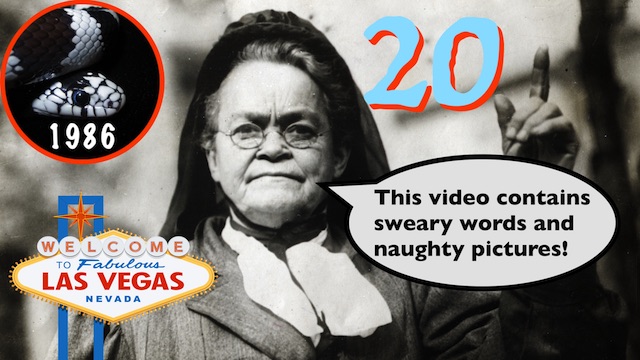 My wife and I visit Las Vegas a couple of times a year. We're not gamblers, though she did win $60 in 20 minutes on a singing Elvis slot while I duetted with The King. 🎶
Instead, we enjoy the dining, take in a show, visit of of the many museums and, for me, get in a hike. This time around, it was Dave Landau & Derek Richards at Brad Garret's Comedy Club in the MGM Grand, the Atomic Testing Museum and White Rock-La Madre Spring in the Red Rocks National Conservation Area.
So, we don't just camp on The Strip, slinging back comped drinks while blowing the kids' inheritance. We get around. I've driven most of the major streets in Las Vegas: Charleston, Sahara, Flamingo, Tropicana, Washington (!), Fort Apache, Rancho, Lake Mead Blvd., Boulder Highway, etc. In other words, a wide variety of Las Vegas asshole drivers, not just clueless tourists on The Strip. (Though this video has those too!)
New Angry Lady Thumbnail today as well. Never say I don't treat you right. 👍
This month's special Las Vegas edition of Phoenix Asshole Drivers:
Kamikaze on US-93.
You're not allowed to park there.
12 mph in a 25 mph school zone.
What the hell!?
This month's King Asshole.
---
Phoenix Asshole Drivers #20 – Las Vegas Road Trip