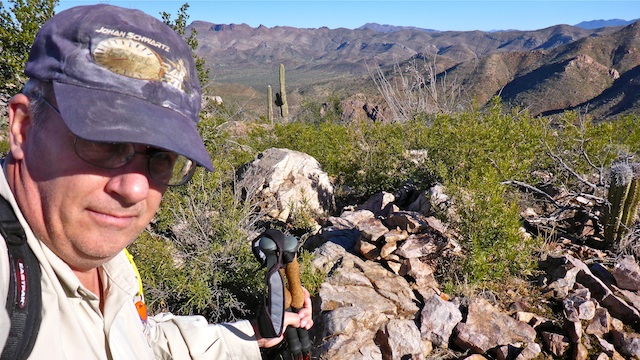 My previous trip almost two years ago had resulted in failure, due partly due to a poorly chosen route, but also not being in as good hiking shape. Or as skilled: Granted, I am not nearly a JJ, or Desert Boonie, but I know I am better, stronger hiker than I was back then.

Saturday morning, 7:00 a.m. … You would think the drivers of Phoenix would have left their pathologies at home, but no.

I had planned to hike up the canyon on the west side of the un-numbered hill, then descend across the saddle to non-existent mine, but decided it might be a better idea to do the easier part up, and the harder part down. Good call.

I thought I might drive down the jeep trail to where the road splits left to the mine, as I recalled it being a smooth surface. It still was, albeit rutted 18″ deep due to erosion. Cars should park at AZ-177. After a half mile, the road is strictly 4WD + high clearance + skill (golf ball to bowling ball size rocks, plus significant erosion). As I later found out, past the campground, down White Canyon is foot traffic only, as it is brushed up. Just before the campground is a split: I went left looking for the mine (which ended up not existing).

From the not-a-mine, I side-sloped up a wash to the saddle. Luckily, I came out right where there was a gate across the wilderness boundary. The final 500 feet up Hill 4053 was steep, but not too slippery, and I got up sharpish. Wow, what great 360° views!

Clockwise from Lime Point: Teapot Mountain, Ray Mine, Walnut Canyon, Granite Mountain, south as far as the Catalinas, Battle Axe, across the flats south of Florence to the Picacho Mountains, White Canyon, the Superstition Ridgeline, Picketpost, Superior and Apache Leap. I saw buildings glinting in the direction of the Catalinas, at opposite ends of the range from my perspective, which must have been Mammoth/San Manuel at one end and Oracle/Catalina at the other. (Or maybe the BioDome?)
Peak elevation was actually 4028 ft. — not even close to 4053 — at the new summit log, thoughtfully placed in a glass jar two hikers ago, on 4/16/13. The older summit log goes back at least as far as 1996.
I descended a crack on the northeast slope of Hill 4053, crossed the gate back into Tonto National Forest, negotiated a huge, dense, patch of prickly pear, then began the .75 mile side-slope trip down to White Canyon. It was steep, but I took my time (an hour) to avoid potential mishaps. I sometimes use my hiking pole as machete, breaking off dead branches that are in my way. A few weeks ago I did something to my arm — no idea what — and it has ached ever since. Today, I took a whack at a branch with my pole, and the branch did not move. It was like playing baseball, and you get bad contact, and it sends a jolt up your arm. Holy crow that hurt! After a few weeks of gradually feeling better, it now aches worse than it ever did before.

White Canyon is narrow at that point, and with fairly heavy brush, and so slow walking. Even at 1:00 p.m., there was still dew on the grass in White Canyon. In fact, all the trails and soil, throughout the hike, had moisture, and even the odd small puddle.
GPS File: Peak_4053
Distance: 6.40 mi.
AEG: 1,538 ft.
Time: 3h 48m
---
Hike Video