Weds, 15 May 91
Chameju, Iraq
Donna Dear,
(forgot to put the "dear" first, but it does sound kinda neat in reverse doesn't it? 

I'm sitting here listening to another officer put down half the people in our unit. I find it kinda ironic — "takes one to know one" and all that. Now he's putting down the Missouri National Guard; two minutes ago it was the captains leading the other mountain teams. Captain Stout is a "makeworker" and another captain is a "blind follower of orders." I'm leaving here in two days to return to Zakho (no doubt to do great and wonderful things which will, in turn, solve the Kurdish problem, peace in the Middle East, end world hunger, and probably all sorts of really beautiful stuff).
Captain Scholz and I went back to Suri today, and even 10 miles past that to Derlak. The road eventually continues on to Zakho — I just as soon we whip a U-turn the next time we pass through Derlak, also. We're leaving for "lack of work." There may be only a couple of thousand refugees up our valley, but another road into Suri leads to the Iranian border (and there's supposed to be 250,000 Kurds up there). Just three days ago, another officer was bitching loud and clear, to anyone who would (even reluctantly) listen, about how fucked up Zakho was. This very second he's reading Stars & Stripes and bitching about Marines being sent to Bangladesh, I don't want to go there either (if I go anywhere other than the USA after I leave Turkey, I swear I'm voting for some obscure little reactionary political party in the next election). God, I just want to get out of here.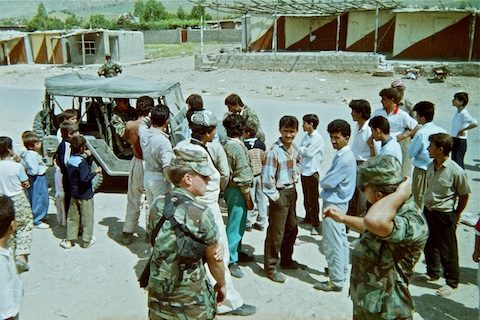 They have such cute little girls in the Middle East. I saw one Kurdish girl today who was almost platinum blonde. (Light hair is fairly common among the Kurds, and is supposedly due to Alexander's army passing through here 2500 years ago.)
I'm bored. I'm tired. I'm horny. I'm fed up. I'm sick of itchy lumps all over my body. I wan't a pizza, and I want beer.
Oh well. I have nothing to stay awake for and I have guard duty at 4am …
P.S. Did you get my letter about saving my letters?
---