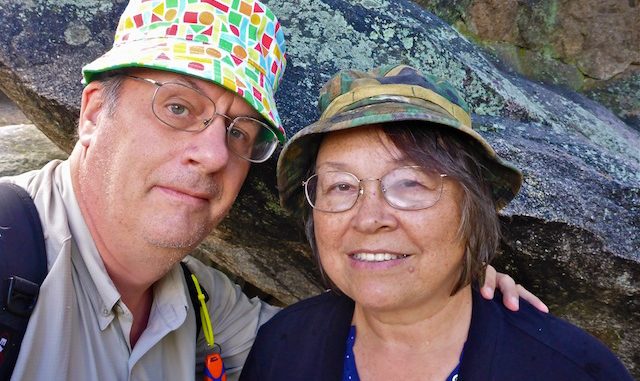 The drive up I-17, then west on AZ-69, was decent enough, but it was obvious that there was heavy rain over the Bradshaws. When we got to Prescott Valley, it started raining on us, and there was quite a bit of lightning. By the time we got to the trailhead, it was pouring. Fiddlestix. My wife looked up the doppler radar on her smart phone, and it predicted the rain would clear in 18 minutes — it was very specific — so we stuck around, waiting for it to let up. As soon as it had, a trail runner came jogging out of the woods. Better him than me.
My wife and I walked up to the boulder field, just north of the trailhead. While it had stopped raining, the combination of a still misty sky, and sun breaking through from the east, made camera angles difficult, and lighting very iffy. I had planned on hiking clockwise, but called an audible, figuring if I went counterclockwise, I would get back to the boulder field in the early afternoon with decent light.
After seeng my wife safely back to the trailhead, I followed a trail south-southwest under the phone line, past Camp Wamatochick to Trail #307, which was a slow, steady climb, on a shaded trail with a smooth surface to the south tip of South Spruce Ridge, where it meets Trail #377 climbing up from Potato Patch. The trail was obviously very popular with horse riders.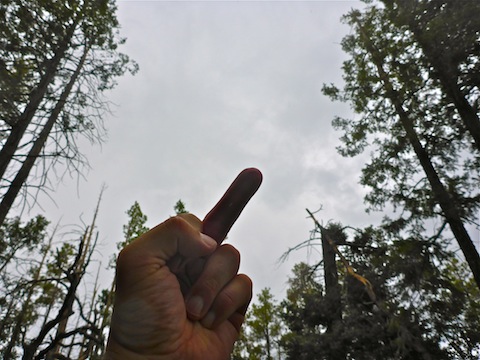 Along the climb, I happened upon a pair of wasps assassinating an orange moth, mid-trail. I filmed it, for about 15 seconds, until the wasps took off, the moth still quivering. When I got home, I had three seconds of assassination-free video. Just like Zapruder. I must have double-clicked the start button.

As I got closer to the top of South Spruce Ridge, I smelled something pleasantly sweet. Not quite like mesquite, especially given the terrain and foliage, but along the same lines. I wondered if it was smoke, but could not tell, as the clouds had come back in. Soon after I started heading north along the east side of the ridge, it started raining again. Not bad, and my "no rain!" dance seemed to work, as it was sunny again by the time I got to the lookout.
There were two fire trucks, and a three-person hand crew, gearing up by the picnic table / pit toilet. One of them told me it was a snag fire. Hah! I did smell smoke. I asked if it would be safe for me to continue west, the short way back to the trailhead, and they said no problem. I did not want to double back 6+ miles, instead of 3!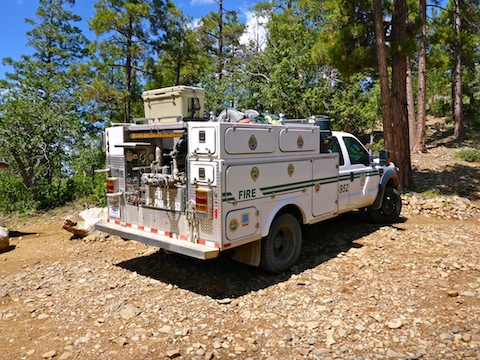 Susie the Lookout invited me up for a visit. Susie said she gets about 10 times as many visitors as John on Mount Union. She has a metric ton of Smokey the Bear swag to giveaway, so I grabbed some for my grandaughter. I told her my wife would be jealous of all the hummingbirds attracted to her bird feeders. Great views, including of the snag fire. After departing the tower, and a brief lunch at the picnic table, I headed down towards the boulder field, at one point passing within about 500 yards of the still burning snag fire.
By the time I got to the boulders, I was in no mood for exploring so, basically, I headed straight back to the trailhead. To avoid the AZ-69 and I-17 traffic jams, we headed west on Wolf Creek Rd. to Ponderosa Park, then AZ-89 south. Wolf Creek Rd. was still car drivable, but much rutted by recent rain.
Late lunch / early dinner was, as usual, at the T-Bird Cafe in Peeples Valley. (Their fennel sausage sandwich was to die for, and the home made blue cheese salad dressing very tasty as well.)
Distance: 10.81 mi.
AEG: 1,769 ft.
Time: 4h 34m
---
Hike Video