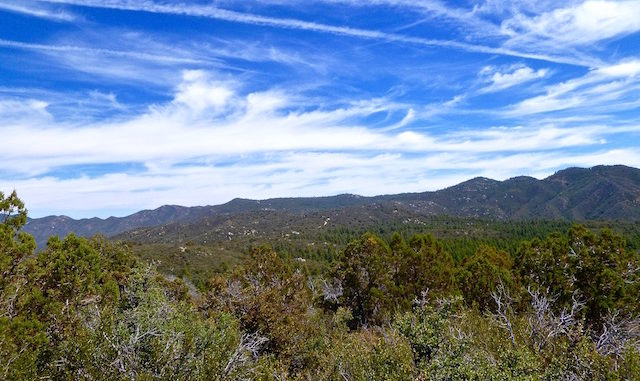 Last Friday, I figured 4000 foot Globe would be a cooler hike than Phoenix, and was wrong, so this week I looked around for something yet higher, but still close to Phoenix, and found some short, stub-description, hikes south of Prescott. (Wilhoit is over 5000 feet.) Then the Doce Fire kicked off. It looked to be burning north, rather than south, so it was on.
Not sure why, but I got a thing about photographing roadside memorials. I'm always telling my wife I need to stop more often, and take pictures of them. When I get home, I google for any news about why the monument was placed. Imagine then, how wierd it must feel to photograph Arleen Cilione's memorial at the start of this hike, only to find out later that's where her murdered body was found.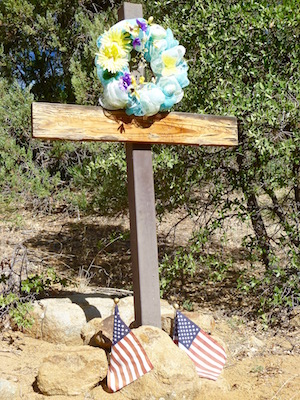 Up the jeep trail I went. The topo makes it appear it is mostly foot trail, but in fact it is jeep trail almost until you get to the dead tree blocking the trail, about a quarter mile from the USMM marker. Judging by the trailside terrain — smooth pine needle floor with nary a bush — I was hoping the trail south off Hill 6276 would be stabby-free.
Temps were 20 degrees cooler than Phoenix, and there was plenty of shade until I got to the USMM. The sky showed absolutely no evidence of fire smoke, and was in fact a brilliant blue.
I spent a fruitless hour searching for a disc that my mis-read datasheet says is actually on pointy Hill 6195, next to AZ-89, a little south of the Glen Oaks trailhead. I did not disturb the post, or the marker rock, but I did dig through a nearby pile of rocks. I found thousands of dead ladybugs underneath them.
After I gave up, I headed south down the narrow and stabby-strewn path towards what I hoped would be a link up with Glen Oaks #118. That turned out not be the case. Combining thick brush with a Garmin 60 csx that chose that moment to puke, I decided I would be better off returning the way I came than thrashing my off trail way in some random, and probably incorrect, direction.
Lunch was a cheesesteak sandwich at the T-Bird Cafe in Peeples Valley. No beer, but you can BYOB if you have it.

GPS File: Glen_Oaks_Hill_6276
Distance: 6.71 mi.
AEG: 1,577 ft.
Time: 2h 40m
---
Summit Panorama Video
Click-Click Bugs Video