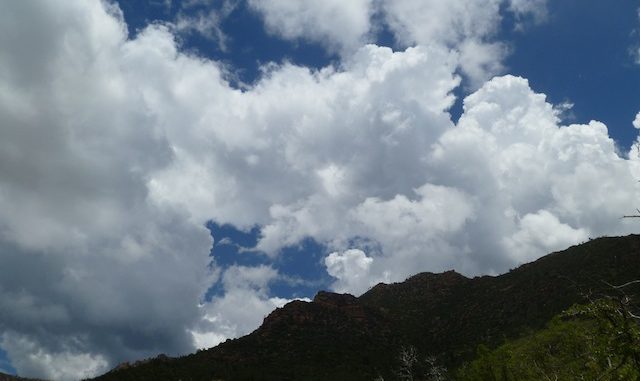 I Shall Bear Witness*
I moved to Green Bay, Wisconsin, on June 26, 1990. I always found it ironic that the same day that was the hottest in Phoenix history was the wettest in Green Bay history. (It was raining hard, a not unusual event, when we went to a restaurant for dinner; when we came out, the streets were under four inches of water and Baird Creek was up so high it was washing over the bridge we had to take to get home.) I never knew about the Dude Fire.
I'm not sure when or where I first heard about the Dude Fire, but the more I have read about it recently, the more I wanted to hike the fire, to see where the Perryville crew met their tragic fate.
As is my usual habit, I did a thorough topo & satellite recon, putting together a half dozen potential routes: Some up jeep trails, some cross country up hillsides, some down hillsides, in various combinations. I finally settled on heading out from Washington Park on Highline Trail #31 with the intent to hike down the wide Hill 6510 to Hill 5850 ridge line, to the Prescott IHC position, then descend into Walk Moore Canyon. As an alternate, which I ended up doing, I could instead take an unmarked jeep trail between Bonita Creek and Perley Creek south, then cut across the north end of the subdivision to Walk Moore Canyon. (The trail, as many others, shows on satellite, but not on the topo.)
It is a good thing I took the route I did, as the brush has come back with a vengeance. Highline Trail #31 itself is good in some spots, but completely disappears in others. At the western end of the fire zone, it is obscured by grasses, whereas near Dry Dude Creek it disappears in a tangle of leafy foliage. In many places the trail is eroded due to rain runoff channeling down the track; in one place the erosion was a good three feet deep.
The trail ranged from moist to muddy — and that before the 20 minute downpour that started at noon.
The fire damage starts just southeast of Washington Park. In some places there are acres of dead trees, in others plenty of trees, obviously older than 23 years, which were never touched. Depending on where you are on the trail, you are either in the midst of damage, or survivors, and may see swaths of damage in the distance. In a fire which burns so many acres, not all the acres are actually burnt. It's random. A checkerboard. Who lives, or dies, is a matter of luck. And not only trees.
The western branch of Dude Creek was clear and flowing a gallon+ per minute; the eastern branch, a half mile on, was dry. Both branches of Dry Dude Creek, a separate entity, were also dry. Bonita Creek was clear and flowing a gallon+ per minute.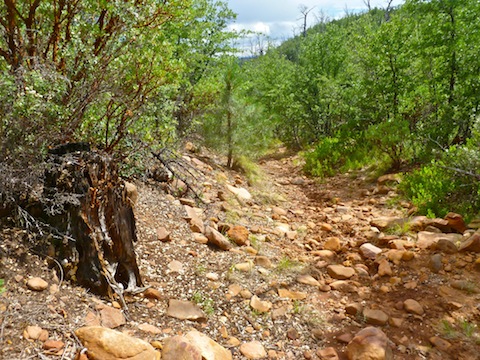 Just after Dry Dude Creek, I lost the trail, bashing through a quarter mile of neck-high manzanita. They are not stabby, but very stiff and strong. It was a workout. By the time I got to the north of Hill 6510, I decided I could forgo repeating that pleasure for 1.5 miles in favor of my alternate jeep trail.
There is a fence, with several people gates, around Bonita Creek Estates. There are also barbwire fences running perpendicular to the perimeter fence, three of which I had to low crawl. Between the manzanita and the low-crawling, I managed to lose my trail mix, Gatorade and paper topo. (I had a GPS, but perhaps more important had so thoroughly studied my route that I was never in doubt where I was.) It almost goes without saying that the Bonita Creek community failed to learn its lesson, and has rebuilt right up to and between heavy vegetation.
There's a lot of black cattle in Walk Moore Canyon, which nowadays shows less evidence of damage than many other parts of my hike. (The canyon is also more of a wash than a proper canyon.) I walked what I believe to be the fire line, from the Redmond IHC position north of the subdivision, west past the ZigZag IHC and Flathead IHC, then south past the Prescott IHC and Alpine IHC positions to where the Perryville crew made its final stand.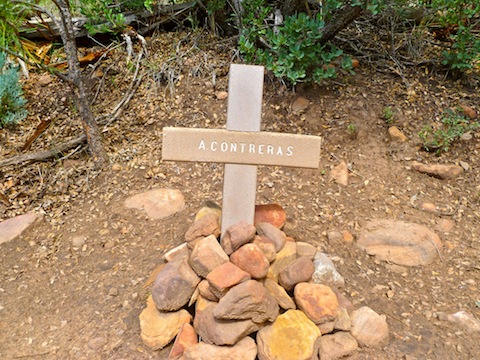 In the Dude Fire staff ride video, produced in 1999, the fallen firefighters were memorialized by metal crosses, painted white, and staked in the ground. So, when I saw a number of stake stubs, I thought that might be it, and wondered what had happened to the memorials!?
I slowly walked south, scanning the brush for the white crosses. Just around a left hand corner, I instead saw stone crosses. I shivered. Then I got teary. Alex Contreras was first. A few feet away was Sandra Bachman. Several yards further, by a trail sign, was Curtis Springfield, his cross knocked over by cattle. (I righted it.) Finally, a few yards further, lay James Denney and Joseph Chacon, who died protecting Denney with his own body. I'm not religious, but I knelt and said a prayer.
I kept walking, wondering where James Ellis was. I found his cross, by the stump on which he sat & died, a half mile south, just a few hundred yards from the relative safety of Fire Control Road / FR-64. I started to lay my hiking sticks on the stump before realizing the significance of the stump, and how disrespectful that would be. So, I laid them on the ground, then knelt to say another prayer.
My wife was waiting at the trailhead. I gave her a long hug, and told her I don't tell her often enough how much I love her, thinking how the convicts, especially, never got a chance to say a final "I love you." They were in prison one day, and dead the next. Brave men — and a woman — all. Whatever else they might have done in life, they will always be heroes.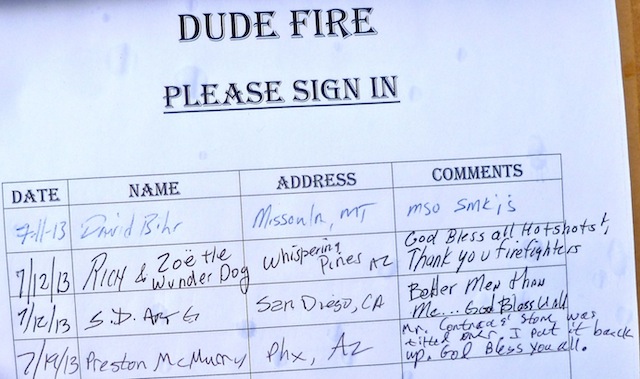 * I borrowed the title "I Shall Bear Witness" from a diary kept by a Jewish man in the Dresden ghetto during WWII. Though vastly different in scale, bearing witness is, I think, an important thing to do.
---
GPS File: Dude_Fire_Hike
Distance: 8.15 mi.
AEG: 1,220 ft.
Time: 4h 20m
---
Perryville Crew Memorial Video