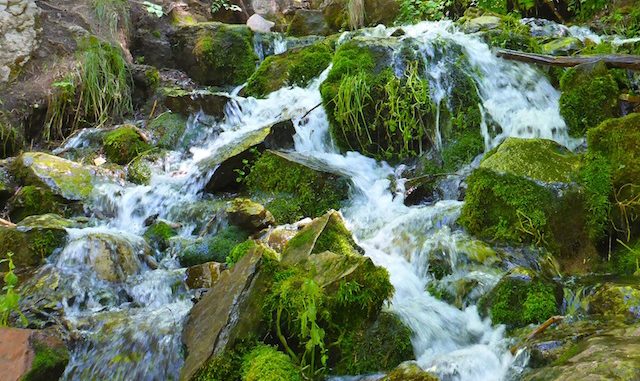 I waited until late on Thursday to come up with something. I checked weather reports for Payson, Prescott and Peeples Valley trying to figure out what might be least hot, and had lowest chance of rain. (Hopefully last week was not our entire monsoon.) I even considered doing the long haul to Flagstaff, Pinetop-Lakeside or the Petrified Forest. As I was scanning the topo, I noticed that there were several loop hike possibilities below the Mogollon Rim, in the Tonto Fish Hatchery area. This is what I came up with.
The fish hatchery area is a popular getaway for Valley residents, not only due to the shade, but due to perennial creeks. Due to the popularity, there are three parking lots, and a campground, a mile north of Kohl's Ranch on FR 289, aka the "Zane Grey Highway", a rare paved forest road. All four have pit toilets. The loop can be done from any of them, but I started from the Horton Springs TH, the third lot up the road, on the left, just past the single lane bridge over Horton Creek.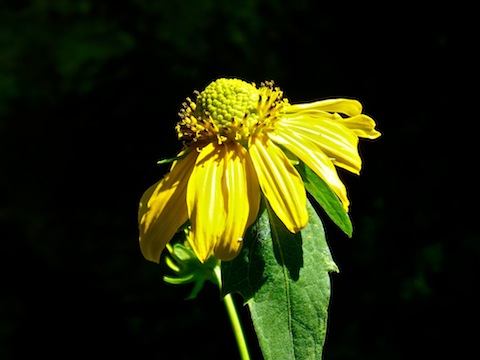 From the Horton Springs TH, I turned right, crossed back over the bridge, took the first left onto a dirt road, then the next right into the campground. The camp hostess wished me good morning. She was not the last person to wonder if I was fishing. (As I would later discover, Horton Creek is a catch & release fishing spot.) I guess she thought my hiking poles were fishing rods.

Derrick Trail #33 starts on the far side of the campground. It is a slow, steady climb, 1000 ft. in 2.5 miles, to Highline Trail #31. A few hundred yards from the campground is a side trail to the Derrick TH (the middle of the two parking lots). Three quarters of a mile from the campground is Derrick Spur Trail #32, which is the loop access from the Tonto TH, the nearest parking lot to AZ-260.
There are a ton of switchbacks on Derrick Trail #33. They aren't really necessary, but they do make the climb accessible to less fit hikers. The trail surface varies from smooth to golf ball size rocks, and is obstacle free. There is a decent amount of shade. What few flowers there were were the ubiquitous tiny purple guys. You can tell the trail has been realigned, as it crosses its previous iteration in multiple spots. Still, you'd have to be trying hard to wander off trail. When you spot a broken down barbwire fence to the right of the trail, you've completed 1/3 of the hike, and are almost to the Highline Trail.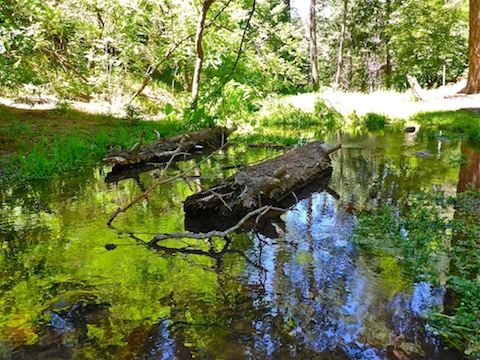 Highline Trail #31 is a National Recreation Trail, which puts it on par with the Ouachita Trail in Oklahoma & Arkansas, or the Uwharrie Trail in North Carolina. (I spent some time in the Uwharrie in 1981 as a SFQC role player.) This loop's three mile section is typical Highline: Weaving back and forth, more or less following a mid-slope contour, tons of shade, lots of small ups & downs, with multiple wash crossings, which may or may not have water. The  Highline's route on this segment is quite at odds with the topo map, but is obvious the whole way. The trail surface has rocks up to tennis balls size, and a section that reminded me of the Appalachian Trail, but is otherwise easy travel.
About 3/4s of a mile north of the Derrick Trail intersection is the Promontory Trail #278 intersection. If you are feeling frisky, it is 1100 AEG in .70 miles to the top of Promontory Point. That's steep. You can see Promontory Point from the Derrick-Highline intersection, and occasionally spot Myrtle Point, to the northwest, from Derrick Trail, but you spend so much time in the trees on this hike, that the views are limited. Simply enjoy the shade.

As I neared the East Fork of Horton Creek, I heard a helicopter. It spent about 15 minutes in my vicinity, once passing no more than 300 ft. over my head. It was a Huey, which I used to parachute out of. Normally, I would have been stoked, but in the quiet of the forest, it totally harshed my mellow.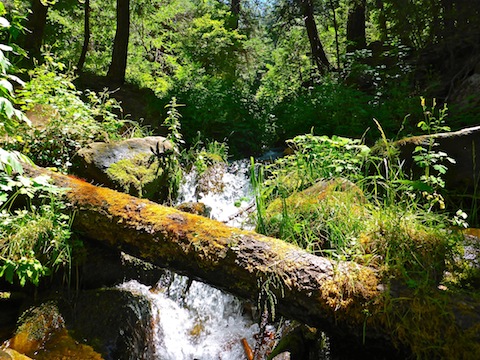 From the East Fork, to Horton Spring, then back down Horton Creek to the trailhead, there were more flowers, of a wider variety of species. Not tons, but definitely more than on the first half of the loop.
You can hear Horton Creek well before you see it. At Horton Spring, I actually found two spring sources. On the attached route, I labelled them "Side Spring" and "Main Spring Waterfall". You can hear them well before you see them. The smaller side spring had good flow out of a grotto. The main spring, the actual Horton Spring, was gushing over a 15 ft. cascade. It is about 200 yards down wash from where the topo shows Horton Spring. Perhaps there is more flow up there, but I saw water where I was so I did not need to search further. I was happy.

Just south of the spring there is a small boulder field, with several old fire rings. As I settled in for a break, and to tweet a Horton Spring photo, I saw my first other people in four hours, coming up Horton Spring Trail #285. Frankly, I was expecting there to be a ton of Phoenicians already tearing up the place.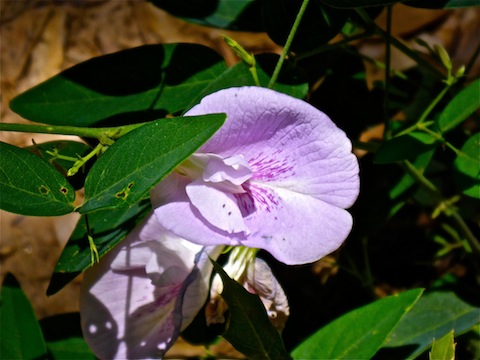 On my way back down Horton Spring Trail #285, I counted 20 people and two dogs on their way up. Trail #285 is one of the nicest hiking trails I have ever been on: Wide, smooth, obstacle free. Seriously, better than 99% of the trails in Phoenix. A "locals trail" in the woods. Horton Creek was not flowing as hard further downstream, so other than a few water videos or flower pix, I booked it back to the trailhead. Just short of the campground, I found a large McDonald's box. "Kind of an odd cache," I thought. No food in it, so it was actually garbage. I normally don't pick up a lot of garbage when I hike, but I took that with me the final few hundred yards, despite the lack of delicious, greasy, salty fries.
Back at the Horton Springs TH, the lot was packed. My wife told me the Payson IHC hotshots had been there for a few hours. Thinking back to the helicopter, I thought maybe there was a fire brewing, but she said they'd just been there to clear some brush. In Payson, traffic was not nearly as bad as Indepence Day weekend, so we stopped at the Buffalo Saloon for a late lunch and beers. (Pabst for me, drunk unironically.)

GPS File: Derrick_Highline_Horton_Loop
Distance: 9.91 mi.
AEG: 1,897 ft.
Time: 3h 54m
---
Hike Video