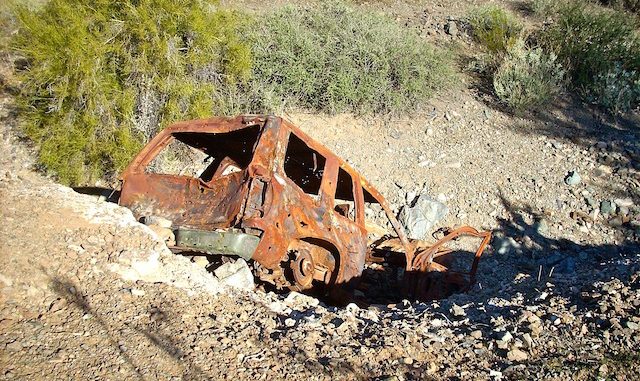 Directions: North I-17. Exit Jomax Rd east. First light, north on Norterra Pkwy. Just over canal, south on North Valley Pkwy. First left, east on Copperhead Trail. First left, north on Melvern Trail. First right, east on Desert Vista Trail. To me, park entrance was not obvious — I thought it was the exit from the townhomes, so turned around and spent 20 minutes trying to find the entrance — which was back where I had first looked. Trailhead has tons of parking, but no restrooms. Only three or four cars present.
Report: Time out: 10:50 a.m. Weather: Sunny, about 70, no breeze. Did the trail clockwise, as I am just a clockwise kinda guy.
There are now a number of spur trails: 1) Two from the western bump which access the nearby housing. 2) One from where the northern part of the trail crosses the wash. This spur runs north to the Sonoran Foothills community. There is another, quite faded, a few hundred yards east, as well. Probably best to let the desert recover it. 3) The final one, closed off for trail building, runs east from the southeast corner of the loop to the Cave Buttes Recreation Area.
I stuck to the main trail, which begins an immediate 300 ft. climb to the main trail split. The trail dropped over a saddle turning north into a wash where there is a rusted out car full of bullet holes. (It shows on Google maps.) Lots of cholla the whole trail, with the biggest patch at the foot of Granite Quarry Hill. Short, but rather steep, 300 ft. climb to the top. Panoramic view from up there, including the aforementioned rusty car and, unfortunately, the smog of Phoenix. Was treated to a formation flyover by six vintage piston-engine fighters, possibly P-51 Mustangs. Crappy camera could not catch them.
After crossing the Sonoran Foothills spur, trail turns southeast, beginning a steady climb to the Dixie Mountain summit spur. (Another short, steep, climb.) From there the trail turned south, crossing the Cave Buttes spur, crossing a saddle before closing the lollipop, then descending to the trailhead.
Encountered one or two people every 10 minutes or so. Only one MTB. Not crowded, but regular encounters. Given the number of cars in the lot, most of the others must have been locals. Nice surface all the way around. Time In: 12:53 p.m.
Distance: 5.25 mi.
AEG: 996 ft.
Time: 2h 03m