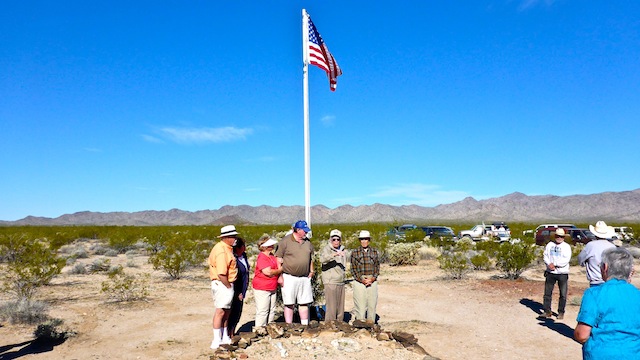 Camp Bouse was one of twelve camps in the American Army's World War II Desert Training Center (DTC), or California-Arizona Maneuver Area (CAMA). The DTC triangle stretched from Pomona, CA, northeast to Searchlight, NV, southeast to Hyder, AZ, and back to Pomona. At 18,000 square miles, it was the largest military facility in American history. The DTC was activated in April, 1942, and closed in July, 1944. The DTC's primary mission was to train American troops to fight in North Africa. (A mission Ft. Irwin and Twentynine Palms carry on this day.)
Camp Bouse was established in the Butler Valley, east of Bouse, AZ, in September, 1943. The location for the top secret Canal Defense Light (CDL) project was chosen as it was the most remote the Army could find. Even 70+ years later, the site is 20 miles from the nearest paved road.
CDLs, M-3 Grant tanks mounted with 13-million candle power strobe lights flickering six times per second, were intended to blind and confuse German troops.
Camp Bouse hosted six CDL battalions, plus an armored infantry battalion, and various support units.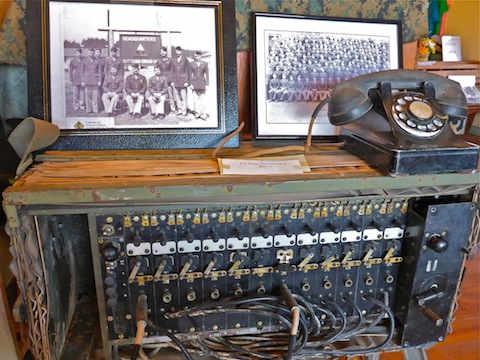 Every year since 1997, on the second full weekend in February, the Bouse Chamber of Commerce hosts a tour of Camp Bouse. The Chamber building doubles as a Camp Bouse museum. I recommend stopping there before you head out into the Arizona Outback.
We started our day off with a visit to the Camp Bouse Memorial Park at the corner of AZ-72 and Main St. in Bouse. It has some old military equipment and a number of memorial plaques to the camp's resident units … and for its "morale officer", a burro named Eight Ball.
Once everybody assembled, we convoyed on dirt roads through Midway, then along Powerline Road, to Camp Bouse.
I spent most of my time listening to the tour guide, John, from the Bouse Chamber of Commerce, and the two Camp Bouse veterans who were present. One was 89, the other 92. The older vet had not attended previous Camp Bouse Days memorial weekends as his wife was sick and he needed to stay with her. Now that she has passed away he came. "I still miss her," he said. How do you respond to something like that?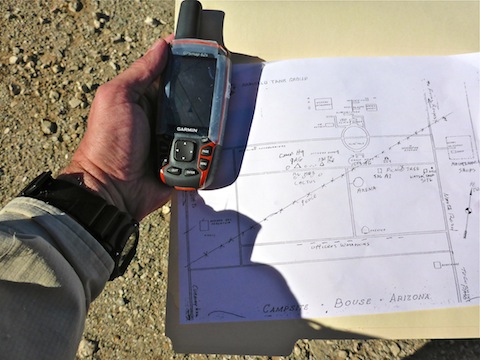 Despite his grief, both vets had some funny stories to tell, and John provided a lot of really good info. Unfortunately, with all the talking, I did not have much time to explore, which I definitely plan on doing in the future.

The video is kind of long, at 30-something minutes, but I did not want to miss any of the good stories. Apologies for the poor sound, as I was recording, at distance, on my smart phone.
GPS File: Camp_Bouse
Distance: 2.0 mi.
AEG: 50 ft.
Time: 1h 00m
---
History Video