Epilogue
Wed, 27 Mar 96 — Green Bay
Our little group of returnees started going its separate ways at the Fayetteville airport. (Although all of the people in our group were with the 432nd in Bosnia, not all live in Green Bay.) A few more split off at Charlotte, or Chicago, the two stops we made along the way. By the time we flew into Green Bay there were only three or four of us left.
Austin Straubel Airport is small anyway, and rarely crowded, but by 9:00 PM it was totally empty. It certainly wasn't the zoo it was the morning we left. The other two or three guys with me had family waiting; they got their luggage and left. I waited. And waited. And waited some more. No mom. Talk about anti-climaxes.
---
Sun, 8 Sept 96 — Mountain, WI
Every year the 432nd spends an extended drill weekend at the Bear Paw Boy Scout camp near Mountain, WI. We drive up on Friday night, train all day on Saturday, then drive back to the reserve center on Sunday. The training usually consists of common skills tasks (compass course, first aid, etc.), followed by a couple of hours of fun-type PT. The highlight, though, is the Saturday night party.
There wasn't any wopatouli this year because our Wopmeister, Todd Inman, died last year. (Even though I am an officer, and Todd was a junior NCO, I considered him a friend. It was really rough losing him.) But we still had four kegs and numerous personal stashes of adult beverages to lubricate the evening.
My first Bear Paw was in 1991, right after the Gulf War. I've had some very memorable Bear Paws since (I swear I never lit a broom on fire!), but this ranks right up there. Second only to 1994. Both were memorable for reasons best left unsaid. Suffice it to say that in the case of 1996, it was a good thing I turned off my video camera before …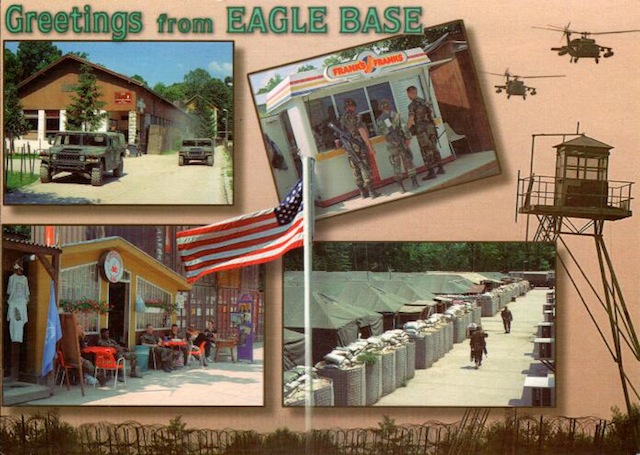 Thu, 31 Oct 96 — Milwaukee, WI
My mom called to ask me what she wanted me to do with the $200 in traveller's checks she had mailed to me in Bosnia. I'll save you the math: It took the military postal system eight months to get the letter there, figure out I wasn't there, then return it. If it had been delivered promptly, it would have gotten to me when I needed it.
---
Thu, 29 Nov 96 — Green Bay, WI
Thanksgiving. Found out that my step-brother Jonathan is in the Balkans, probably Hungary. No one knows exactly because he had to leave so suddenly. He had a safe job with range control in Baumholder, has a third kid on the way, is within a year or two of retirement, and isn't what he used to be physically after a long and dangerous career. (He was shot in the face while an SF medic in Lebanon in the early 80's, and was almost killed again in a military traffic accident in the early 90's.) Sending someone like that to Bosnia just strikes me as weird. He taught people like SGT Smith and SSG Ikner at the Scout leadership course, so he does know his shit though.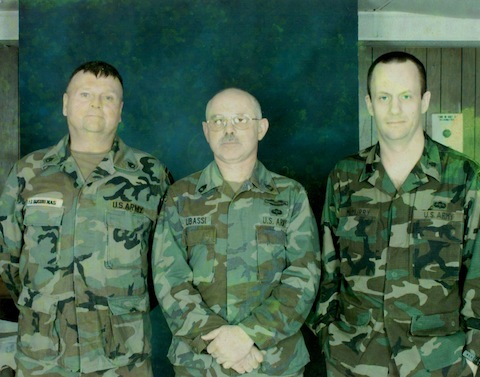 Sun, 20 Jul 97 — Appleton, WI
SFC Libassi is moving back to New Mexico this week, so we stopped over at Matt Fellinger's place after drill to drink beers, look at Bosnia photos and reminisce. I still get pissed when I think about the mail situation or the no-booze rule, but there were alot of good war stories exchanged. And it did provide some closure. Hopefully we'll be able do it again some time. Good luck Tony …
---