Murderers! From mlsnet.com, home of the monsters who perpetrate the murderous crapshoot on innocent footballers: "Chicago Fire forward Josh Wolff tore the anterior cruciate ligament in his left knee yesterday at the end of training" — obviously, as it certainly ended his training for the day. "As he went in on goal, he tried to change direction and seemed to lose balance and fell to the ground." And why was Chicago's second leading scorer (10 goals), and one of the U-23 National Team's keys to the 2000 Olympics, going in on goal? You get a little gold star if you guessed "He was practicing crapshoots!" Wolff is out six months and MLs is laughing all the way to the bank.
Write Prãsident Crapshoot MLs Garber
From: 	Preston McMurry
Sent: 	Thursday, September 23, 1999 11:51
To: 	'mlsgarber@mlsnet.com'
Subject: 	How many more?

From mlsnet.com: 

"Wolff injured his left ACL practicing shoot-outs at the end of 
training yesterday."

How many more before we are rid of this aberrant monstrosity?

Major League Soccer's new marketing campaign: "MLS: Familiarity breeds contempt."
Don't get injured in Belgium: In the 8/21 edition of TotW, we reported that a Lokeren player died after knee surgery. (Josh Wolff is probably thanking his lucky stars he ain't Belgian.) Now news arrives from Belgium that Enzo Scifo of Anderlecht had a brush with death in the aftermath of shoulder surgery when he suffered a collapsed lung. Apparently in Belgium brittle, grey sticks look an awful lot like large, gooey, pink blobs. Hey, doc, before your next surgery, lay off the nitrous oxide.
Joke of the Week: "Arsenal striker Nwankwo Kanu missed a penalty kick against Fiorentina because his heart wasn't in it." (Kanu had surgery last year to cure a life-threatening heart defect. No, he is a different Kanu than the one that died in Belgium.)
Oh, bitter irony! NY Jets quarterback Vinnie Testaverde is out for the season after rupturing his achilles tendon. Testaverde wasn't even touched on the play in question. The game was played on Giants Stadium's AstroPlastic surface — the same surface Jets coach Bill Parcells fought to retain! (The stadium's other two tenants, the NFL's Giants, and MLs's RotMasters had requested the summer-season grass surface be kept year-round.) The Jets, who were Super Bowl favorites, will be led henceforth by perennial underachiever Rick Mirer, and are now favorites for the Toilet Bowl.
A league more ridiculous than MLs? In Brazil, the Vasco da Gama-Parana match was abandoned in the 87th minute when Vasco director Eurico Miranda marched on to the pitch to remonstrate with the referee. Miranda walked on to the pitch surrounded by a horde of radio reporters determined to broadcast his protests live and headed straight for referee Paulo Cesar Oliveira. Dozens of other people also came on to the pitch. Miranda, a member of the Brazilian Congress, lost his temper after Oliveira sent off three Vasco players. Oliveira should probably receive praise for his work, considering the rather liberal proclivities of his cohorts: An average of 63 fouls per game have been committed in Brazil this season. Several players have committed seven or more fouls in a game without drawing a single caution for persistent fouling. Diving has become an art form. Even if players were appropriately cautioned, the CBF allows players to accumulate up to five yellow cards before being suspended. (Roman Kosecki would be jealous.) Of course the result is open season on strikers, and their knees. Almost like MLs crapshoots.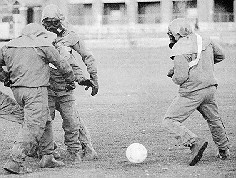 Make up your own punchline …
Beat us on the head with an obvious stick: Paraguayan authorities are investigating the possibility of match-rigging after two provincial sides needing big wins on the final day to win the title won their games 37-0 and 75-0. That is not a misprint. No misplaced hyphens in that sentence. Both losing sides fielded only seven players, the minimum allowed by FIFA. In one of the games a single player scored — get this — 35 goals! TotW couldn't score that many goals in a match with no opponents on the field. To put that in perspective, that one player scored eight more goals than the RotMasters have scored all season! Charlie Stillinajob is no doubt winging his way to Paraguay even as we speak …
Who says soccer is low scoring? As long as we are on the subject, perhaps the possibility of match-rigging should be investigated in the blow-outs instigated this week by Bremen (7:2 winners over Wolfsburg), Newcastle (8:0 winners over Sheffield Wednesday) and San Jose (6:1 winners over Miami) — none of the victors having shown any previous propensity for goal-scoring, let alone winning. (If Alan Shearer scores five goals, doesn't that strike you as a bit odd?)
Urban legend? A couple of years ago, a Cambridgeshire league match was played one winter in typically murky fenland conditions. After about 10 minutes, the fog came down so thickly that visibility was reduced to about half the length of the pitch, so the referee decided to abandon the game. It was only after the players had been enjoying the warmth of the changing rooms for about 20 minutes that a player on one of the teams noticed that their goalkeeper had not come in. When they went out to look for him, they discovered him still faithfully guarding his goal, oblivious to the fact that the match had been abandoned. Apparently, he thought his team had been playing particularly well and had managed to keep the play at the other end of the pitch. Obviously, Sheffield is not in Cambridgeshire.
Big fish in a small pond: AK United Futbol Club, on Soccer Spot, is advertising their club as "the premier soccer club in Alaska," where the gods tremble and Sheffield Wednesday walk in fear.
Poor little rich kid: In the Champions League, Real Madrid led minnows Molde by the modest score of 1:0 in the 55th minute, when coach John Toshack substituted for the ineffective Nicholas Anelka. Jolly St. Nic exitted to the hearty jears and whistles of the threadbare crowd. (Anelka has done little in the six weeks since Real bought him for a hefty $35 million, other than alienate everyone within earshot.) Real Madrid went on to win 4:1. Toshack was hardly supportive of his wayward striker in the post game conference: "The last thing I wanted to do was substitute Anelka — I wanted him to play a full 90 minutes — but I had to think of the team," said Toshack. "Anelka does not look comfortable at the moment and after that performance he is probably lacking even more confidence." Heee-e-YAW! Oh, man …
Thou doth not qualify enough: Jerry Langdon, Soccer Times knobshine, wrote in his column that recent MLs re-signee Brian McBride is "perhaps the leading striker" in the league. Perhaps? Perhaps??? What does "leading" mean? Most widely known by the non-soccer public — we mean 'casual fans' … perhaps. Most frequent national team appearances … definitely. Best … no. Most prolific … definitely not. There are at least a half-dozen players — including two on McBride's own team, the Columbus Crew — who are greater threats to opposing goals. Perhaps the names Raul Diaz Arce, Jason Kreis, Roy Lassiter, Jorge Dely Valdes, Ariel Graziani and Stern John ring a bell. Jeff Cunningham might not, but he is the other Crew forward who has out-tallied McBride. To put his output in perspective, a certain slow-footed defender for the woeful KC Wizards — Alexi Lalas — has more goals this year than McBride. Good thing Crew coach Tom Fitzgerald has been more diplomatic than John Toshack.
Bend over Rupert, I got more dosh: Rumor has it that Bill Gates is bidding $1.6 billion to secure the TV rights for the English Premier League. The FA is expecting $2.3 billion, still quite literally pocket change to a man-boy worth over forty-five times as much. How much is that? If Microsoft's stock crashed to $1/share Bill would still be a billionaire. Even a rapine buccaneer like Rupert Murdoch, who purchased the 1998-2001 EPL rights for $1 billion and change, can't hang with Bill. TotW is just waiting for the merger of the two great Evil Empires — Microsoft and Disney — before it stocks up on bottled water, spam and freeze-dried fruit, and heads for the northern woods for surely that would be the seventh sign of the impending Apocalypse. Don't think it's possible? Don't the RotMasters crash as often as Windows? Eh? Eh? Ahhh … see? We told you. Beware!
THE SECRET POLICEMEN'S OTHER FOOTBALL CLUB

By "The Ferguson Diaries"

Call them Dynamo Washington. Yes, in the post-war tradition of the great secret police sides, please stand up for the newest in a long line of over-loaded, spoon-fed football clubs. The finest players, best coaching, newest science and most scrupulous refereeing money can buy, all in effort to bring the fine citizens of the nation's capitol the first class soccer team they deserve. Like Dynamo Moscow, Dynamo Berlin, Dynamo Kiev and all the others who have come before them, Dynamo Washington have gratefully accepted the gifts which have been given them by the State, and have become the great club the nation now knows it to be.Although Dynamo have dominated the American league, with the exception of a small handful of unexpected embarrassments, their greatest challenge is soon at hand. While it's true that they are the only State club able to claim continental honors, this year's CONCACAF Champions' Cup brings with it the distinct privilege of North American representation at January's inaugural World Club Championship in Brazil.

It is therefor of the utmost importance that the State properly equip Dynamo with the quality player it is used to that the team may fully challenge for global domination. To these ends, Dynamo have recently been the eager recipients of the State's hottest young talent, Chris Albright. You see, although Albright's skill might be appreciated at a lesser club, one struggling simply to survive, it is for the greater good that the youngster go to the capitol. While Project-40 was established for the development and equal distribution of young talent, some clubs are more equal than others.

But until the rigors of international play, Dynamo are content to ply their riches to the trivialities of the domestic league. Of course there will always be those rare moments when even the most knowledgeable coaching and fittest players are unable to overcome the occasional over-achieving visiting club or withstand the pressures of derby day. It is in these instances that the patriotic consideration of the referee is always appreciated, if not expected. Take for example the recent Dynamo match at their substantially unequal rival Red Star Metro, in which the home side went ahead on an early penalty. While Dynamo were able to draw level after twenty-one minutes, a clear and obvious opportunity to ensure that the right team win presented itself when Metro defender Mike Petke forced the hand of referee Michael Kennedy. Having just been whistled for a foul, and previously booked, Petke picked up the ball and kissed it before returning it to Kennedy- an intolerable act of defiance in any culture- and thus he was shown a second yellow and the consequent red. With order restored, Dynamo won 1-4.

And, of course, there is the relative ineptitude of the other clubs themselves which allow Dynamo Washington to put its best foot forward in the name of the State. Some clubs have little or no support, or are just unlucky. Others have blind eyes for talent, while still others haven't even a training ground with hot and cold running water. In their case, Metro can lay claim to all four. At Dynamo Washington, though, the State has made sure that everything a footballer and his management need are readily at hand.

What the comrades at MLS understand is that when the club is happy, the players are happy; and when players are happy, the results are good. When the results are good, the people are happy … most of the people …some of the people.

Long live Dynamo Washington. May your club bow to them in their next league fixture. After all, it's for the collective good of the State. Just ask former Premier Logan, if you can catch him before his train leaves for Siberia.

"We offered him the moon and he still said no," league commish Dr. Timothy Logan told reporters after the deal collapsed, adding that the player would probably have ended up "causing more trouble than he's worth anyway."
We riot after the game: The difference between Americans and Europeans is that we riot after our games (pick a city after their team wins the NBA Champsionship or World Series). From London comes news that fans of crosstown rivals Queens Park Rangers and Fulham rioted during the match. It is typical in Europe that opposing fans are segregated to avoid such incidences, but demand was so high for tickets to the first meeting between the two clubs in 18 years that the demand of visiting QPR fans for tickets exceeded the 2,500 home Fulham had granted them. If Fulham had properly priced their tickets, demand would have matched supply; that's Economics 101. But they didn't and so the touts stepped in to fill the void. Being keen businessmen, not cops, they sold to whoever presented the most dead queens. Naturally, that resulted in QPR fans being mixed with Fulham fans and the fun was on. The Round Not Oval webzine, an otherwise entertaining site, advocates punishing the scalpers, whose only sin was to practice free enterprise, rather than the hooligans who actually engaged in the riot: "I know that many lump scalping in with prostitution as a victimless crime, but when crowd disturbances are caused by away support using scalped tickets, this rationale falls a bit flat." Wrong. To hold responsible those who do no wrong, is to say to all that they might as well do wrong, because they will be punished anyway. People who commit evil are the people who commit evil. The person who commits an act is the person who commits it, not someone else. No one can force anyone to do anything. They can coerce them into doing something, by presenting them with unpleasant options, but there are always options. Always. (Even if the option is hanging or electrocution.) The QPR fans could have chosen to hide their affiliation. The Fulham fans could have chosen to ignore the QPR fans' affilliation as revealed. Both sets of fans could have chosen to engage in good-natured chanting and rivalry. Both sets of fans could have even chosen too engage in nasty verbal exchanges. In every case, by every fan, individual choices were made. Those who rioted chose to do so. And they should be held responsible.
---
TotW apologizes for leading with this week's TotW dishonoree(s), the MLs Competition Committee, but the crapshoot is such a horrendous effrontery against all that is decent and sane, that we were left with no choice.
How many bizarre red cards awarded for what in the course of normal play would be trifling fouls must we endure? They deprive the fans of watching the top keepers in the league — other than Jeff Causey, who in New England has assumed the bizarre position of crapshoot specialist, taking over for ancient Walter Zenga late in close games.
How many careers must be ruined by severe injuries incurred in fruitless and misguided attempts to appeal the non-existent casual fan? Lest we forget, prior to his knee injury in Mexico this past spring, Eric Wynalda had a knee blown out during a crapshoot several years ago. In case you were wondering, yes, he was a San Jose player at the time. Of course. Some things never change, and the Clash's crapshoot tendencies are one of them.
Call TotW hypocrites if you will, but we've made a sincere effort to determine the exact membership of MLs's secretive Competition Committee, and failed. Perhaps the information is buried somewhere in the bowels of the league's New York headquarters like transcripts from some ancient KGB file proving that — gee whiz — the Rosenberg's really were commie spies all along.
MLs Competition Committee
Turds of the Week
Late Development: Thanx to alert reader Eric, who seemed to remember Soccer America listing the members in a conference call somewhere in the past month. A few minutes of further searching, and we are now able to hold the demons' feet to the fire (for all the good that would do):
Clark Hunt, Hunt Sports director (Crew/Wizards)
Ivan Gazidis, MLS Executive Vice President, Operations and Player Relations (ex oficio). Too bad he isn't just ex- period.
Kevin Payne, DC United GM
David Dubow, mysterious Miami Fusion 'operative' (not listed on team or MLS web site). Isn't he the goofy looking singer from mid-80's metal band Quiet Riot?
Roy Kline, Colorado Rapids president
Alan Rothenberg, US soccer Svengali
Silvia Kessel, mysterious RotMasters Mata Hari (not listed on team or MLS web site)