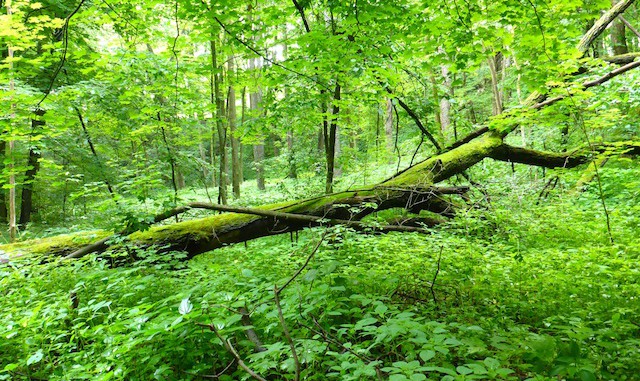 I was in western Pennsylvania for an Endurance Karting race at Pitsburgh International Raceway, and since practice did not start until the afternoon, I went out for a morning hike. I was expecting six relatively mild miles, but it ended up being 33% further, and more up & down than I expected. Exactly like the Highline Trail, but with more water — much more water — and mosquitoes. My wife's foresight in bringing the Off! was much appreciated.
We walked down to Hell's Hollow falls & kiln together, which she enjoyed, before I set out on my own down Hell's Run and Slippery Rock Gorge.
There are several small, wooden, bridges across side creeks. Not sure why, as all are easily crossed, and many others got my feet wet. Maybe they got tired of building bridges?
The trail was sloppy muddy in many spots. Along with low-crawling one large log, I was such a dirty mess by the end that taking off my shoes before re-entering our B&B was only the right thing to do. (I would have stripped naked, but I doubt they would have appreciated that level of consideration.)
There were uncountable mini-falls along the way, some of which had me audibly saying "Wow". It was the 11th day of at least 14 straight days of rain, so it was peak season. (The night before, we were stuck on the tarmac at the Pittsburgh airport as a biblical deluge kept the arrival gate shuttered for 45 minutes — the second of at least five travel delays and/or fuck ups we encountered on both directions of our trip.

 )
I was a bit tired by the time I got to the track, so I only did two practice stints. Thankfully, it was dry, but it rained most of the night and until late morning the next day (race day). It sucks racing on slicks in the wet. Normally, race day is about two hours of seat time, spread over a six hour race. This weekend, due to a condensed schedule, it was 2.5 hours of seat time spread over maybe 4 hours, including a 45-minute double stint. If you've ever been to Bondurant, and felt how sore your arms and neck are after a 10-minute race, you'll understand how good of a workout driving a kart can be.

GPS File: Hells Hollow & Slippery Rock Gorge
Distance: 8.40 miles
AEG: 1,016 ft.
Time: 3h 34m
---
Hike Video