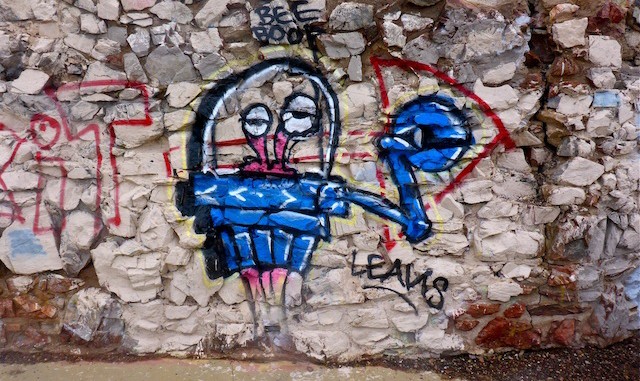 Well, I made it. Just a hair over 600 miles for the year: My best ever.
Four days ago I was on 589, and figured I could do four around-the-back-yard trips — usually about 3.5 miles — and make it to 600. I did one Sunday and Monday, but skipped yesterday due to being too darn busy. (Technical issues, meetings, etc.) Had a breakfast meeting this morning. Imagine my delight when I walked out of the Denny's to discover it was raining.

Got home, waited for the rain to hopefully stop. As soon as it did, about 12:30 in Sunnyslope, I was out the door. (If I had to wait until 10:00 p.m., I would have done so: Nothing was going to stop me.)
Whereas Sunday was 47° at 11:00 a.m., and Monday 45° at the same time, today at 12:30 p.m., when it should theoretically be warmer later in the day, it was only 45°. But it was not raining.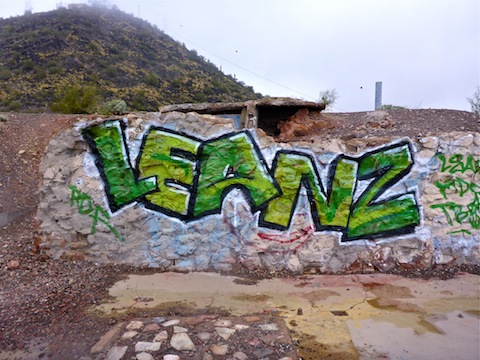 The boogers soon began flowing. I did Shaw Butte counter-clockwise, which is the more difficult up. I checked out Cloud 9, to see if there was any fresh graffiti, and only noticed that some guy named Samir likes logging all his ascents on the wall. (They were actually dated.) I checked out the western antennas, hoping there was some path at that contour level, but there was not, so up the last 200 feet I went. I figured as long as I made that steep final climb — the steepest in either direction — I might as well check out the master antenna farm for graffiti. There was none. But it was warmer up there. Wierd.
I trotted much of the way down the north route. When I got back to NMVC, I called my wife and asked if she could put a pot of soup on for me. It felt significantly cooler, and was much more boogery, on the way home. Boy did that soup hit the spot!
GPS File: Shaw_Butte_Trail_306
Distance: 7.67 mi.
AEG: 1,362 ft.
Time: 2h 37m
---
Graffiti Video