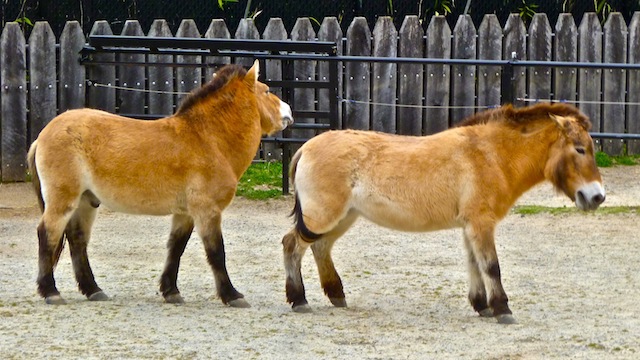 Our second full day in DC, we planned on visiting the National Zoo with our younger son and his family. We took the 32 bus up Wisconsin Ave. to the National Cathedral, where planned to transfer to the X3 or 96 bus to the zoo. We waited for 30 minutes and neither bus showed up. My wife, with her bad feet, was more eager to get walking than I was. Mainly because it was cold as hell. (Saturday had started chilly, but warmed up; Sunday stayed chilly.) So, we walked down Woodley Rd. NW and Cortland Pl. NW, past several very exclusive private schools, and some even more expensive neighborhoods, to Connecticut Ave. NW and the zoo entrance.
Zillow.com shows the old wood frame places near Georgetown University, on Prospect St. NW, as roughly $750k joints, while the Cortland mansions are circa $1-3 million. Price is just one more way Georgetown resembles San Francisco. Great restaurants is another: I highly recommend Paolo's Italian and Bistro Français.
We spent several cold hours at the zoo, before parting. My wife and I then walked down Connecticut to the Woodley Park-Zoo metro, which we took back down to Foggy Bottom/GWU, then hopped our old pal, the 32 bus, back to our hotel.
Distance: 3.90 mi.
AEG: 270 ft.
Time: 2h 30m