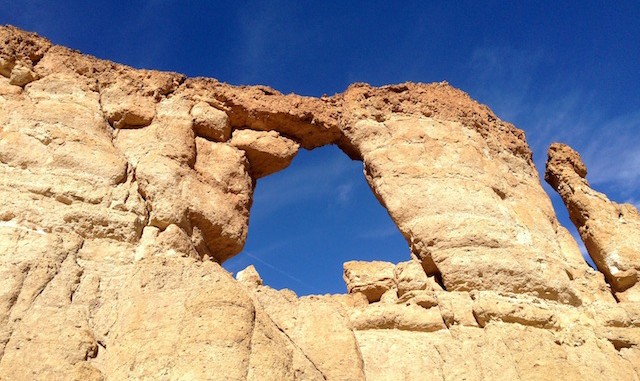 I had planned on hiking AZ Hot Springs on my way to Vegas, asking autumnstars if she was interested. She had plans, but suggested I check out Liberty Bell Arch while in White Rock Canyon. I knew I would not have time to do both springs and arch, but made arch plans as a backup. Good thing, as I was running an hour behind schedule when I arrived at the trailhead. (Not helped by making two wrong turns due to interpreting the AZ Hot Springs driving instructions as being a dirt lot on the west side of the road, when in fact they are paved on the east side of U.S. 93.)

 The arch trail is about two miles shorter than the hot springs trail.
The first .9 miles are boring, passing west under U.S. 93, then down a very wide wash. Just as the wash begins tightening up into what appears to be a more interesting White Rock Canyon, the Liberty Bell Arch trail takes an unsigned — there are *more* than enough signs at the beginning!

 — right/north turn up a side wash. At 1.4 miles, on top of a small saddle, I spotted a hole in a rock. It was not the arch.

 While checking out the hole, I spotted some mining equipment, which was a cool surprise. (I had not read the hike description.) I found the shaft, which would have been easy to climb down, but being short of time, decided not to explore it.
The hill which houses Liberty Bell Arch is actually visible almost from the moment you cross under U.S. 93, if you know where to look. (It is the lightest color hill amongst many dark ones, sandy, with a wedge shape protruding towards you.) The hill is more obvious after the mine, and sun can be seen shining through the arch about 1.7 miles into the hike. At 2.1 miles, as you round the south tip of the wedge onto the sunny side, the arch becomes obvious. It is also obvious why it is called the "Liberty Bell" Arch.

After that, it was a short half mile jaunt to the top of the Colorado River overlook mesa. Wow, what a view!

 The mesa top is relatively flat, but rocky. If you had an air mattress, it would be an awesome place to camp.
I had considered possibly down hiking the river side of the mesa, as the topo makes it look steep, but doable. Yeah, right. Hundreds of feet of vertical. As always, maps lie.

 (Should have the contour lines merge, being replaced by a single hash-sided line for a more accurate indicator.)
The trail is very slippery in multiple spots. (I twice fell on my fourth point of contact.)

—–
1-2-bar reception at the trailhead four miles south of Hoover Dam; 2-3 bar reception at the overlook mesa.
GPS File: Liberty_Bell_Arch
Distance: 5.86 miles
AEG: 1,376 ft.
Time: 2h 22m
---
Hike Video