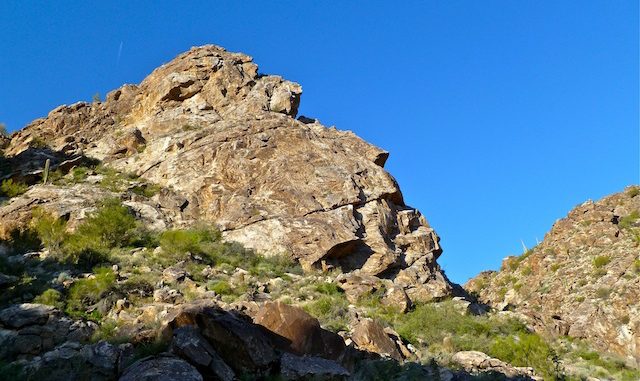 Took Dunlap / Olive all straight across Phoenix from 7th St. West bound traffic not too bad, even for a week day before seven. Hit the gate at sun rise. Happy to pay $6 fee, as it is at least a tax that goes towards something worthwhile, that I benefit from. Did not see any other cars along the park roads. Third car in the Ramada Way lot. (The ampitheater symbol on the county map.) Managed not to forget anything this week.

 Time Out: 7:01 a.m.
Cruised up Waddel Trail. Many signs through out the loop announcing a trail running marathon on Saturday. Soon noticed that muscle in front of lower left leg was getting sore.  

 Too much stride. I have a bad habit of that. I tend to keep my head down (to avoid tripping) and make haste (to increase exercise), rather than taking a bit longer to enjoy the scenery and avoid leg strain. But it did help me notice the many small lizards — literally dozens throughout the loop — and many fox deposits on trail rocks. Climbed the small hill just east of the first saddle, just north of the Ironwood Trail intersection, to get a good look at what remained of the sun rise.
Began slight descent into Ford Canyon. Many birds singing from cactus tops and bushes. Lots of greenery on the ground. Began climbing up Ford Canyon. The county map says it is "dangerous", but not sure why. It's a gentle climb, with decent footing. There's some scrambling, but nothing too challenging. About an hour into the hike, around mile marker 4, the white rocks began. Wow, is that cool. It would be absolutely spectacular with running water, but there were only a few pools. Plenty of moisture just below the sandy surface.
Turned south for a mile in the sandy wash. Saw the first of several patches of actual, real, live grass. Not the weedy, stemy, stuff that usually passes for "grass" in Arizona. Gave me Wisconsin flashbacks. After a mile, the trail split left from the wash, beginning the only real climb of the loop, about 600 ft. in about a mile. Not bad, just enough to elevate the heart rate. Great views back down Ford Canyon, of radio tower hill, and into Willow Canyon. (You can see most of Willow Canyon Trail from the saddle.)
From that point, about three miles back to the trailhead, the trail was rather plain. Would have been a great of view of Phoenix if not for the incredibly brown air.

 Only item of note was a old cattle tank just inside Willow Canyon, and fences along the switchbacks of the Mesquite Trail. Could not figure out what the fences were or at first, as there were no petrogyphs, or any sort of protected area. Then I realized — probably because one of them had a sign — that the fences were to keep people cutting the switches. How lazy do you have to be to ostensibly be exercising, but then cut a switch to save yourself 10 yards of (downhill) effort?

 Yeesh. Lots more cars in the Ramada Way lot on my return, and TONS in the Waterfall Canyon lot. Time In: 11:32 p.m. Duration: 4h 31m. Hike time, minus breaks, map reading, etc.: 3h 35m. Distance: 9.0 mi. Pace: 2.51 mi/h.
Distance: 9.00 mi.
AEG: 1,300 ft.
Time: 3h 35m