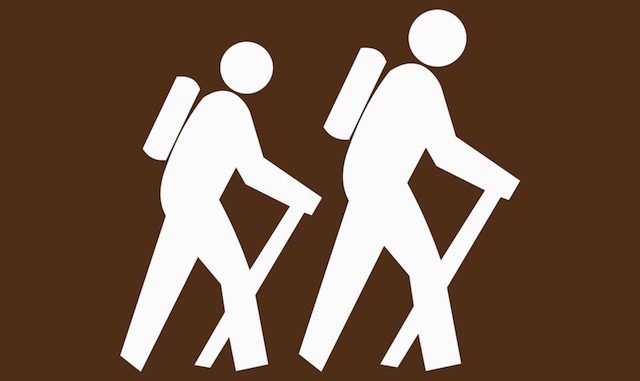 Met up with AZLumberjack about 0700. Had my water hiking shoes this week, but forgot my camera. It's always something. At least I had my Blackberry, even though it takes pictures like vaseline is smeared on the lens.
Made introductions, then hit the trail.
Cruised the first 1.5 miles, mostly on a path, until the path splits left / southeast. Followed First Water Creek right / south. Fitzski's marker is long gone. (Temporary nav aids can be useful, but should not be relied on, as they can easily go away … mountains not so much. 😉)
Route-finding and scrambling skills immediately began being put to the test. Even though I got my feet wet a few times, I really did not need the shoes as the creek varied from intermittent to bone dry. (The shoes are mesh to allow water and sand to flow through, and they dry out in just a few minutes, even while being worn.) I was surprised, as I thought the recent snowfall would have provided some runoff. From a scenery standpoint it was disappointing, but from a hiking stand point made it was relief, as it made the scrambling easier: Instead of slipping off the rocks, I rubbed my fingertips raw instead.
After another 1.5 miles of creek bed negotiation, we began breaking into the open. Per Fritzski' description, rather than following First Water Creek, we followed the contour of Hill 3399. As we approached Hill 3187, there was quite a bit of prickly pear and cat claw. Also, wondered if we should go between the "thumb" and the hill, or go right/east of the "thumb", then bend back. (We did the latter.)
Began on the north side of O'Grady Canyon, switched to the south, as it was less slopy, and their appeared to be bent grass to follow. Crossed back to the north side of the O'Grady creek as we completed the 3/4 turn around Hill 3187. Some cairns along here helped us find easier routes through some small, but steep, washes. About 5 miles into the hike, as we drew even with Hill 2992, to our east, we picked up a more defined path. There followed a short climb to the Hill 2927 saddle, where there was a great view of Weavers Needle. After that it was a 1.5 mile cruise back to the trailhead and AZLumberjack's much appreciated MGD. 🤗
To borrow from another HAZard's recent encounter, this is not a purse hike. You will need route finding and scrambling skills. (The description says 0 — it lies.)
Directions: Depending on which part of the Valley you are travelling from, either take the Red Mountain Freeway / Loop 202 or AZ-60. If you are taking the Loop 202 east, take exit 26. Go east on Brown Rd. for ~7.0 miles, then turn left onto Apache Trail / AZ-88 for 3.3 miles. If you taking AZ-60 east, take exit 196. Go north on Idaho Rd. for 2.3 miles, then turn right onto Apache Trail / AZ-88 for 5.2 miles. Regardless of which freeway you take, just past Lost Dutchman State Park, turn right onto First Water Rd. The trailhead is at the end of the road in 2.6 bumpy miles.
Distance: 9.80 mi.
AEG: 710 ft.
Time: 6h 00m