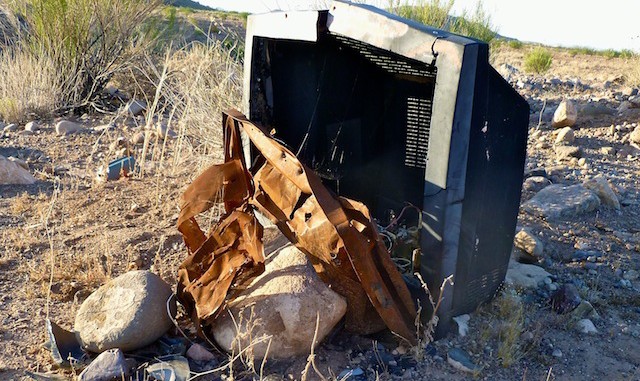 Directions: North I-17, exit west Carefree Highway. Go 6.4 miles to New River Rd, turn north. (Warning, this is *just* after the Lake Pleasant Pkwy. traffic light.) Go 7.2 miles to Emery Henderson TH. Supposedly closed at dark, but it was open when I got there at 5 a.m.
Report: I started hiking at 0506. I like getting an early start to minimize heat and sun exposure, and also avoid any possible crowds. Dawn is about 4:50 a.m., with sunrise about 5:20 a.m. I hit the trail as soon as I could see it without a flashlight. I crossed New River Rd, passed through a gate, entering a large grove of staghorn cholla. (I assume, I am no botanist.) After about half a mile, the vegetation changed to a large grove of teddy bear cholla. Between the landfill and the wash, the vegetation changed again, this time to a large grove of brittlebrush. Very distinctive vegetation bands. As I neared the wash, I spotted an old wooden horse trough and a circular cement pad. I stayed right of the cement pad. When I got to the wash, I aimed for the orange pole on the south side. Then I started the largest climb of the hike: 15 feet up the other side.

The trail is single track north of the New River wash; jeep trail south of it. The vegetation gets much less dense south of the wash, but there are some really huge staghorn cholla: I'm not kidding some of them are eight feet tall and wide.
Just past a depression on the east side of the trail, I crossed a nice gravel road, which the maps claims is "W. Desert Hills Dr." Okay … On the south side of the road is another gate. I passed through it, and rather than continue on the trail, turned immediately west along another jeep trail, which soon began angling southwest. Oh my, I have never seen so much expended ordinance in my life, and I spent 21 years in the Army. Literally thousands and thousands of empty shot shells littered the trail. 12 gauge, 20 gauge, Federal, Remington and even some Italian manufacturer named Fiocchi. If gunfire makes you uncomfortable, you probably want to avoid this hike, as not only is the Ben Avery Range at its southern terminus, but there is a Sheriff's range by the federal prison. I heard gunfire both from the Sheriff's range and from northwest of my location, presumably from the north side of New River Rd.
I crossed an east-west power line, then about 3/4 of a mile later, at a T-intersection, turned east. The shot shell density considerably decreased. 3/4 of a mile after that, just before rejoining the main trail near Ben Avery, I came upon a trail that followed another power line, north. I turned up that. About half way back up to the federal prison, I saw what I at first thought was a 20mm round, half buried in the dirt. (I think it may have actually been a really big bob, of some kind.) At the southwest corner of the prison, the power line trail, the main BCT trail and the Maricopa Trail all intersect. I continued north, back up the same way I came a few hours earlier, to the wash.
I was thinking I would hike up the wash about a 1/4 mile, then get on a jeep trail that paralleled it to the northeast. However, the wash itself is not practically hikeable: It is way too rocky. (Sandy, I could have dealt with.) Eventually I got on the jeep trail, where I found various bits and pieces of a home safe. No cash or jewels, as the crooks got all the loot.

After a half mile, there was a sharp turn west on a roughly paved road. (An extension of Anthem Way?) My plan was to go a little ways west on that, before turning north up a cattle trail to New River Rd, then turn west a short way back to the Emery Henderson TH. However, that area was fenced off, probably for future development once the housing market recovers about 2020.
GPS File: Carefree_Hwy_BCT_1
Distance: 12.40 mi.
AEG: 713 ft.
Time: 3h 54m