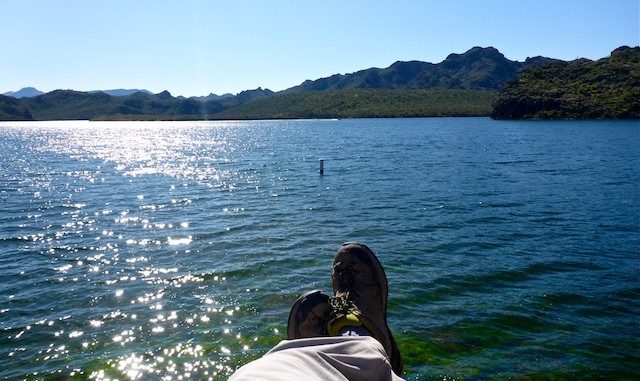 I planned to hike from Butcher Jones TH across the north shore of Saguaro Lake to the AZNG site on Hill 1980 at the mouth of Cottonwood Creek. I got to the TH only to discover it was a fee area … and they don't sell passes at the Saguaro Lake marina. Yet, also in the Tonto NF, they *do* sell passes at the Bartlett Lake marina. Why the difference? Very inconvenient. Very goverment bureaucratic.

I thought about risking the ticket. Not sure if the Ft. Dowell gas station sells them; it's equidistant to Mesa, but a lot faster doing 70 on the Beeline Hwy, than 35-45 through the cop gauntlet on Bush Hwy. I ended up going to Mesa, just so I would not strike out in Ft. McDowell and get really pissed having to go to Mesa. I was already stressed out enough as it was. (Just life.)
I hiked .75 miles up the semi-paved beginning of Trail #463, before turning left/north up a small canyon. It was smooth sailing for a mile. Some small flowers, but not many.
I cut over a saddle, finding myself going down a slot canyon. I probably could have negotiated it, but I wanted to move faster, so exitted, working my way instead down a spur towards the next wash. The wash was not deep, but it was steep. When I got to the top of the next spur, and looked in the direction of Hill 1980, I thought, "This is going to take much longer than I thought." And, I would have to come back the same way. Audible.
Instead, I went to the end of the spur, which projected into Saguaro Lake, then sat down to listen to the waves. It was quite relaxing. I needed to think about life, and wash away the stress. (I had woke up even more angry than I had went to bed.) After 45 minutes, I worked my way back, following a ridge for a bit, and finding many flowers, before dropping back into my small canyon.
By the time I got back on Trail #463 it was Piestewa Peak busy. On a Thursday. 20 miles out of town. I was shocked.

 I busted it up the trail for a couple of miles until I came to a small outcropping of rocks, where I took my second break, with my usual snack of vinegar chips and energy bar. Despite taking my time returning to Butcher Jones TH, and taking many more flower pix, I was still passing people left and right. But at least the majority of people were friendly, unlike trails inside the city.

GPS File: Butcher_Jones_Trail_463
Distance: 8.32 mi.
AEG: 1,075 ft.
Time: 3h 31m
---
Hike Video