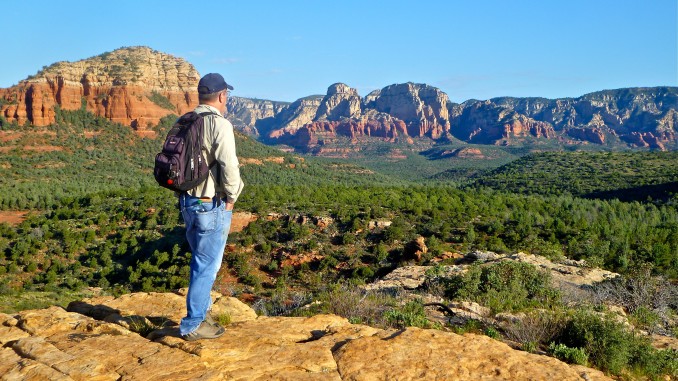 Wife mentioned the Hummingbird Festival a few weeks ago, and being a good husband I took the hint and made arrangements to spend a day up there.

Figured I might as well get in a hike, since the festival wouldn't be up & running until mid-morning when normal people wake up. Brin's Mesa was one of about 150 wishes on my list, and the one closest to where we were staying. (The Matterhorn Inn, on 89A north of the Y.) We met up with Outdoor Lover at the trailhead, and off we went. We hiked counterclockwise on Brins Mesa Trail #119, Soldier Pass Trail #66, Sink Hole Trail, Jordan Trail and Cibola Pass Trail. 
A couple of guys passed us on the way up Brin's, and about 15 minutes later back they came: "It gets really steep".

 It's not bad, and it's only 300 feet. Certainly nothing like the step-ups on Ballantine. Brin's Mesa was very green, and looks to be recovering well from the 2006 fire. Soldiers Pass was the most enjoyable part of the hike, with nice shade and interesting slick rocks and pools. Most interesting part of the hike was the Sink Hole, just west of Devil's Kitchen. I didn't notice it when I looked at the topo, but on further review, there is a small depression symbol if you look close. Stupid camera battery lost charge at that point.

 Made it back to the TH. Said we try to catch up with Outdoor Lover at the hummingbird banding, then headed back to the hotel for the day's second shower. Unfortunately, took our time back at the hotel — it was supposed to be a relaxing day! — then got distracted by a shopping spree at Buck Thornton's World of Jerky. (Total Damage: $73.) By the time we got out, the hummingbirds were doing the sensible thing, hiding from the hordes pouring into Sedona. Oh well, wife picked up a really nice copper art hummingbird feeder, so she was happy, which was, afterall, the point of the trip.

GPS File: Brins_Mesa_Loop
Distance: 5.48 mi.
AEG: 971 ft.
Time: 2h 36m