This Week

: More bridge troubles; PC firing line; troops walk thin line; incidents in Mostar.
---
31 Dec 95
US engineers finished their pontoon bridge across the Sava River. The 600 meter bridge is the longest one built by the US Army since it built a 400 meter bridge during the famous World War II river crossing at Remagen. Almost 200 meters of bridging crosses the flooded plain on the Croatian side of the river. 150 vehicles crossed the bridge in its first day of operations. (The flow was deliberately slowed to avoid overtaxing the Bosnian road net.)

The US Humvee which hit an anti-tank mine yesterday, was travelling on a road near Bijela which was marked on both sides as being mined. However, the road itself was not marked. The damaged vehicle, as well as a second one that crashed after the explosion, remain on the road, with troops first searching for other land mines.

Croatian President Tudjman marked the holidays by granting amnesty to 455 people arrested during the liberation of Krajina in August. None of those released had been charged with war crimes. (Over 200 people accused of war crimes remain in Croatian jails.)
Non-PC Words Put Colonel in Firing Line
In late-December, COL Gregory Fontenot, the commander of the 1st Brigade, 1st Armored Division, said "Maybe not in groups of 20,000, but I think we'll have a military presence here [Bosnia] for a long time … I don't think we're out of here in 12 months, not if we want this thing to work." This contradicts Clinton administration guarantees that US troops will leave Bosnia within a year, but it is a common opinion of most soldiers in the country.The ensuing controversy has COL Fontenot's career hanging in the balance. He is under an Article 15-6 investigation. A 15-6 cannot lead to UCMJ action, but can result in administrative actions such as verbal or written reprimand, or, in the most serious cases, relief of command.
The controversy illustrates the pressures on commanders and soldiers to manage their massive firepower in a 'politically correct' manner (see the next side-bar on this page) that does not offend the sensibilities of local militia leaders, some of whom have been accused of massive human rights violations.
The relief of Fontenot would be catastrophic for morale in his task force: The officers in his command are nearly unanimous in their belief that the colonel was being unfairly singled out for stating unpopular truths. "If he gets relieved there's going to be about 2,500 pissed-off and demoralized soldiers," said one officer. "It would be devastating on this tactical operation."
---
Note: In November, 1996, Bill Clinton announced the U.S. would remain in Bosnia another year. In December, 1997, he announced yet another extension. Colonel Fontenot was right. (2016-05-02)
1 Jan 96
Only 50 US vehicles crossed the Sava River. NATO said it wanted to ease a traffic jam, but it appears the bridge is already in need of repairs: An offshore island has turned into a quagmire. A plastic grid will be laid and covered with gravel. Construction of a second pontoon bridge will begin soon. A European bridge-building firm has been hired to inspect and begin restoring the permanent bridges across the Sava.

The Bosnian government accused Bosnian Serbs from Ilidza, a Sarajevo suburb, of seizing 11 civilians who were traveling on roads recently opened by NATO. NATO said it knew nothing about the incidents and noted that civilian police authorities were responsible for launching investigations. Muratovic called for a change in the IFOR mandate that would allow the force to deal with terrorism. He added that the Bosnian government may ban its citizens from passing through Ilidza until those captured are released and IFOR gives guarantees of safety. (In other words the Bosnians are trying to mission creep NATO into nation building.)
---
2 Jan 96
Bosnian Serb officials said the Muslims missing in Sarajevo's Serb suburbs include soldiers who were trying to frighten Serb civilians into fleeing and leaving their property behind. The US State Department called the abductions "troubling", but IFOR commander Admiral Smith said dealing with missing persons and freedom of movement are the functions of the yet-to-be-established police force, not of his troops. Some observers believe that that the Serbs are testing NATO's will — that if they can get away with a little bit in Sarajevo now, they will get away with much more in the towns and valleys later. Those observers also believe that IFOR's mandate is so tough that Smith could make the abductions his business if he so chose (mission creep). NATO and Bosnian Serb representatives will discuss the abductions tomorrow.
---
3 Jan 96
The Bosnian Serbs released three of the 16 Muslim prisoners seized in Sarajevo's Serb suburbs. Bosnian government minister Muratovic said he is satisfied that NATO is the crisis seriously after he received a letter from IFOR commander Admiral Smith.
Soldiers Walk Thin Line
Despite the absence of visible hostility on the part of the various Bosnian militias, US forces are taking no chances, with all commanders listing force protection as one of their highest priorities. But it is a rapid dance they tap. On one hand, Task Force Eagle soldiers must travel in convoys of no less than three vehicles on both sides of the Sava River. They must also wear their helmets and flak jackets at all times.
On the other hand, headquarters has been stipulating the angle and direction that vehicles' weapons must be pointing. Facing straight ahead and slightly upward is the only acceptable position, despite the manned Bosnian Serb tanks and anti-tank guns along the road. The rules are so strict that at a meeting between 1st Armored Division commander Maj. Gen. Nash and senior officers from the three Bosnian factions, a soldier manning a M60 machine-gun was dressed down because his weapon was pointing in the general direction of the militia leaders. The soldier had accidentally nudged the weapon as he turned around.
4 Jan 96
The Bosnian Serbs released the 13 remaining Muslim prisoners seized in Sarajevo's Serb suburbs. However, it appears that three more prisoners — a Croat, a Muslim and a Serb — have been captured. The Serb mayor of Ilidza said the still held prisoners were found driving a military vehicle with a radio transmitter. The released prisoners said they had been abused. The Serbs appear to be trying to intimidate Muslims to prevent the government from taking control of the Serb neighborhoods as laid down in the Dayton Accords.

Eleven more US Army Reserve units were mobilized, including the 432nd Civil Affairs Battalion, Green Bay, WI. Since the Presidential Selective Reserve Callup on December 8, 123 reserve component units with 5,069 troops have been activated. The 432nd deployed its first nine soldiers. They will train at Fort Bragg, NC, before leaving for Bosnia in a week or two.

An Italian soldier was wounded by a Bosnian Serb sniper in a suburb north of Sarajevo. Other soldiers returned fire with unclear results.

US Secretary of Defense Perry arrived in Sarajevo. Responding to Bosnian government complaints that NATO is not doing enough to protect Muslim civilians, Perry said that the NATO-led peacekeeping force in Bosnia will not act as a "police force". Perry said that while NATO has the responsibility to ensure freedom of movement, he felt that the issue of the Muslims held by Bosnian Serbs would be better handled by the international UN civilian police force, which is expected to arrive in Bosnia later this month. He added that in the meantime, NATO "will do what it can to assist". Perry flew into the city in the bullet-proof cockpit of a C-17 cargo aircraft.

Bosnian President Izetbegovic and Croatian President Tudjman, meeting in Sarajevo, signed a cooperation agreement. Izetbegovic said the meeting was "loud and polemical but certainly very useful". Tudjman added that "there is no more opposition but there are still problems to be solved". A joint cooperation council was set up and will meet in a month to iron out remaining problems.

OSCE talks on arms control and confidence-building measures got under way in Vienna. The negotiations fulfill requirements laid down in the Dayton peace accords. The talks on confidence-building measures are scheduled to last three weeks. The arms control talks are scheduled to last until June. The first aim of the confidence-building talks is to exchange military data and set up military liaisons between the Bosnian Serbs and the Muslim-Croatian federation.

In Mostar, the UNHCR suspended its convoys after local Croatian officials tried to impose a tax of 50 kuna ($10) per truck. The Herzegovinian Croats have been notorious for such activities in the past.

Last night Muslims in Mostar attacked Croatian vehicles. There were no injuries.

Telephone links have been restored between Sarajevo and Belgrade after a break of over three years.
---
5 Jan 96
UNHCR resumed its aid convoys in central Bosnia after Hercegovinian Croats in Mostar agreed "not to try to tax their vehicles".

Croat-Muslim relations remain tense in Mostar, however. Two Muslim policemen were wounded when their car was sprayed with machinegun fire from the Croatian sector of the divided town.

Mladen Misic, the commander of Mostar's Croat battalion, appeared on local TV in a black uniform reminiscent of those worn by fascist World War II Croatian Ustashe. After giving a fascist salute, he said, "This is not Bosnia, this is the Croatian state … if there are those who don't like it, that's just tough for them."

OSCE arms control talks on Bosnia were delayed until today after a disagreement over how the participatants were to be designated. The Bosnians objected to the nameplate given to the Bosnian Serbs, which they believe implied that the Serbs were a separate entity and not part of a common Bosnian state. A solution acceptable to the five parties — Yugoslavia, Bosnia, Croatia, the Bosnian-Croatian federation, and the Bosnian Serbs — was found by designating each as a representative to the "negotiations among the parties to the Dayton agreement Annex 1b, Article 4".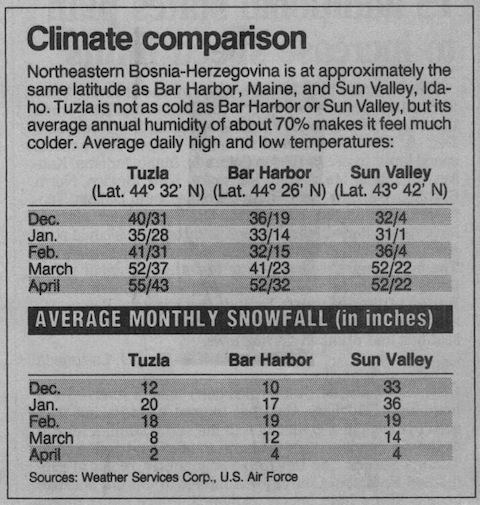 6 Jan 96
A Bosnian Croat police officer was killed in Mostar. Spanish peacekeepers said the fatal shots were fired from the Muslim side of the divided city.

A Greek military transport was forced to abort on final approach after observing small arms fire near Sarajevo airport. The plane was diverted to Tuzla, then Zagreb.

A French soldier was wounded in Sarajevo when he stepped on a land mine. He was patrolling a buffer zone between the Muslims and Serbs.

French soldiers were shot at while on patrol in Bosanska Krupa. The shots were apparently fired by a drunk local soldier.

A British AFV was fired at near Sanski Most. As the sniper fire continued, troops aboard an accompanying APC dismounted and returned fire at the offending bunker. Approaching the bunker was ruled out due to darkness and the land mine threat.

The parties to the OSCE-sponsored talks on confidence-building measures in Vienna agreed to set up military liaisons at each other's military headquarters within 10 days. The Muslim-Croatian federation and the Bosnian Serbs also provided preliminary military data on the number and location of certain weapons and factory sites but failed to agree on the type of weapons and military units that would be subject to inspection. Meanwhile, at the concurrent arms control talks, the parties agreed to provide complete data on their armed forces and weapons when they reconvene on January 16.
---