This Week

: Weather clears over Tuzla; Tuzla gold rush; kinder, gentler artillery.
---
17 Dec 95
Heavy fog and snow canceled US flights into Tuzla for the fourth day in a row. Only 16 of the 71 flights have made it through. The 800 paratroopers intended to lead the mission into Bosnia remain in Vicenza, Italy. The flight delays are also causing equipment and material to back up on the runway at Ramstein AFB, Germany. US troops did make it into Croatia via train, reaching the town of Zupanja.

Air defense radars were turned off by all three Bosnian factions within the NATO deadline.

The UN canceled Operation Deny Flight. However, many of the planes of Deny Flight were transferred to Operation Decisive Endeavor, a part of Operation Joint Endeavor (like their earth-bound counterparts in UNPROFOR). Operation Deny Flight started on April 12, 1993 and lasted 983 days. There were 23,021 fighter sorties; 27,077 close air support and air strike sorties; 29,158 anti-air defense, airborne early warning, aerial refueling, reconnaissance and support flights; and 21,164 training missions — in all, 100,420 flights.

The Bosnian Serb parliament rejected the maps and territorial settlements of the Dayton peace treaty. The parliament particularly objected to returning Serb suburbs of Sarajevo to Bosnian government control and the creation of the Gorazde corridor. The parliament also demanded a Serb outlet to the Adriatic Sea. Several speakers said Serbian President Milosevic betrayed the Serbs of Bosnia and Croatia.

Showing no sign of willingly abdicating, Bosnian Serb President Karadzic reshuffled his cabinet. Hard-line loyalists gained more power as Velibor Ostojic was appointed deputy prime minister and security chief Dragan Kijac was appointed interior minister. (Ostojic has been linked to "ethnic cleansing" .)
Tuzla Gold Rush
Christmas has come early to Bosnia. The Americans are finally coming, but we're more interested in their dollars than their guns," said a food store manager. Others here are also caught up in the frenzy:
Rent, normally around US $3 for a five bedroom house, has been raised to as much as US $3,000 for barns converted to living areas.
Bosnian police, with the help of local thugs, are offering parking spaces on streets near the air base for $2,000 a month.
Young Bosnian women are looking at the US troops as potential husbands. "The Bosnian boys are already jealous," said one young lady. ("Can you imagine 20,000 young men without women for a year?" said one imam, fearing a rise in prostitution.)
American-themed hamburger stands are opening.
College students are skipping classes to work as English translators.
Many of the 50,000 Muslim refugees are knitting sweaters, weaving wool carpets and carving wooden jewelry boxes for souvenir-minded troops.
Even Tuzla Mayor Selim Beslagic is getting into the hype. He's expecting US troops to repair the city's pothole-filled roads, rebuild fallen power lines and reopen the railroad. The mayor in his staff visited Germany to get tips from their counterparts there.Some refer to the US troops as Bosnia's 'cure-all'. "Our only hope is the United States," said a refugee from Srebrenica. "If they do something, maybe we will win. Maybe we can live peacefully — and with a little bit of money."
18 Dec 95
US air deployment to Tuzla picked up. The weather cleared long enough to allow 16 of the 27 scheduled flights to land. At least 300 US troops made it in.
---
19 Dec 95
The IFOR is establishing a second airhead at Budapest's Ferihegy airport due to bad weather in Taszar, which is in southern Hungary. NATO commander GEN Joulwan said that despite recent bad weather and logistical problems, the deployment of the 60,000-strong force remains on schedule.
---
20 Dec 95
The UN handed over command of the Bosnian peacekeeping operation to NATO in Sarajevo. The NATO troops, backed by Europe and the US and with massive firepower at their disposal (Not that they will necessarily be able to use it. See the box below.), replace the lightly armed and largely discredited UN peacekeepers, who often found themselves at odds with the cumbersome UN civilian command structure. Nonetheless, many UN troops will replace their blue and white with NATO camouflage and remain in the country.

Clinton may be about to lift the embargo against Yugoslavia, including all sanctions related to trade, air and sea transport, as well as to other business contacts. In accordance with the UN security Council's November resolution, Clinton would thus reward Yugoslavia's "constructive participation" in the Dayton peace talks. But this move would not include lifting so-called "outside sanctions" — meaning the country's immediate re-admission to the UN, the OSCE and international financial organizations.

French President Chirac told Serbian President Milosevic that France will be among the first countries to recognize the Federal Republic of Yugoslavia and to establish full diplomatic relations.

The EU estimated that $1.5 billion is needed to reconstruct Bosnia's transportation, water and sewage assets. (The World Bank puts the figure at a much higher $5.1 billion.) The EU pledged $100 million of the $518 million needed to cover immediate needs. Bosnian Foreign Minister Sacirbey, said that Bosnians could reconstruct their own country, and that Bosnia would not beg, but that he was disappointed by the EU's small contribution.

Telephone communications were re-established between Yugoslavia and Croatia.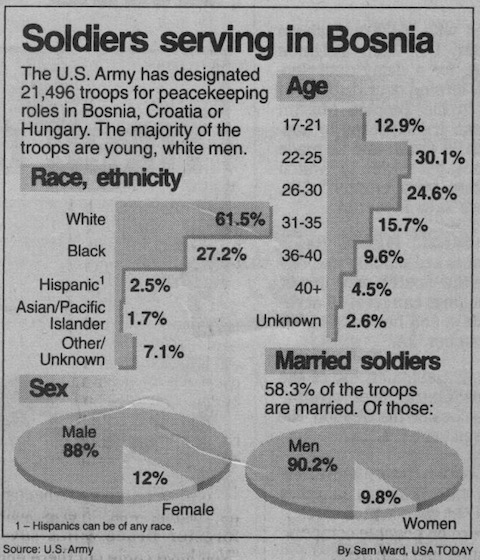 21 Dec 95
New NATO Secretary-General Solana said NATO already has 17,000 troops in Bosnia. (Of whom the vast majority were already in country as part of UNPROFOR.) As of today, bad weather has allowed only 1,400 new NATO troops to arrive in Bosnia and 1,000 in Croatia.

IFOR removed the roadblocks surrounding Sarajevo's airport.

IFOR commander Admiral Smith met the Bosnian government, Croat and Serb chiefs of staff in Sarajevo. The Bosnian commanders promised to cooperate with the IFOR, saying they would restrain their forces, leave the "zones of separation," and allow unrestricted access for IFOR. Smith said the three factions were being very cooperative.

The Bosnian parliament established "joint" Muslim-Croat commands for the army and police. There will be a joint defense ministry and command, but recruits will be able to choose whether they want to serve in the Croatian or mainly Muslim part of the army. The two police forces will also report to one center. The Muslim-Croat federation is treated as one entity in the Dayton agreement, but the allied armies to date have had only coordinated activities and do not have an integrated command structure. (The Bosnian Croat army is closely linked to the Croatian military.)

The OSCE appointed Swiss diplomat Gret Haller as human rights ombudsman for Bosnia. The Dayton peace treaty created the post and invested it with responsibility for investigating human rights abuses and initiating proceedings against those involved. Haller currently serves as the Swiss representative to the Council of Europe.

Kinder, Gentler Artillery
The decision to deploy the 1st Armored Division's entire divisional artillery brigade marks the first time in the modern era that US forces have taken heavy artillery on an operation other than war. (The divarty has two battalions of M109 self-propelled 155mm howitzers and one battery of MLRS multiple rocket launchers.)But the scheme for employing the powerful, long-range howitzers and rockets, which envisages digging the weapons into heavily defended "fire bases", harkens back to the Vietnam War.(Current Army doctrine calls for artillery to "shoot and scoot", or to fire, then move quickly to avoid being shelled in return.) The shift in tactics will require artillery soldiers to make a mental leap from everything they have learned.
The principal reason that any use of artillery in Bosnia is expected to be surgical in nature is the emphasis on avoiding "collateral damage" (death and destruction of civilians and their property). The fear of causing collateral damage means that firing just a single artillery round against a target will require high-level approval.
This in turn raises the question of whether such approval can be given quickly enough to enable the artillery to strike a target before it escapes. Even if a mortar round is fired at a US position, and the mortar's location is identified by a US counter-battery radar, unless the IFOR troops can visually identify the mortar crew, no US artillery element will be allowed to return fire. (This despite Clinton's statement to the contrary: Our troops "will have the authority to respond immediately … with overwhelming force.")
22 Dec 95
Two NATO aircraft were shot at today: A US C-130 carrying UN relief aid was fired on during its final approach to Sarajevo. Ten minutes later, a British helicopter carrying sick children to Sarajevo for medical treatment was also shot at. There were no injuries in either incident. It is not known who fired, but IFOR commander Admiral Smith said he was holding all three factions responsible for insuring it does not happen again.

British troops reached their front lines, the first troops occupying the peak of Kula Mountain near Krupa. The armored recon will inspect and dismantle a Bosnian Serb anti-aircraft unit. Two British soldiers were slightly wounded by a land mine explosion.

The UN Security Council also set up a 1,721-strong international police force to train, monitor and assist local Bosnian police. This will be the biggest armed UN presence in the area following the disbanding of UNPROFOR. The UNHCR will supervise the upcoming exchange of prisoners.

Greece decided to send three ships, three helicopters and 250 troops to Bosnia as part of the IFOR. Greece, a Serb ally, had previously refused to participate in any international missions in ex-Yugoslavia.

Switzerland has decided to permit NATO to fly troops and equipment through Swiss airspace to operations in Bosnia. They will take place only when NATO is unable to fly more direct routes from Germany over Austria. Train shipments will also be allowed through.

Czech President Vaclav Havel became the first foreign head-of-state to visit Sarajevo since the peace treaty was signed. Havel was accompanied by his defense minister to the meeting with Bosnian President Izetbegovic.
---
23 Dec 95
Bosnian government and Bosnian Serb forces exchanged POWs near Doboj. The 200 prisoner exchange was the first since the peace treaty and one of the largest in at least two years.
---