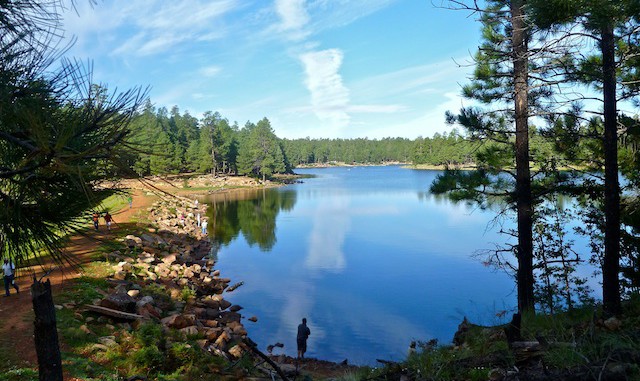 Work has been very stressful lately, and wife was going to be out of town for our oldest's birthday, so I decided to take my last vacation days and get out of the Phoenix rat race and head for the White Mountains to knock out a bunch of the hikes on my wish list. (Currently 150+ strong.) After dropping my wife off at the airport, I headed up the Beeline Dragway to Payson, then out 260 to Rim Rd. Honest, I barely sped, not even five over, between the time I hit Payson about 7 a.m. and when I got back to Payson about 10:30 a.m. on Monday. Piece of important sigint: Star Valley, just east of Payson has three (!) speed cameras in just half a mile

 , on a 45 mph limit. Show Low also has at least two cameras — one west of 60 in what I believe is a 45 mph zone, and one in the middle of town, which is 35 mph. (After my hike, got passed by a guy, who the DPS officer going the other way nailed with his forward facing radar, only to have said DPS officer comeback our way a few minutes later to bust him.) Speeding just does not pay up that way, besides it is stressful. And the whole point of the trip was to de-stress.
Took the first left over the Rim, onto Rim Rd. The gravel portion of the road to Woods Canyon Lake was potted, but not bad. Camp grounds were all full, even a week after Labor Day. (Lady at the store said they'd be busy for another month.)
The hike was not challenging, but was a good warmup for the events ahead. Plus, the lake itself was gorgeous. Despite the full camp ground, it was also very quiet. (You never know about some people, but what I remember about fishing when I was kid, fish don't like loud noise, so it makes sense to be quiet if you actually want to catch any.) I enjoyed the scenery so much, that when I called my wife that night, I told her we had to go back together because I knew she would love it.

Finished about 10 a.m., then headed on to Pinetop …
Distance: 3.76 mi.
AEG: 489 ft.
Time: 1h 19m