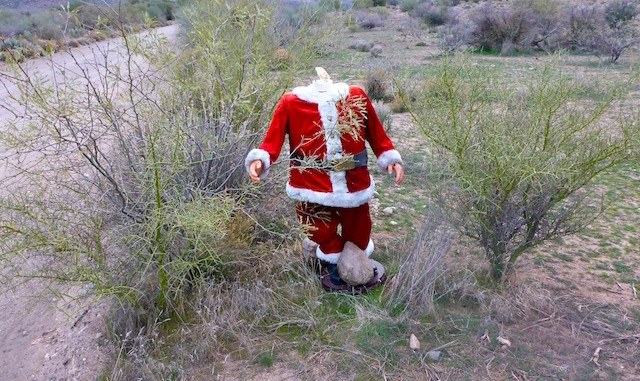 After breakfast at Buckboard City Cafe, took an alternate drive to the trailhead: south on FR 230, rather than AZ 177, almost to the ranch, then down Wood Canyon's rocky jeep trail to the trailhead. 230 was not bad, but parts should be avoided by cars. The jeep trail should only be SUV+, but even then high clearance is recommended. (I had to manually move a few rocks so I could get through.) There's a neat rock formation / pile of rocks about 100 yards southwest of the trailhead, that look fun to explore.
I got started about 8:35 a.m. Cut across the wash to pick up the trail above the day-glo green rocks. I headed west to the saddle above Filaria Spring; note the the trail appears to continue over the saddle, toward the spring and a very full looking Rock Tank. I turned south, up, then along, Hill 3419. You'd make better time following the next contour down from the crest, rather than traversing the rocky crest itself.
There's a boat load of prickly pear and ocotillo on this hike, so many that the ocotillo actually form little forests.
The route then crosses a second saddle, towards the east slope of Hill 3773. The sun made a brief, 10 minute, appearance about this time. By the time I reached the saddle south of Hill 3773, where the route bends south towards Hill 4110, it was cold, and even breezier, and I could see rain coming in from to the northwest, near Mesa.

 Rather than risking a rain-slippery descent on the steep scree slope south of Hill 3925, I decided to retreat. But before I did so, I headed up Hill 3773. Nice view; would be even better with proper lighting.
I noticed that the slope on the south side of the wash east of Hill 3773 appeared to be pretty smooth, holding the potential for quick travel, so after dropping off 3773, that is the way I went. Indeed it was quick. I stuck to the south slope, rather than getting in the wash, as there were some obvious dry falls in the wash. After 3/4s of a mile, I cliffed out. I looked around to see if there was a way down, but everywhere I looked it was a sheer 100+ feet. I backed around a small knob behind the cliff, spotting a very easy wash crossing below the previously mentioned dry fall. Crossed that, ate a quick snack on Hill 3419, then headed back along the trail towards the trailhead.
I almost passed the trailhead as the foot trail continues northeast, up Wood Canyon, towards the ranch.
By the time we passed back through Superior, about 2:30, it was too late for lunch, and too early for dinner, so we skipped Los Hermanos (which was packed anyway), heading on home …
Distance: 7.14 miles
AEG: 1,649 ft.
Time: 3h 32m
---
Hike Video