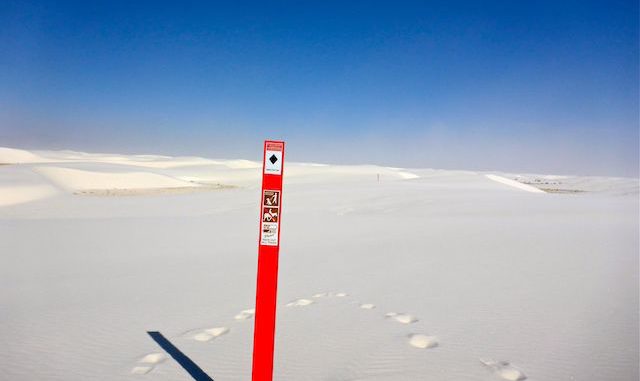 In summer, 2008, my wife and I took a drive across country to Wisconsin, hitting many cheesy tourist sites along the way, such as the alien museums in Roswell, New Mexico. We mostly drove two-lane U.S. highways, rather than 4+ lane interstate freeways. Thus we found ourselves one afternoon, cruising west on US-380, just east of the hamlet of San Antonio, NM. I pulled over for a historic sign, discovering it marked the nearby Trinity Site, location of the world's first nuclear explosion.
Trinity Site is located deep with the northern end of White Sands Missile Range, which is a highly restricted area where only authorized folks are allowed. The three exceptions to that rule are the White Sands National Monument, a couple of highways, and the Trinity Site open house, which occurs the first Saturday in April and October.
But it's a long way — about 475 miles — from Phoenix to the White Sands Missile Range. Eight hours, one way, is simply too long to drive there, and be in any condition to enjoy the Trinity Site open house. (Not to mention either needing to then drive back or, perhaps worse, try to find a decent motel near San Antonio.)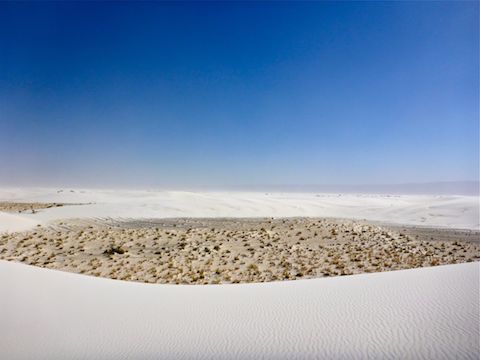 So, I came up with the idea of driving to Alamogordo one day, hiking the White Sands National Monument the next day, then doing the Trinity Site open house — and driving home — the third day. But something always came up, and it wasn't until now that I was able to pull the trigger.
Not having been to Alamogordo before, I was leery about where to stay. We ended up staying at the White Sands Motel, which despite being an old school motel, had been updated with new furniture, fresh paint, microwave, large fridge, and cable TV. All for less than the chain places up & down White Sands Blvd. Recommended.
After the long drive on Thursday, on Friday we took our time heading out, arriving at White Sands National Monument about 8:15 a.m. It took about 15 minutes to drive the 7.5 miles to the Alkali Flat trailhead. The first 4.5 miles are paved; the last three miles are hard packed sand. Your mileage may vary, because … sand!
The only other time I was at White Sands Missile Range was in July, 1989, when I spent two weeks of annual training doing a shoot out there with the 153rd Field Artillery Brigade of the Arizona National Guard. One day I was sent out to one of the batteries, which I could not find, no matter how hard I tried. Turns out I had been less than 100 yds. from the battery. You would think it would be impossible to hide multiple M109 self-propelled 155s in the desert, but that is dunes.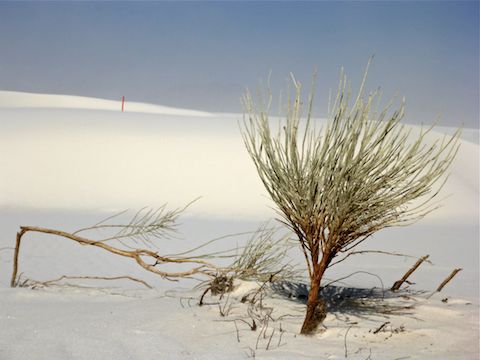 The 153rd had been somewhere near the south end of White Sands Missile Range, whereas the White Sands National Monument is roughly in the middle. As I recall, the dunes down south were not as tall, but had a lot more vegetation. The same is true near the entrance to the park, but as you head further west along Dunes Dr., the vegetation decreases, and the dunes get taller and whiter.
Driving in from Las Cruces on Thursday, I had seen a still snow-capped mountain north of Alamogordo, which I am guessing was 11,973 ft. Sierra Blanca Peak. ("Blanca" being Spanish for "white".) I thought it would make a great background contrast to photos of White Sands' dunes.
Unfortunately, my creative vision was aborted by the 25-35 mph winds that were accurately predicted for Friday in the Alamogordo area. Despite being sand blasted at the Alkali Flat trailhead, I was there to hike, dammit. So, hike I did.
The $80 National Park Service interagency annual pass I purchased last May at the Petrified Forest was still good, so that at least was positive.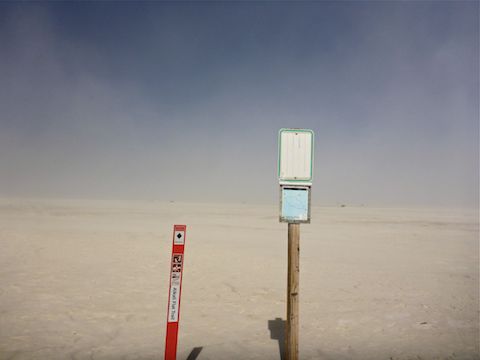 The Alkali Flat Trail is not a trail per se. In fact, foot prints are quickly erased. (Especially in 25-35 mph winds!) Instead, the "trail" follows a series of physical waypoints, mostly in the form of orange fiberglass poles marked with a black diamond. The poles are mostly 100-200 yards apart, and you can usually see three or four ahead, as the poles are all on top of the dunes, rather than in the bowls between them.
An inexperienced hiker could easily wander off course, due to not being able to see the next, or previous, pole. That may be less of an issue in late March, than in August's triple-digit heat, but getting lost can still kill. (As it did a French couple in 2015.) Just in case, you should carry a GPS, even though the signal may occasionally be blocked, for security reasons, during missile testing. Being able to see the next pole became a real issue midway through my hike, when the winds gusted as high as 60 (?) mph. It was bordering on unsafe.
Regardless of when you hike, the park recommends each hiker carry two liters of water. (The French couple carried 1.2 liters, total, for three people, including their son, who survived.) I carried nearly my normal fluid load, 2.5 liters of water and one liter of Gatorade. I drank one liter of water and 250ml of Gatorade.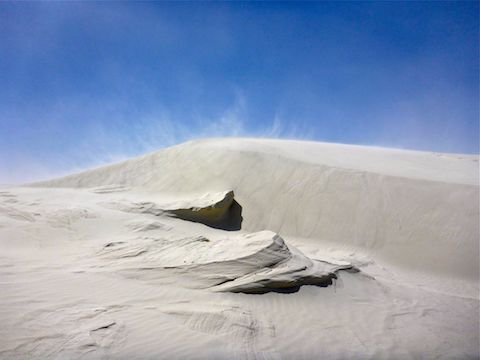 From the Alkali Flat trailhead info kiosk, I could not find the first the orange pole. My wife spotted it on a dune to the right, so I hiked counterclockwise.
I never did see anyone behind me, and passed three pairs of hikers doing the loop clockwise. The first two pairs appeared to be less than properly prepared (shorts, no hats, obviously not enough water).
The dunes were generally firm on top, so that made for easier than anticipated hiking, but the sand on the slopes is very loose. Rather than hiking straight from one orange pole to the next, it might be better to weave, walking more of a high line, taking advantage of the "saddles" between dunes for any climbing you need to do.
I fantasized about the Rat Patrol flying over the dunes, blasting away with their 50s.
The low areas between the dunes are firmest of all, with more vegetation, though it is all scrub. The "bowls" also provide some much needed respite from the wind, which I actually saw knock a beetle off his six legs. High velocity sand stung my face and filled my ears. Once, I laid down my hat to take a picture: A minute later, there was a half inch of sand in it.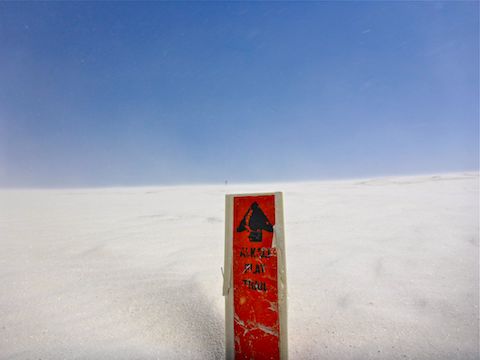 Blowing sand also played hell with the focus on my pocket camera, particularly when filming video. Not to mention making narration difficult. As a result, my Alkali Flat hiking video is short.
After the hike, and purchasing souvenirs at the gift shop, I poured the sand out of my shoes. I poured out so much sand, one passerby asked me to leave some for everyone else. 😆
GPS File: White_Sands_Alkali_Flat
Distance: 5.00 mi.
AEG: ??? ft. (Crappy Garmin 62S reported 1700 (!), while HikeArizona claims only 342.)
Time: 3h 00m (National Park Service estimate)
---
Driving White Sands Video
Hiking Alkali Flats Trail Video