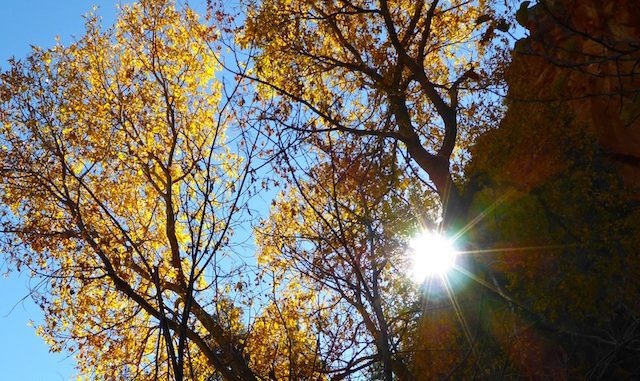 My cousin Ann was in Arizona for a few days, doing the tourist thing. My wife & I met Ann up in Sedona, where another cousin, Jeanie, lives, for breakfast at the Coffee Pot. None of us — other than me & my wife

— had seen each other since we scattered several of our family members ashes on Cedar Lake, Wisconsin, in June, 2015.
The Coffee Pot is a popular place, even mid-morning on a week day. The parking lot was small & packed. The food though, was delicious: I had a Belgian waffle that was light & tender, with just the right amount of crisp; Ann had one of about a hundred different omelettes, and I forget what everyone else had.
Afterwards, Jeanie had to go to work, so the rest of us headed up Oak Creek to hike the West Fork. I recommended Boynton Canyon, as I heard the colors were near peak mid-November, whereas West Fork peaked when I was up there a month ago. But Ann had her heart set on West Fork.

Thankfully there was no line of cars at the trailhead. Ann is not an experienced hiker, and I had to talk her out of carrying a sweater, two scarves and rather large lady's day bag.

Despite her bad feet, my wife accompanied Ann & I as far as Mayhew's Lodge. Ann did not realize there were creek crossings. She was quite apprehensive, but I was able guide her across the first two. With 11 more to go, we decided that was enough for one day, and headed back.
The important thing is not how far, or how fast, you hike, but whether or not you challenge yourself.
Ann passed her challenge, so she was happy & I was proud.

GPS File: West_Fork_of_Oak_Creek
Distance: 2.50 mi.
AEG: 150 ft.
Time: 55m